A lightbox is an invaluable tool for artists, allowing you to accurately trace and transfer artwork from one page to another. But with so many different styles, sizes, and prices on the market, it can be hard to know which one is best for your needs.
Unlike many of our other art supply lists, we actually recommend going with the cheaper generic brands here. Lightboxes have no moving parts and are pretty much just LEDs behind a sheet of acrylic. While a good lightbox for drawing can be found under $20, they're usefulness is almost priceless.
Read on to see our picks for the best lightboxes for artists.
Best Lightbox quick list:
What are lightboxes used for?
Lightboxes help you transfer artwork from one page to another. By shining a bright light through the paper, the lines and strokes stand out, making it possible to redraw those lines on a new sheet on top.
One common use would be transferring a drawing from a sketchbook to dedicated watercolor paper, for example.
They can also be used to view small prints, trace photographs and other images, or create a perfectly even surface for sketching or drawing. Lightboxes can also be used to view animation cels or photographic negatives.
How to use a lightbox to transfer art?
Place the artwork you want to transfer onto the lightbox.
Place your desired drawing or tracing paper over the artwork.
Turn on the lightbox, and adjust the brightness as needed.
Trace the artwork onto the top sheet.
Remove the upper paper from the lightbox and you're done!
Now that you know the basics, here's the top 5 lightboxes for drawing and tracing artwork.
As an Amazon affiliate, we may earn a small commission from your purchase. This helps support Mega Pencil at no cost to you. 🙂
1. LitEnergy Portable A4 Lightbox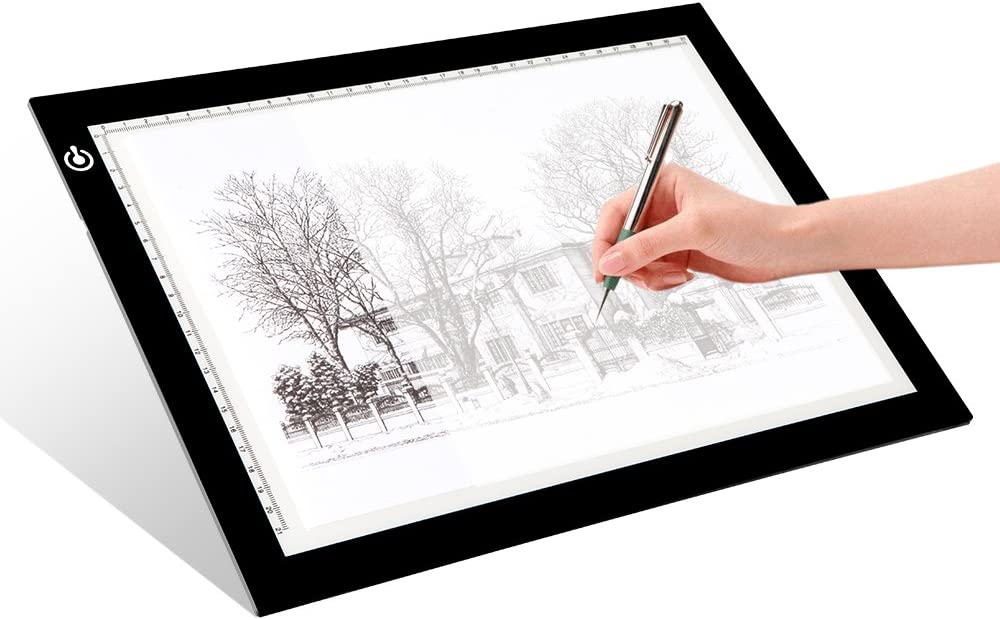 Currently a screamin' deal at just $16, the LitEnergy Ultra-Thin Adjustable LED Lightbox is a highly portable light board that is perfect for tracing, streaming, stenciling and more.
It's lightweight design measures only 5mm thick and is powered via USB, making it easy to use with a laptop wherever you go. The built-in ruler is an added bonus!
2. Artograph LightTracer Lightbox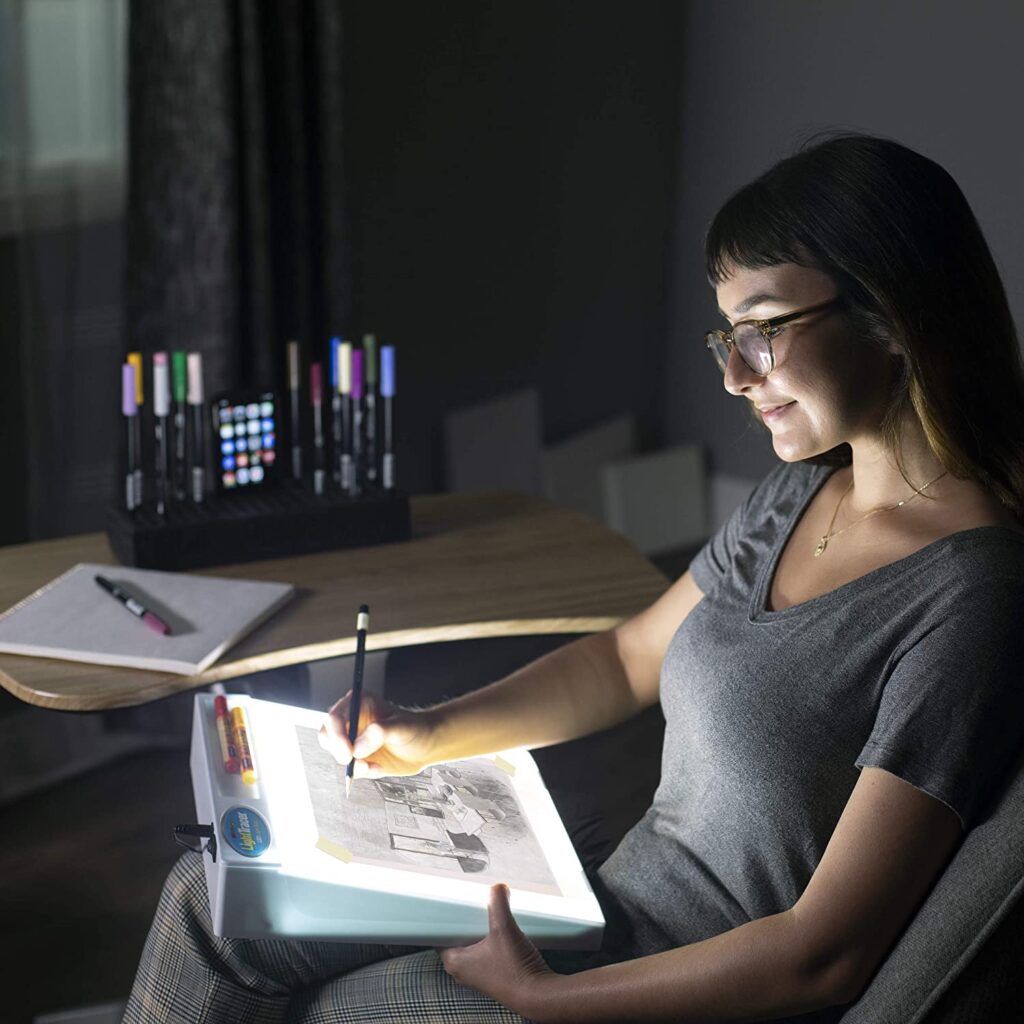 While a bit more expensive, the Artograph LightTracer is a great choice for artists who prefer working on a slanted surface. The incline makes the lightbox more ergonomic to use while still fitting on a lap or tabletop.
The energy-efficient LED bulbs emit bright light without getting hot, and they are built to last for years with no need to replace them. The 12"x10" plastic frame has a recessed tool tray for holding your pencils as you work.
3. Huion A3 LED Light Box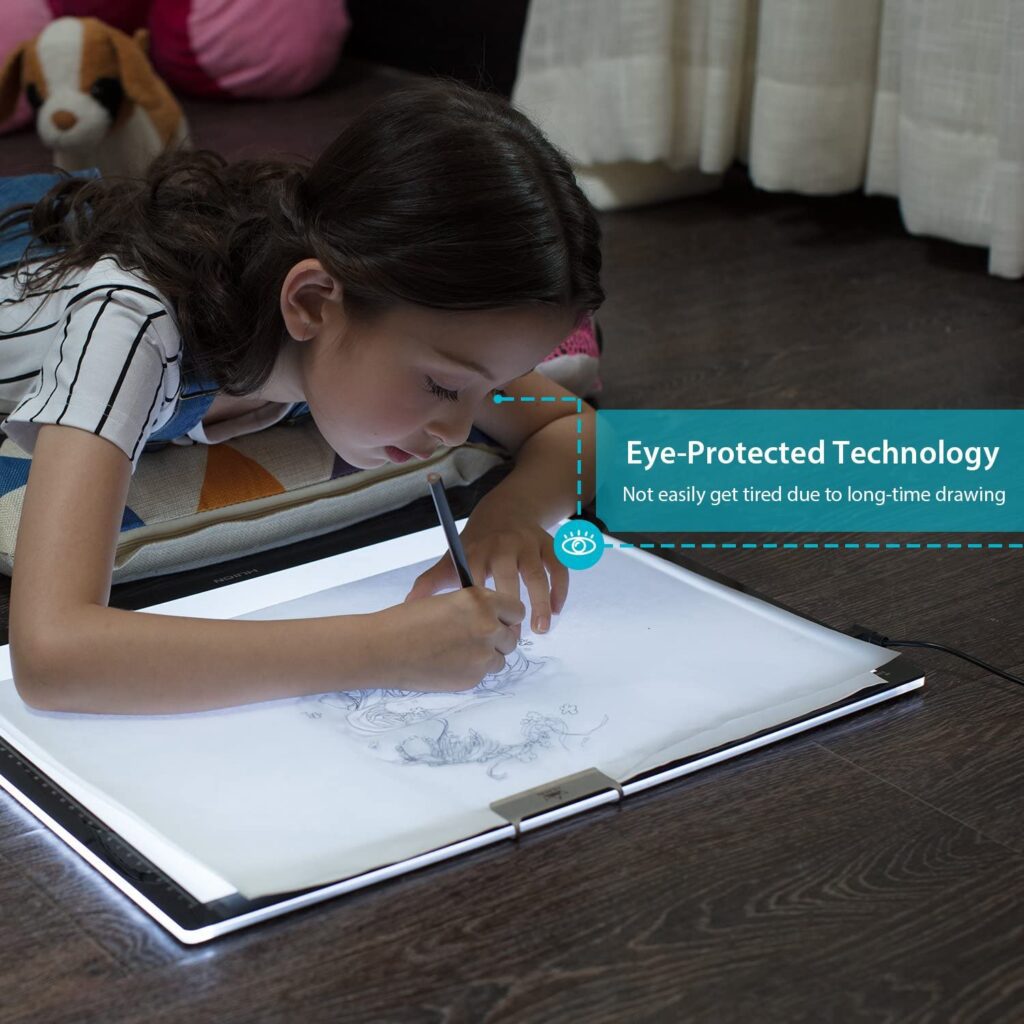 This lightbox comes with an adjustable brightness dimming wheel and a large A3 (16"x12") working area, making it perfect for artists who need to trace and draw large designs.
You can adjust the lighting with one touch and the device will also remember the brightness you used last time.
Huion rates the candela rating (a brightness score) high enough to work through watercolor paper.
4. Gaomon GB4 Light Pad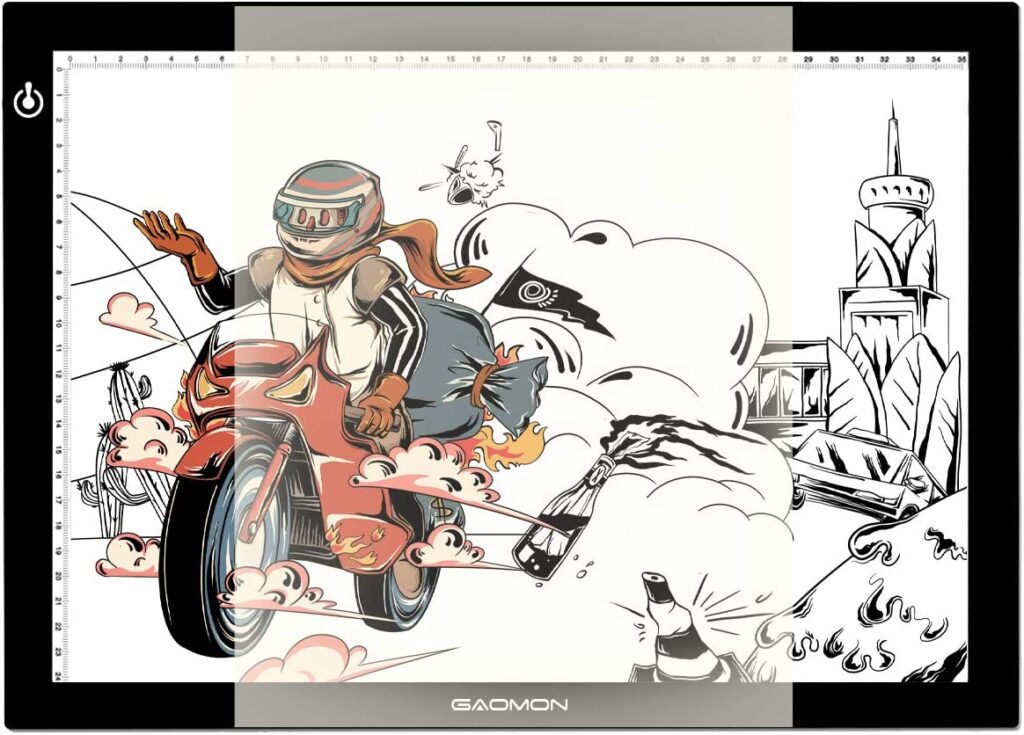 Gaomon is no stranger to art tools, with a range of highly rated drawing tablets already on the market. Their GB4 Light Pad has an ultra-thin design that makes it easy to carry and store, and the adjustable LED backlight ensures even and bright illumination.
The specialized acrylic drawing surface feels like glass, but is stronger and more resistant to stress and more… heavy-handed users.
5. Cricut BrightPad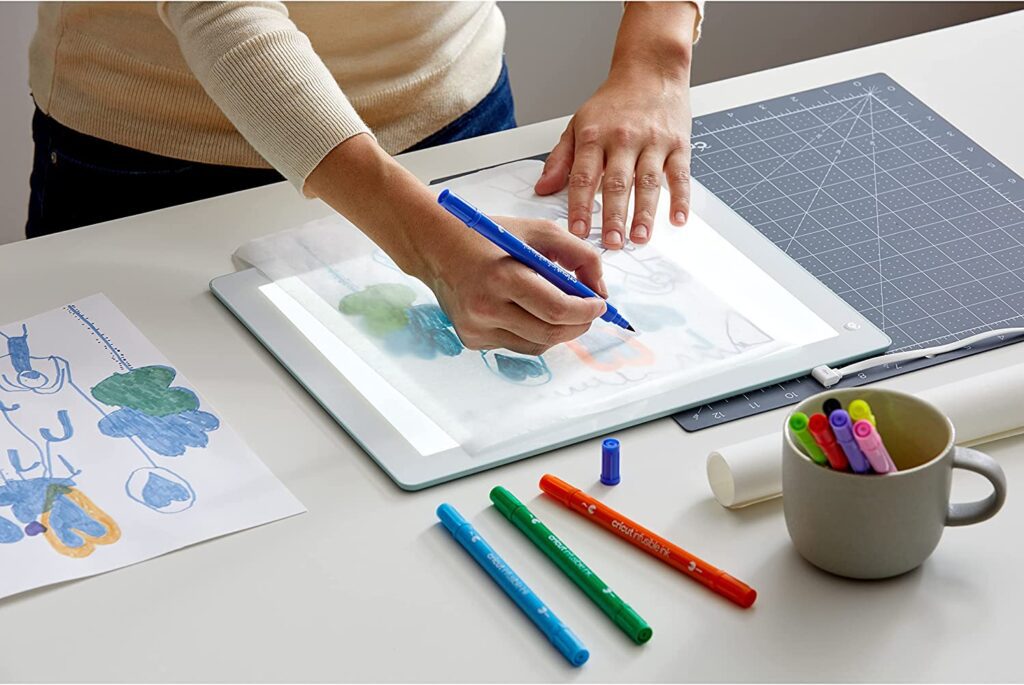 Cricut typically caters towards crafters, but their BrightPad is a great choice for 2D artists. The LED lightbox provides a bright light of up to 3800 lumens over an 11.5 x 9 inch surface area. It has three brightness settings and a built-in ruler for easy measuring and alignment.
Interestingly, Cricut states the BrightPad is even durable enough to withstand a drop onto a tile floor.
How to make your own lightbox
If you're a crafty sort, there are actually several ways to make your own lightbox with things you might already have around the house. All you need is a transparent hard surface and a light source.
This DIY lightbox is made from puck lights and a plastic storage bin.
This lightbox is made from parts from Ikea and also can be reproduced for next to nothing.
Finally, this cardboard lightbox is made from leftover shipping boxes, a string of lights and glass from a picture frame:
---