If you enjoy using traditional media in your art, you're probably familiar with how these things can really pile up. Pencils and brushes sure seem like they'd be easy to store, but once they number in the dozens things start to get tricky.
Consider the quandary of pencils alone… first you have your base set of 2H-6B. Then of course mechanical pencils in varying lead sizes. And a good clutch pencil. Plus a few charcoal pencils… and erasers, you'll definitely need erasers. And don't forget the sharpeners…
This process repeats for just about any medium.
Paper? You'll need at least six pads in various sizes, thickness and textures.
Watercolor? Palettes, containers, paper towels, sponges and a dozen brushes.
Pens? Don't even get me started.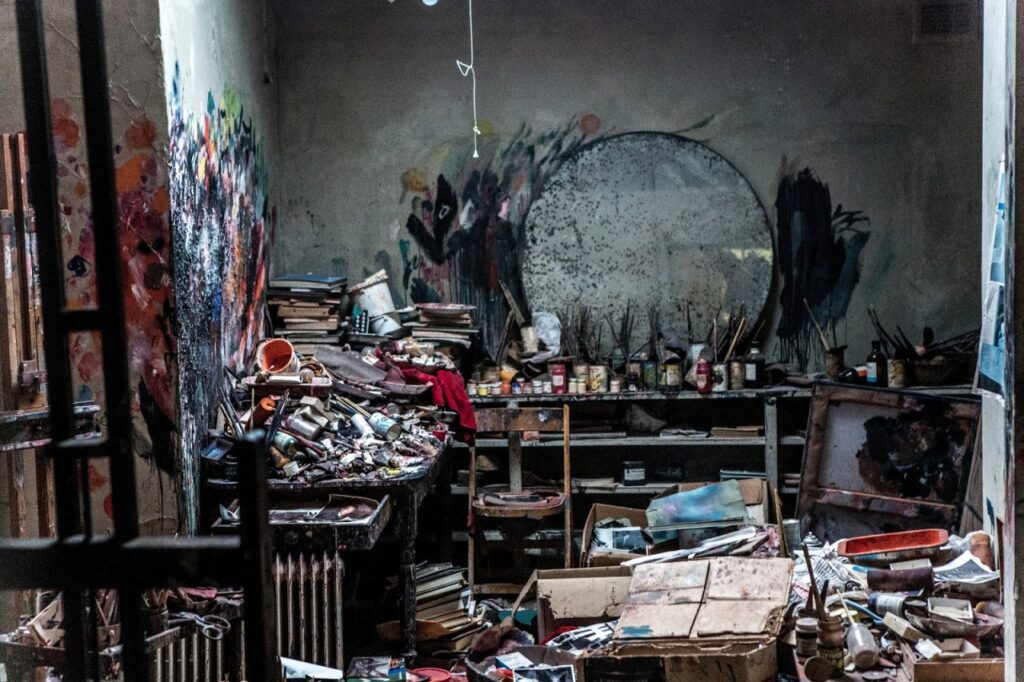 It's safe to say that left unchecked, an artist's workspace can quickly spiral into an abyss of cluttered chaos. Maybe you find a degree of chaos inspiring, but even the messiest of studios can benefit from a little organization.
Below you'll find a few of our recommendations for the best tools to keep your art supplies neat, tidy and ready to use.
As an Amazon affiliate, we may earn a small commission from your purchase. This helps support Mega Pencil at no cost to you. 🙂
Pylodex 3-piece wooden paint rack organizer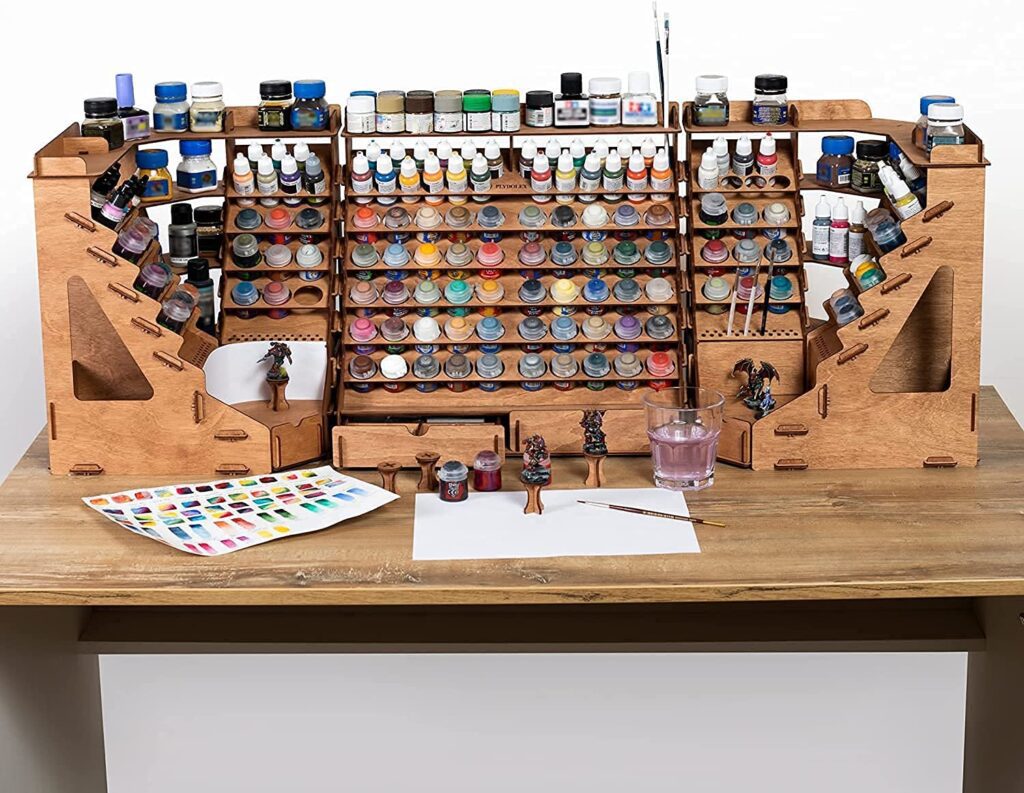 This massive organizer set is big enough to convert any tabletop into a serious creative workstation. Originally designed for painting figurines and miniatures, this three piece array can house an incredible amount of kit.
The plywood construction has 138 holes in big and small sizes for paint tubes and bottles. There's also a whopping 106 slots for paintbrushes (or pencils) plus 2 drawers.
Portable folding artist's storage box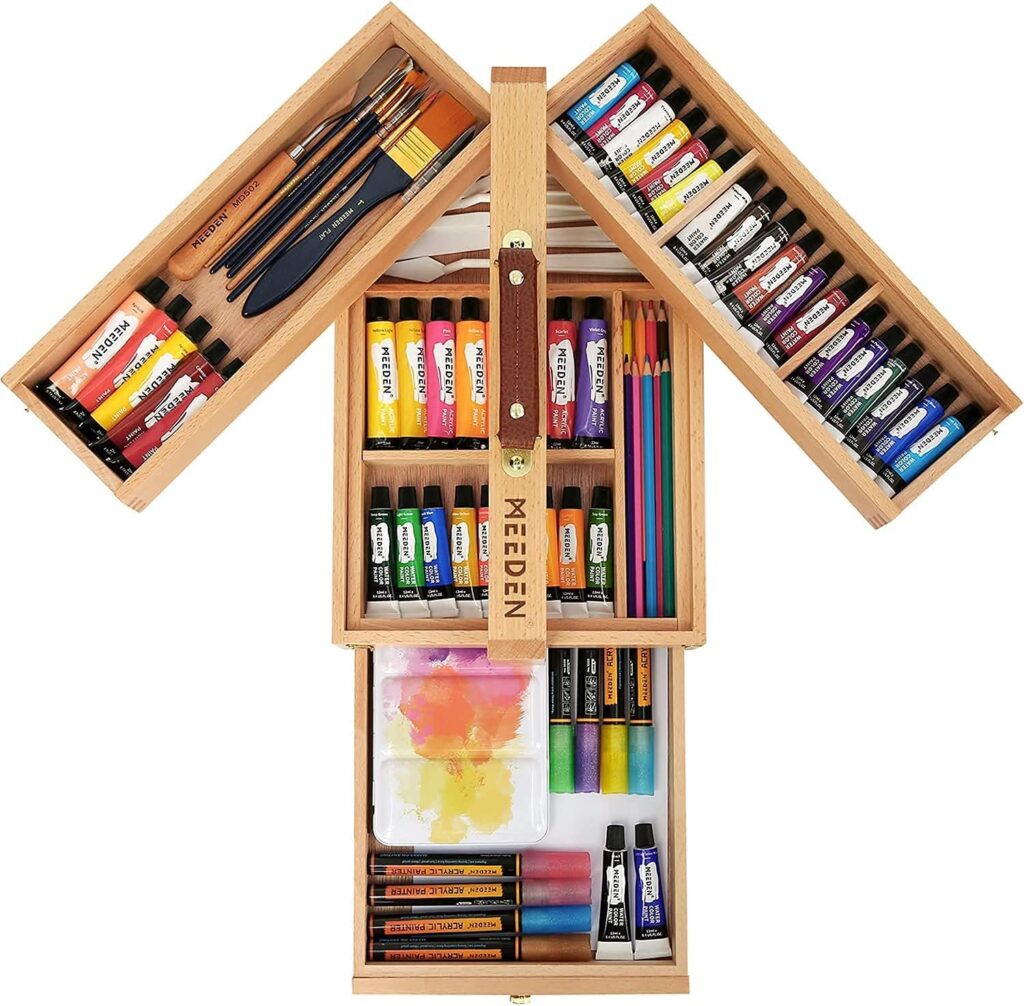 Given the choice of wood over plastic, we'll almost always go with wood. This beech storage box from Meeden has a timeless wood body that looks good just about anywhere. Three levels of storage house a surprising amount of supplies, from pens and brushes to paints and palettes.
Once closed up the box can easily be carried out in the field too.
Studio Tidy creative tool organizer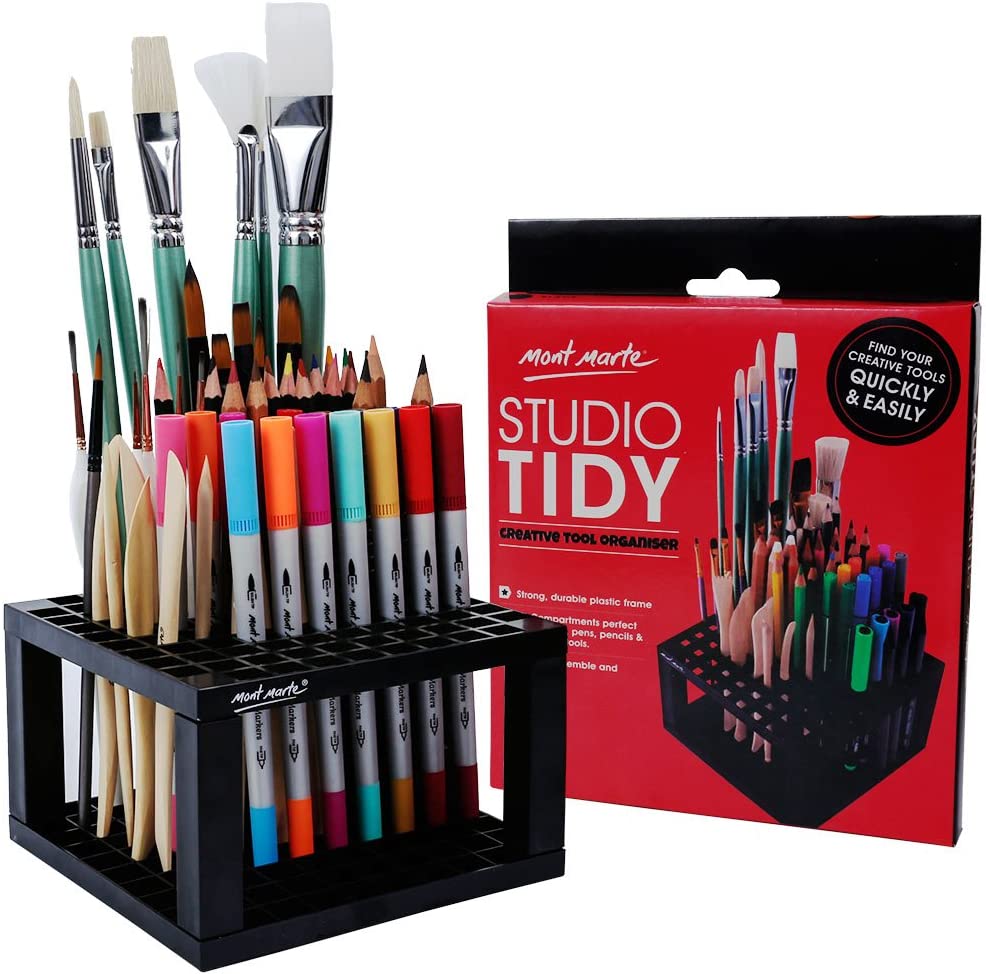 At just $7.50, this simple slotted frame is the cheapest organizer on our list. Mont Marte makes a range of art supplies and this plastic grid is ideal for many different tools. Up to 96 pencils, brushes, pens and more align vertically in the organizer's compact footprint.
Marbrasse desktop wooden art supply organizer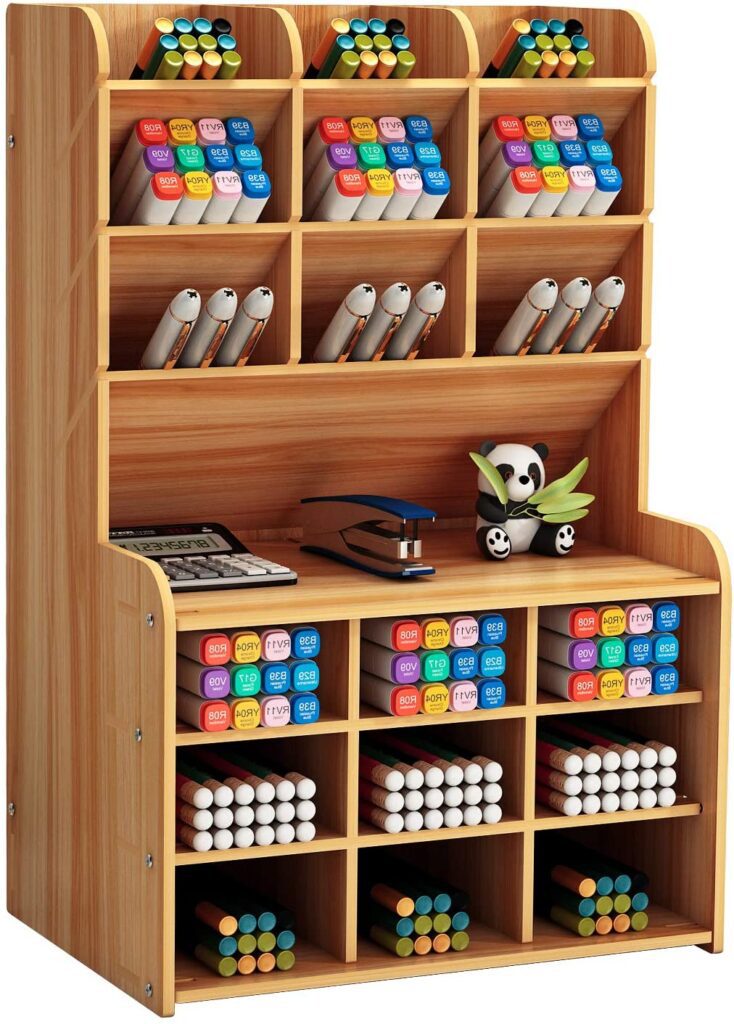 Another wooden entry, this compact organizer has 9 tilted compartments and 9 flat compartments. The flat slots are ideal for double-sided markers where you want to prevent the nibs from drying out.
The little shelf in the middle also makes a great spot for sharpeners, post-its or other doo-dads.
3-tier rolling mobile utility cart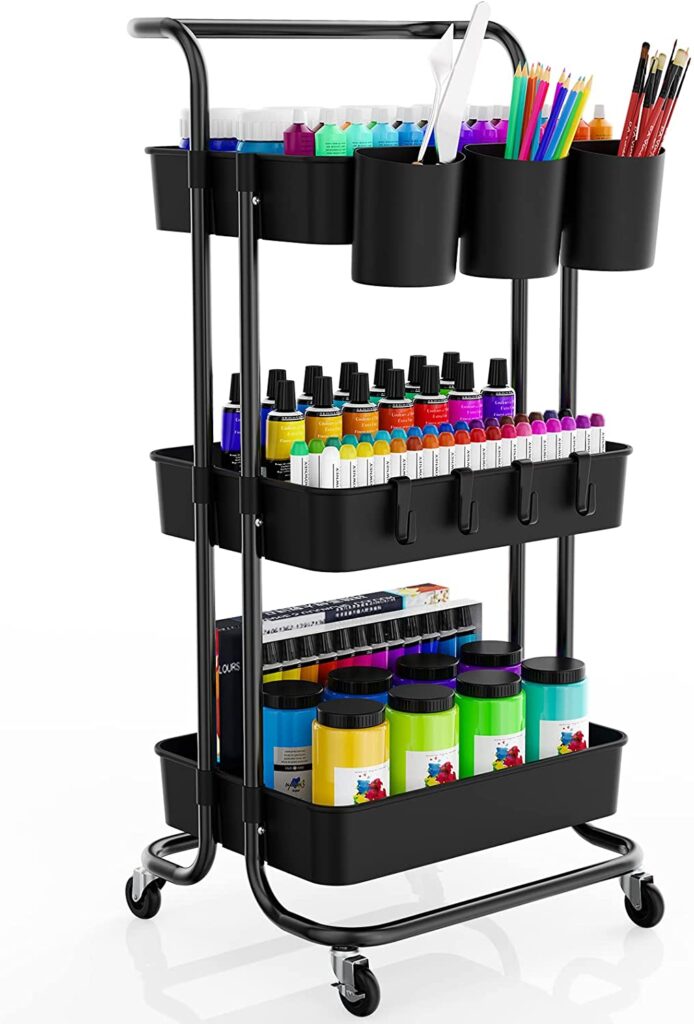 Sometimes the best way to clear clutter is to get it off the table entirely, which is what's nice about this rolling cart. The three tiers can hold up to 22lbs each and have plenty of room for paints, paper and more. The cups on the side can be moved to different hooks on each tier, turning each level into a kind of artistic load-out.
The best part is when you're done creating, the cart can roll away and is only as wide as a bag of groceries.
Acrylic rotating art supply organizer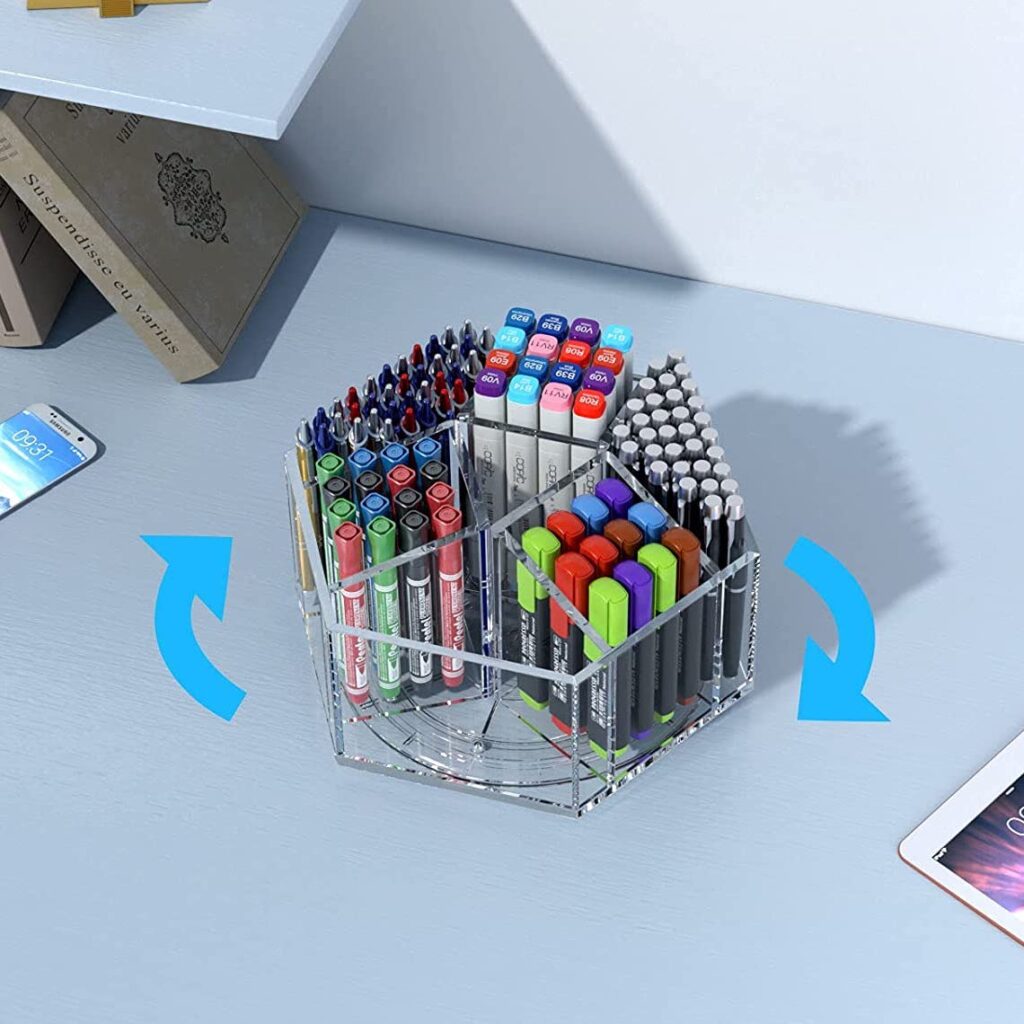 The transparent acrylic of this rotating organizer really caught our eye. It offers complete visibility of its contents so you can see every color and nib diameter without fumbling through the whole collection. You also can't loose small things on the bottom (been there😉).
Seven individual slots hold a serious assortment of markers, pencils, pens, rulers and anything else you'd like de-cluttered.
Meeden 6-drawer art supply storage box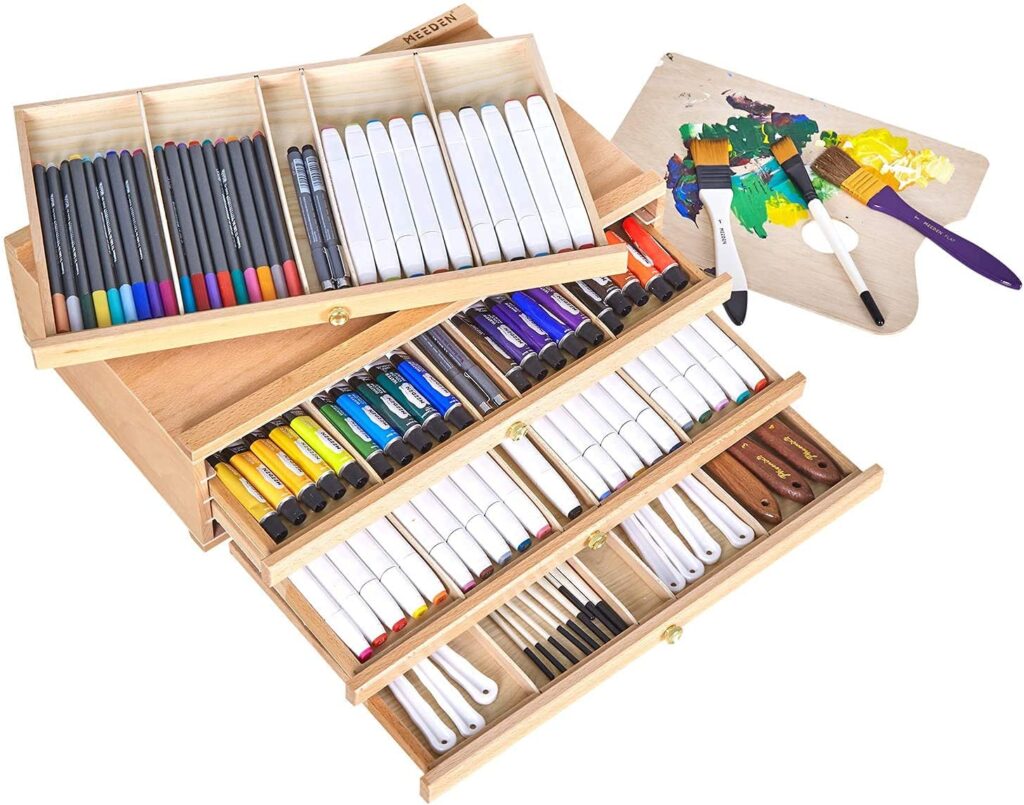 Another beech wood entry from Meeden, this organizer is the king when it comes to storing narrow supplies like pencils, pens, brushes, charcoal and more. Each of the drawers has 5 separate compartments so it's easy to keep things grouped together.
You can also pull the drawers free from the box entirely, making it possible to move certain tool sets closer to your canvas as needed.
Space Rover canvas storage cart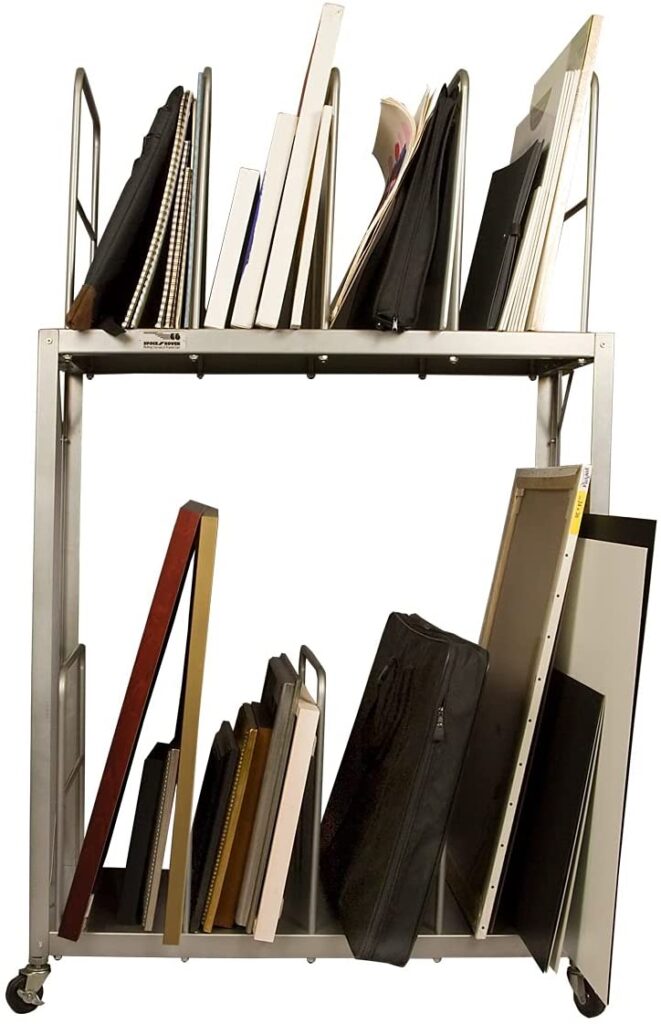 While keeping your art supplies organized is important, it's not quite as crucial as safely storing your actual art. This 6ft tall rolling steel cart serves as a sturdy home for larger work. Vertical dividing braces provide 8 areas for storing a massive amount of artwork either finished or unfinished.
Larger canvases, boards, sketchpads and even frames are easily accessible without cluttering up your space.
Meeden deluxe multi-function utility cart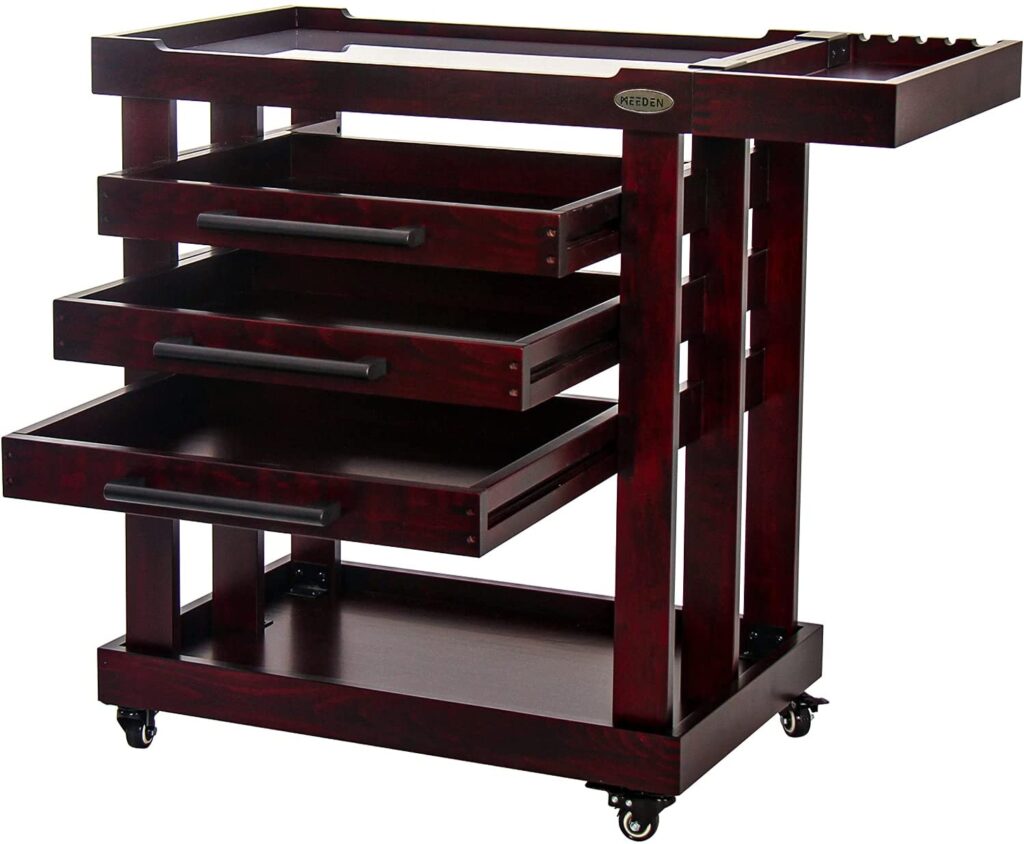 This beautifully lacquered cart could easily become a painter's best friend. The rolling chassis houses 3 smooth-sliding drawers large enough to store a rainbow's worth of paint colors. The top of the cart features a large glass mixing palette and on the side is a detachable tray with slots for brushes and a water dish.
It's only downside is it looks so nice it'd be a shame to get paint spatter on it! 🫣
---