Traditional and digital artists alike can benefit from joining a forum dedicated to their craft. It's a great way to learn new skills, ask questions about materials and share new art.
But finding an active forum for artists these days isn't as easy as it used to be.
One reason is that social media has taken over as the primary medium for people to communicate and share art online.
Instead of a website dedicated to a single subject, monolithic platforms like Facebook have funneled people into one website with millions of specialized pages and sub-groups.
But even though forums might not be as common as they once were, they are still relevant and very useful. Art forums are great places to find like-minded creatives and foster ongoing connections with people who share similar interests.
Here are some of the most active forums and communities for artists: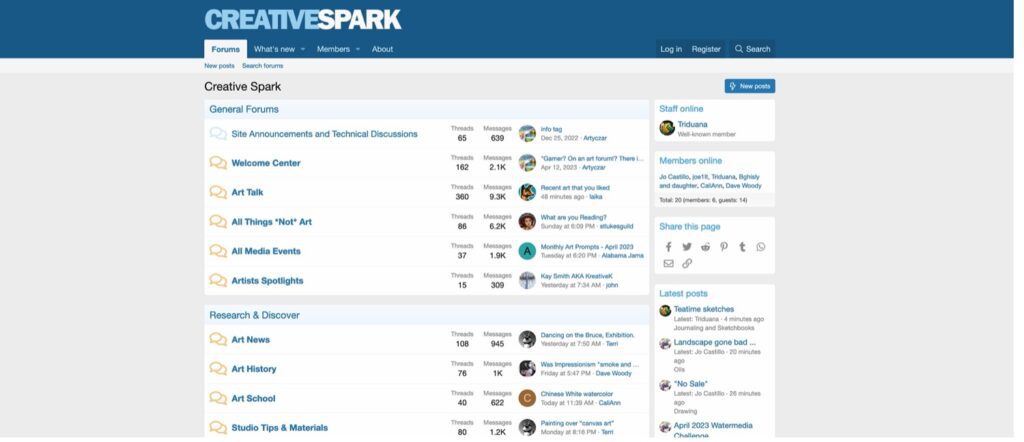 Active community with a diverse range of artistic styles (average of 13 posts per day)
Well-organized forums with specific categories for various types of art
Ideal for artists working with traditional mediums
Creative Spark is a discussion forum for artists of various disciplines, including painting, drawing, sculpture and photography. It's 400+ members post about a range of topics including techniques, materials and ways to improve their skills.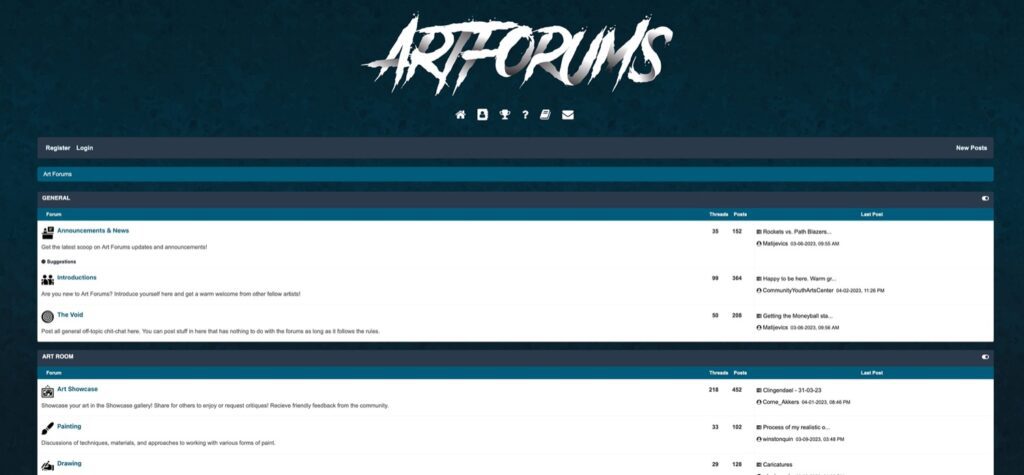 Covers a wide variety of art mediums, including and digital art and graphic design
Dedicated showcase gallery is a cool way to gain exposure
Useful resources and tutorials for artists at different skill levels
Art Forums is a comprehensive forum that caters to artists working in a wide range of mediums and styles. The site allows members to seek advice, showcase their work, as well as participate in art challenges and critiques.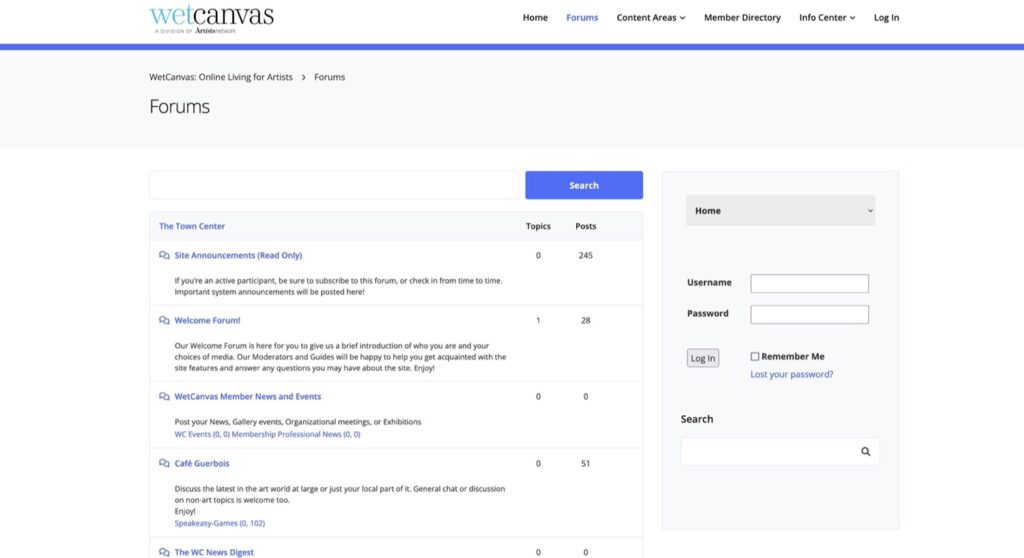 Large user base of over 17,000 active members
Offers advice for the business of art as well as its creation
Member supported image reference library for artists
WetCanvas.com is one of the oldest and biggest artist's forum online. The platform invites artists to share their work and get advice and comments from fellow members. WetCanvas has transferred ownership several times, so parts of the site may look clunky, but the forum is still active regularly.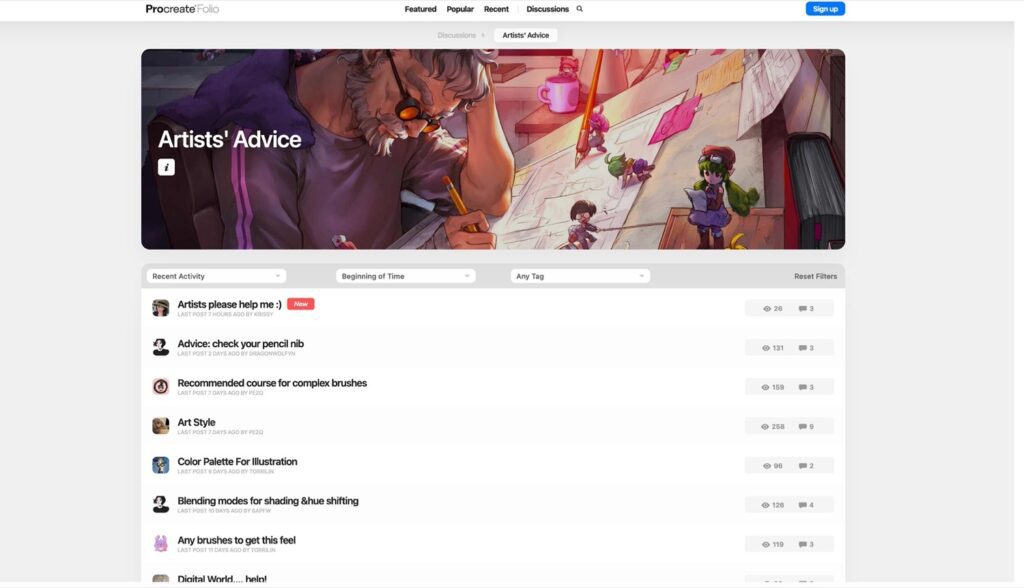 Forum dedicated to users of the Procreate digital art app
Offers tips, tutorials, and troubleshooting help
Fosters a community of digital artists using the same software
Procreate discussions is an online forum specifically designed for users of the popular digital art app, Procreate. The forum provides a space for artists to share their work, discuss techniques, ask questions about the software, and share tips or tutorials with fellow Procreate artists. This forum is particularly useful for those just starting digital art.
Reddit boards for artists
While not as segmented and categorized as traditional forums, the discussion platform Reddit has many active communities for artists. These subreddits often have membership measured in the millions with the most popular posts gaining tremendous exposure.
There are several subreddits catered to different art mediums and practices – here are the most popular:
Over 22 million members with thousands active at any one time
A place to showcase your art, discuss techniques, and find inspiration
Covers a wide range of art styles, mediums, and disciplines
Focused on digital art, including 2D, 3D, vector, and pixel art
Over 496,000 members sharing their work, critiques, and inspiration
Great resource for tutorials, advice, and networking with other digital artists
Over 586,000 members sharing resources, tutorials, and advice for artists of all skill levels
A supportive community where beginners can ask questions and receive guidance
Offers critiques, feedback, and encouragement to help members improve their skills
A subreddit dedicated to constructive art critiques and feedback
Over 72,000 members who provide valuable insights and suggestions for improvement
Encourages open communication and learning from fellow artists
Discord servers for artists
Discord offers real-time communication in a chatroom-like environment for an endless variety of interests. Many Discord servers have channels specifically for artists, which can sometimes have over 5,000 people online at once.
Here are a few popular Discord servers for artists:
Daily art prompts
Monthly creative challenges
Over 35,000 members
Art Club bills itself as one of the most friendly and active online art communities. Their goal is to highlight artists of all kinds from around the world, share their work, and provide them a platform to connect, grow, and thrive through creative friendships, mentorship, and activities.
Over 4,000 members
Frequent study sessions with other artists
Get feedback and critiques
Whether you'd into traditional, digital, 2D, 3D, animation you'll find other people in the Learning to Draw Discord server just as passionate as you.
Active community with over 4,700 members
Channels for critique, art mediums, and show-and-tell
Regular events and activities to foster creativity and skill development
Founded by artist Kelsey Rodriguez, the Studio Lounge hosts conversations related to creating traditional art, the art business and other resources.
Final thoughts
To summarize, there are several online platforms for artists to connect. From traditional forums like WetCanvas and Creative Spark, to the more modern approach of Reddit boards and Discord servers, you're sure to find a group for every artistic medium and skill level.
---