I'll be honest.
Colored pencils aren't my favorite medium.
I personally prefer the rich liveliness of watercolor or the vibrant boldness of marker.
That is… until I make a mistake.
Then I remember how crushingly unforgiving those mediums are and why I actually love colored pencils.
There really aren't any "OH SHI…" moments with colored pencils.
Coloring with hundreds of small strokes means mistakes are almost always fixable. Among other compelling traits, colored pencils offer:
easy color blending
no bleeding or running
fine details
large color palettes
no mess
But just like other art supplies, junky colored pencils can turn people off to the medium entirely. If you don't want your art to look waxy and drab, read on to learn about the tools artists use to create vibrant colored pencil art.
Looking for inspiration? Scroll through our collection of colored pencil masterpieces to see how powerful these tools can be!
What makes a good colored pencil?
As with everything in life, you get what you pay for. Cheap colored pencils are usually made with low-grade wax and less pigment, which translates to less vibrant colors and more work for you.
A waxy colored pencil will leave a sheen across the paper and not blend well with other colors.
On the other hand, premium colored pencils are packed with high-quality pigments and a better binder (often oil-based). By using a softer binder, you'll find the pencil releases more pigment onto the page, which makes colors richer.
They blend like a dream and have a higher lightfastness, meaning your artwork will not fade over time.
One simple tip is to track how often you're sharpening the pencil. More sharpening means more pigment is being transferred to the paper. It's a good thing!
The best colored pencil options for artists
Here are our favorite color pencil picks from established, well respected brands. Each item comes in a range of set sizes (12-150 pencils) so you should be able to find an option for any budget.
As an Amazon affiliate, we may earn a small commission from your purchase. This helps support Mega Pencil at no cost to you. 🙂
Faber-Castell Polychromos Color Pencil Studio Set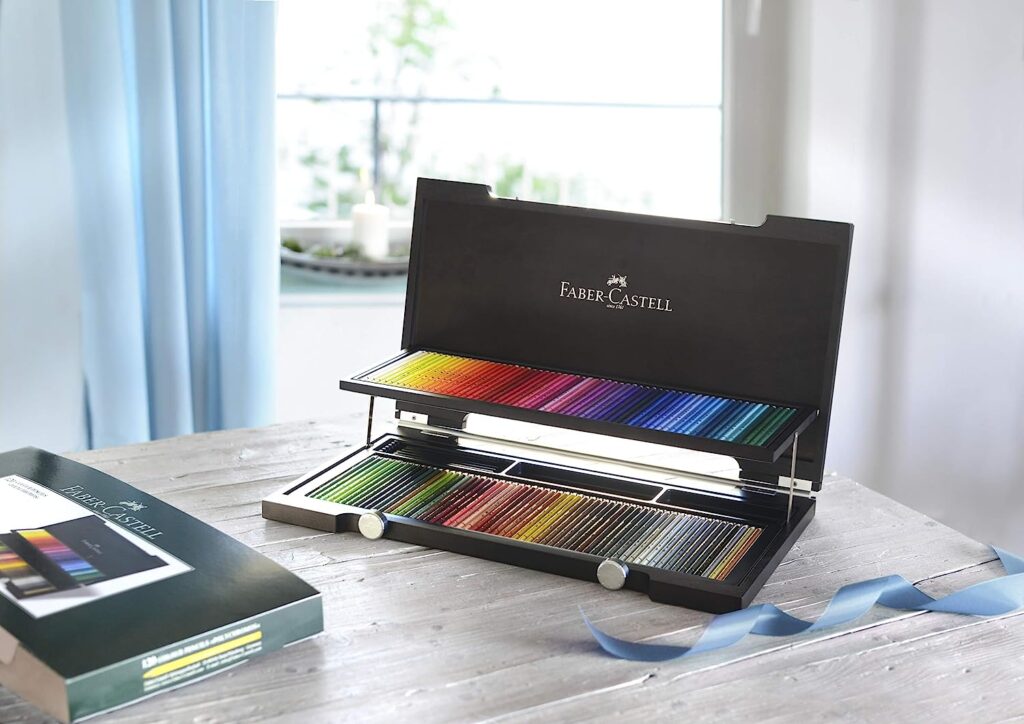 When you've been making art supplies for over 260 years, you tend to learn a thing or two.
Faber-Castell's polychromos line of colored pencils are simply some of the best. With a HUGE color palette of up to 120 options, you can capture any subject vividly. The pencils have specially treated break-resistant lead with buttery smooth, oil-based blending.
They also tout maximum lightfastness, are smudge-proof and made in Germany.
Caran D'ache Luminance Colored Pencil Set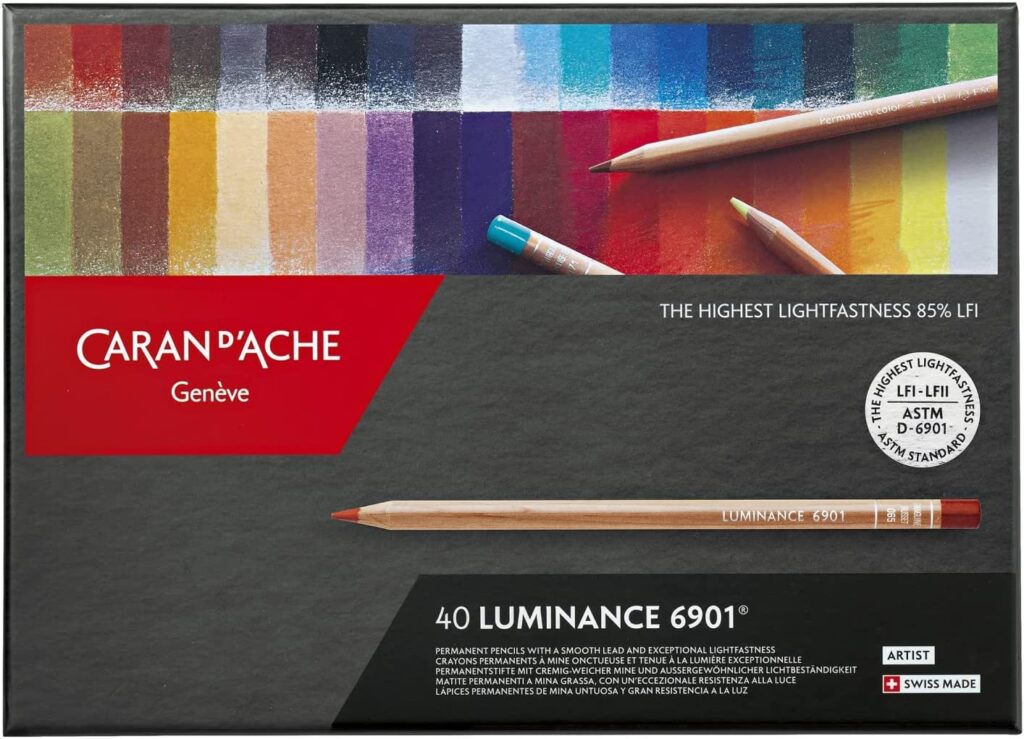 These Swiss-made pencils have a stellar reputation among artists. The 'luminance' title comes from their top tier lightfastness rating (claimed as the highest ever).
The California cedar casing houses a sturdy wax-based lead available in 100 colors. But wait, didn't we say wax colored pencils are bad? It depends on the wax, and Caran D'ache uses a buttery soft parrafin type wax that blends just as well as oil.
Prismacolor Premier Colored Pencils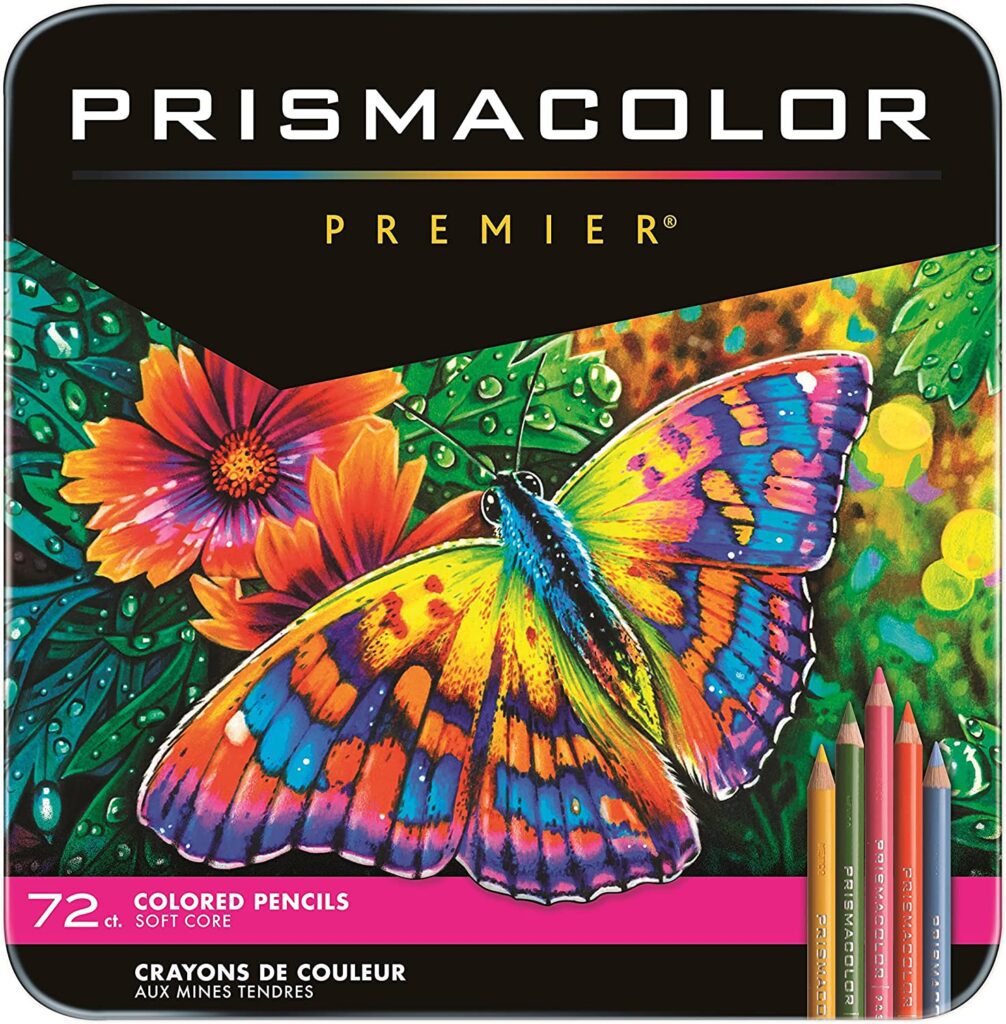 If you're looking for an affordable option ideal for beginner artists, Prismacolor is a great choice. While they might not have the same smooth application as the European brands, we can attest to their vibrant colors and durable lead.
Prismacolor Premier colored pencils also have a large list of over 130 colors available. Specific sets for things like skin tones or flowers are also available.
A special mention for Prismacolor's venerable Col-Erase erasable colored pencils. Sketchers and animators swear by these!
Derwent Artist Colored Pencils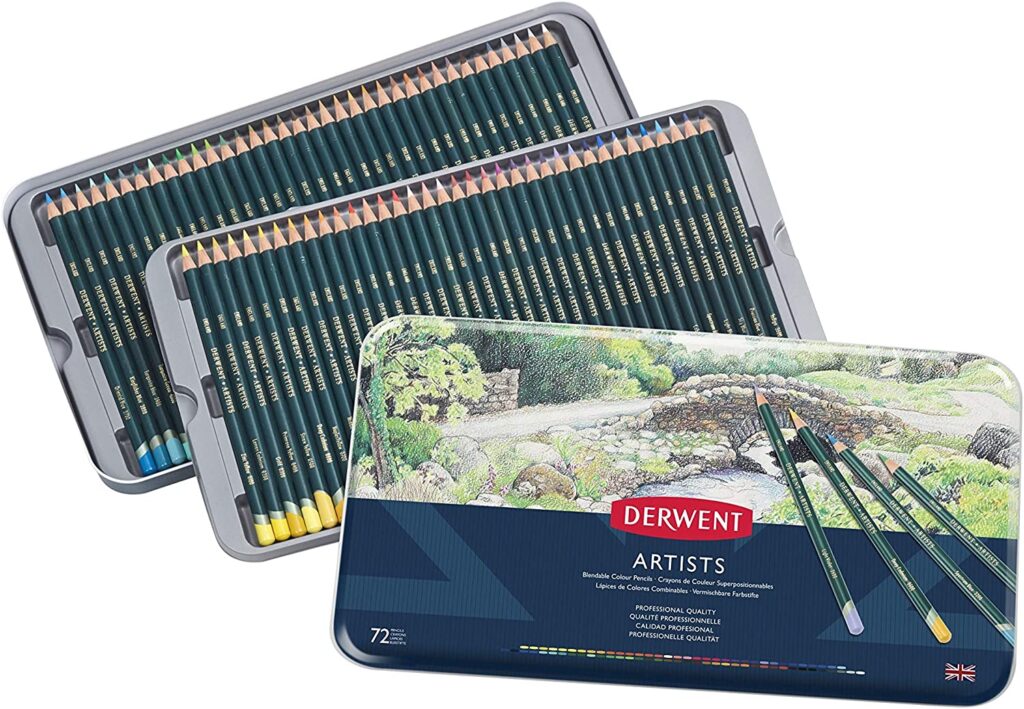 What makes Derwent colored pencils stand out are their thicker 4mm cores. This makes the pencil a little heftier than competitors and results in fewer lead breaks. Their Artists pencil set is a well-rounded choice, but Dewent has other compelling colored pencil options depending on your use:
The Inktense set of pencils can be drawn wet and have an ink-like pigment. Once dry they leave a permanent mark.
Derwent's Lightfast pencils promise ZERO color fading for up to 100 years. The oil-based cores are so buttery soft they can even be blended with a brush on paper.
Their Coloursoft line has the softest lead in the collection. Reviewers love their creamy blendability and vibrant color options, plus they're erasable!
Holbein Artist Colored Pencils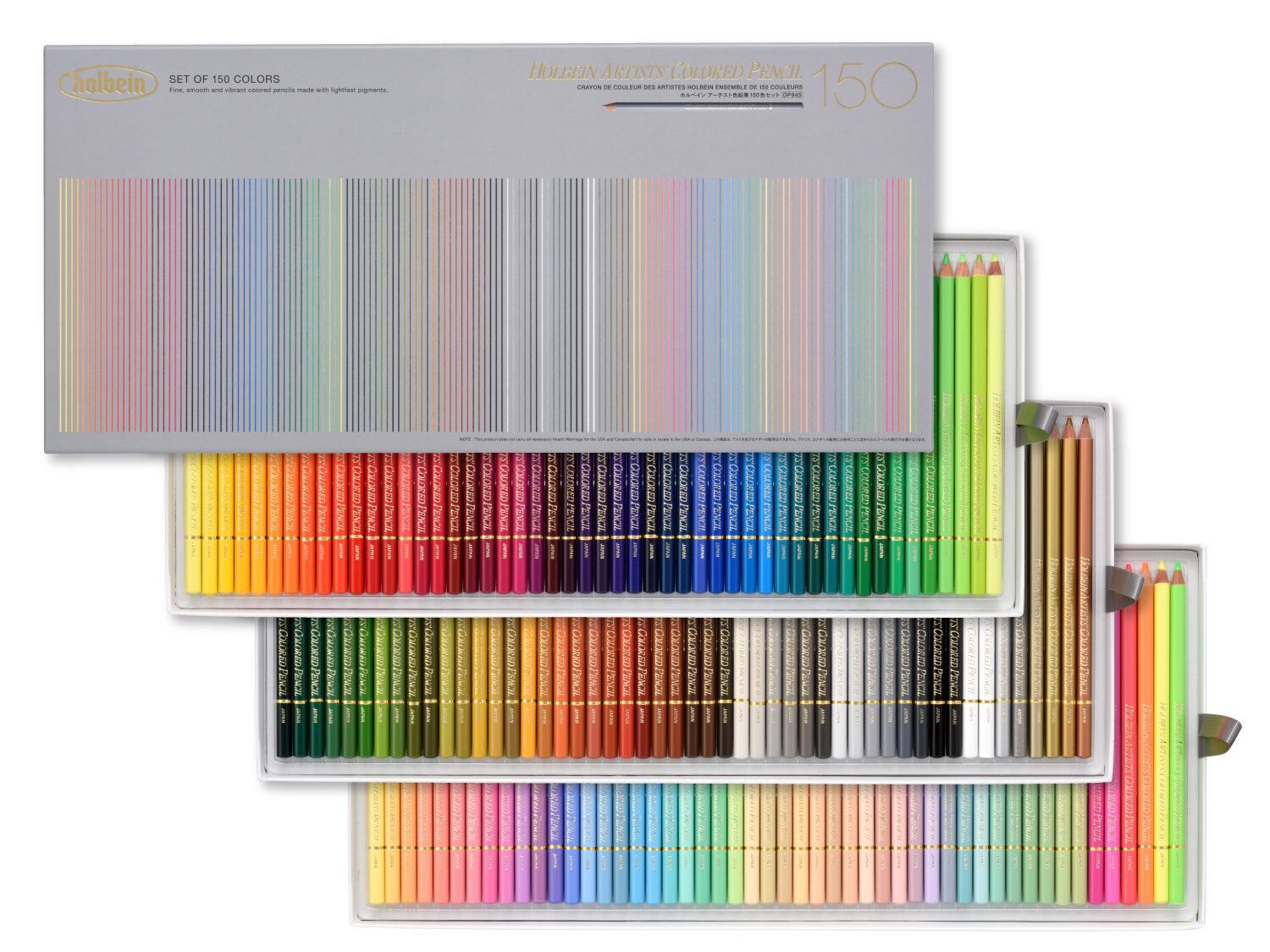 Sometimes the best colored pencil set is the biggest. This bad boy might be expensive, but combines everything an artist could hope for.
Holbein's set offers a whopping range of 150 colors. Each pencil is filled with high-quality pigments designed for easy blending and layering. As it's oil-based, the lead resists wax bloom, a common issue with wax-based colored pencils.
Another feature that makes them a top pick is their quick absorption into the paper. This means you can switch between colors and without staining the tip of the pencil.
If specific colors are important to you, here's a list that shows all 150 colors by name.
4 ways to improve your colored pencil art
Now that you've got your pencil options sorted out, here are four simple tips to make the most of them:
Layer Your Colors: Building up layers can add depth and richness to your colored pencil art. Start with light colors and gradually add darker shades, maintaining control over the intensity and tone. Don't be afraid to go over an area 4 or 5 times!
Blend Using Solvents: You can blend colored pencils using solvents like baby oil or rubbing alcohol to create a smooth, painterly effect. Just remember: less is more – you don't want the paper to become overly saturated.
Use a Colorless Blender: A colorless blender is a special colored pencil with no pigment. It can help you combine colors without changing the original hue, perfect for creating transitions between colors.
Experiment with Different Papers: Different types of papers can significantly affect the look of your colored pencil art. Heavier, toothier papers can hold more color layers but struggle with detail, while smoother papers are great for fine lines but can have a shinier finish.