Finding good references for figure drawing can be tough. Scrolling through the endless abyss of Pinterest or Google Images is not only a massive time-sink, but rarely results in unique or interesting poses.
If you're looking for the kind of dynamic, action oriented poses that are the hallmarks of compelling illustrations, you might need to go digital.
Virtual pose tools offer a way to configure a digital model into whatever pose you're looking to draw. The downside to this has usually been simplistic, Ken-doll-esque models, or convoluted 3D software to learn.
Figurosity removes both of those barriers with an enormous catalogue of photorealistic poses available with just a few clicks.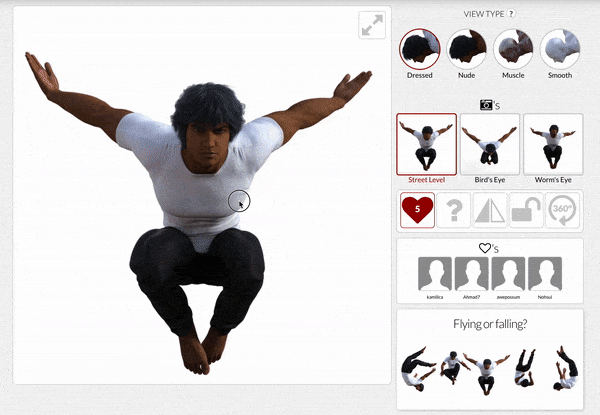 An army of models at your disposal
Unlike other digital drawing tools that are app dependent, Figurosity is a cross-platform website that works on mobile, desktop, tablets and anything else with a browser.
What sets the tool apart is the incredible level of realism from the 3D models. Far from being crude digital versions of artist mannequins, the models on Figurosity actually look like real people.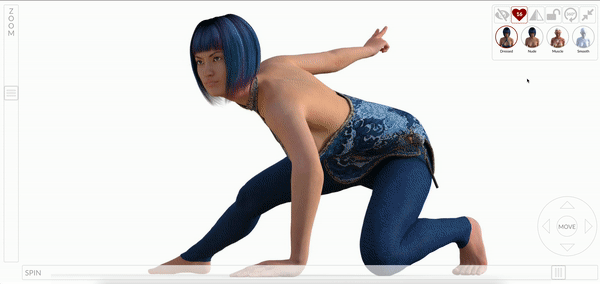 That level of detail does come with a trade-off however – because each image is professionally rendered it isn't possible to pose the figures yourself. That isn't much of a barrier though considering Figurosity has nearly 10,000 poses to choose from.
From ballerinas to brawlers, skateboarders to superheroes, their catalog has an incredible range of body types and activities.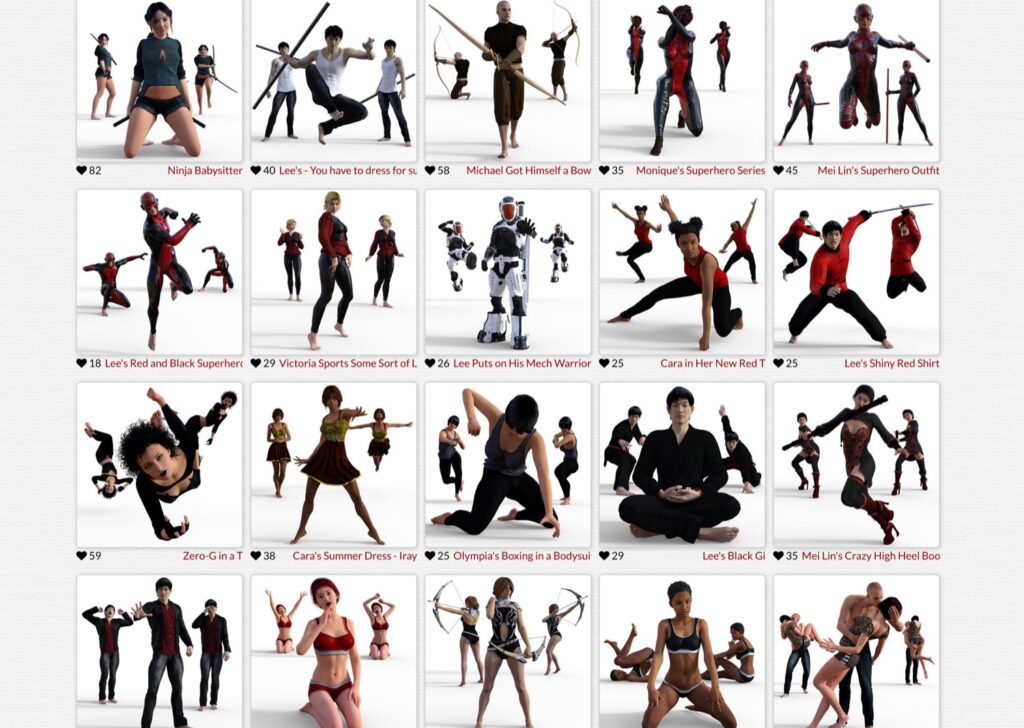 Figurosity's content is separated into four main sections:
Pose search lets you dial in exactly what you're looking for by filtering camera angle, gender, action and more.
Sets groups poses into themed collections – think flying poses, pinup poses or ninja poses.
Models showcases Figurosity's diverse group of 3D models by name and headshot, which links to each model's photosets.
Quick poses generates a random pose based on your parameters, which we'll explore more of below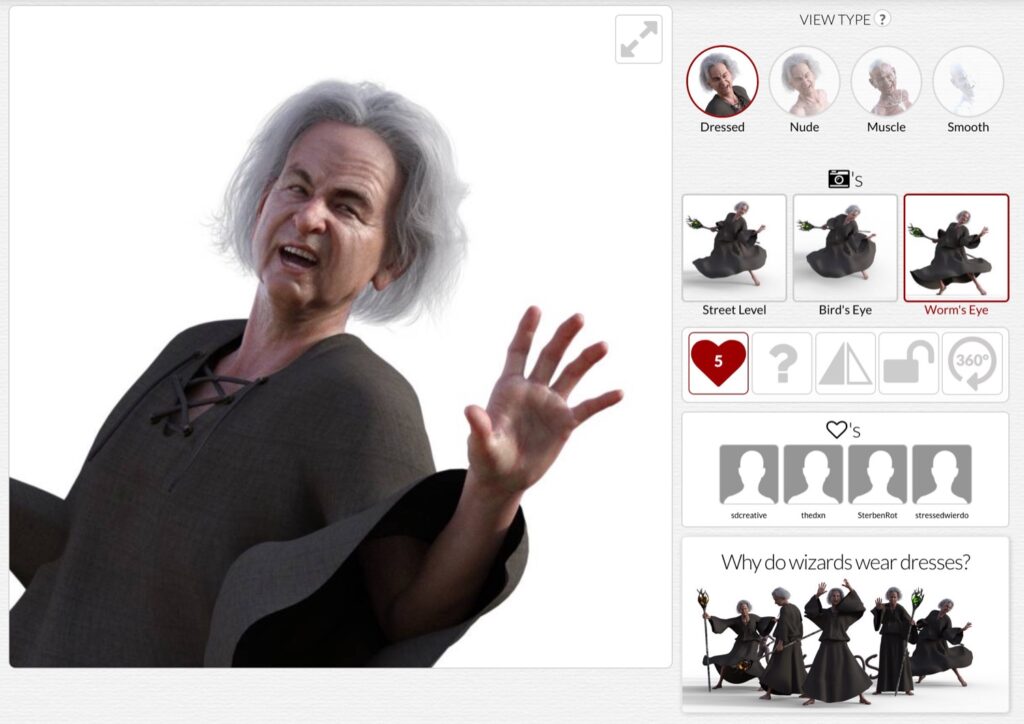 Multiple angles, skins and view types
Once you find a pose you like, you'll be presented with an interface that helps you dial in your pose through additional settings.
The viewer lets you choose between four skin types for your figure:
Dressed is the only option for free members and shows the figure in their preset clothing.
Nude shows the anatomically correct human form without clothing.
Muscle strips the skin away to show the anatomy of the muscle groups beneath.
Smooth renders the figures almost like plasticine and can make it easier to see certain forms and overlaps.
After you select which view types to load, you can rotate the figure 360-degrees with your mouse or finger on a touchscreen.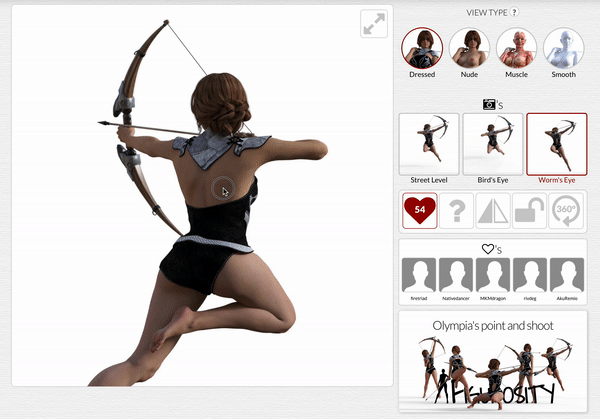 The camera angle option can be changed from street level, bird's eye and worm's eye to achieve different perspectives.
While free members can save the initial figure to their account, paid plans can lock the exact pose shown on screen and file it away for later.
Timed poses for gesture drawing
One of our favorite features of Figurosity is the artist-oriented Quick Poses page. Just like an in-person figure drawing class, viewers are presented with a random pose and a limited time to capture the gesture.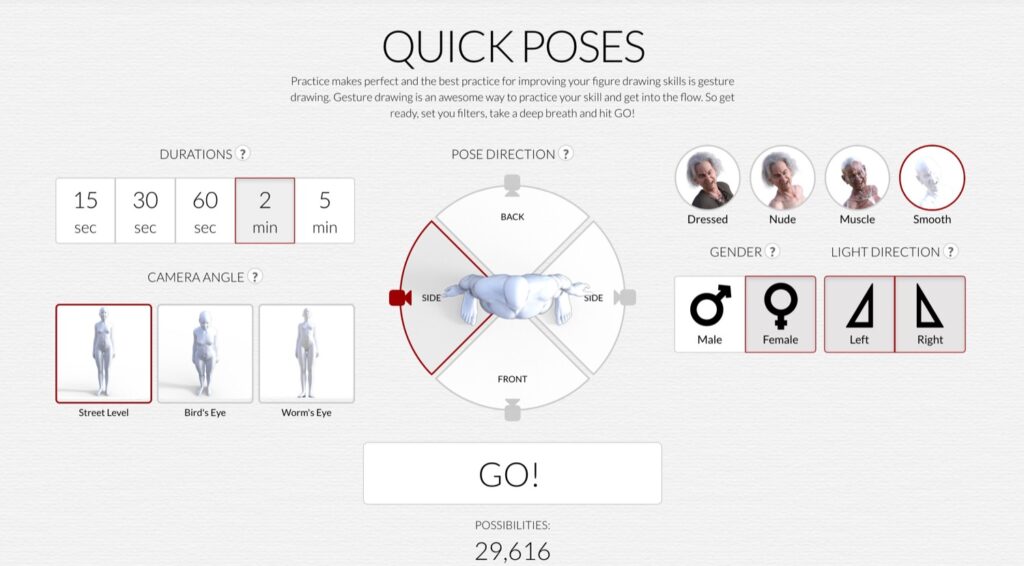 You can choose from 15 seconds to 5 minutes before the screen transitions into the next pose. Paid accounts can pick from additional options like skin types, pose direction and camera angle.
This is a great tool to practice gesture drawing and get better at anatomy. You also won't have to worry about seeing the same pose twice since there are over 184,000 possibilities!
Release the beasts
Besides dozens of human models to pick from, Figurosity also has a growing selection of animals and other creatures too. Dragons, horses and werewolves make an appearance along with dogs, fairies, zombies and other surprises.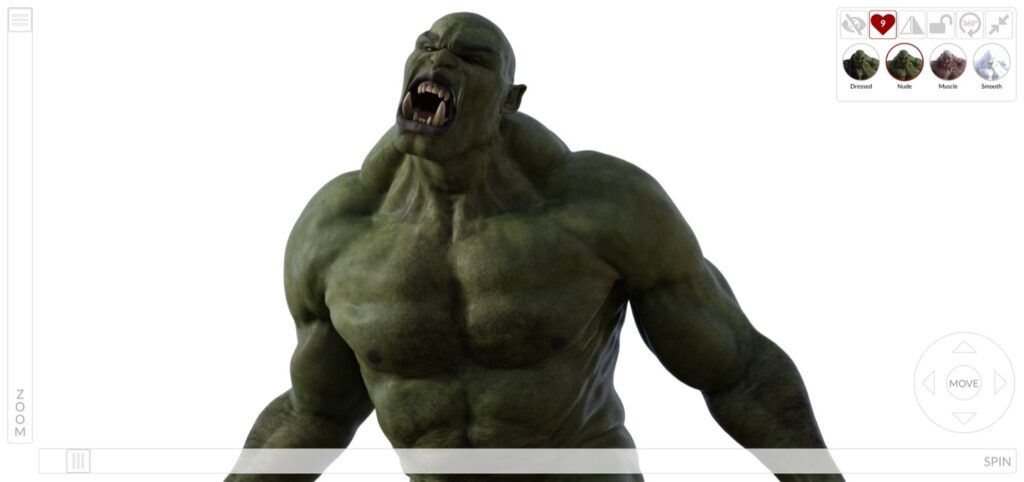 Final thoughts
For artists looking for a one-click source of dynamic poses, Figurosity is a fantastic resource. Whether you need reference models for a final piece of art, or are just looking to improve your figure drawing, the site is well worth a bookmark.