If you're looking for the best free drawing tutorials, there's perhaps no better resource than the Etherington Brothers. The duo have been publishing their How to Think When you Draw series online since 2017 and have built up an incredible stockpile of amazing tutorials.
Each lesson covers a specific subject and lays it out in a super clear, highly visual format.
Unlike so many other drawing tutorials online, the How to Think When you Draw series truly is completely free. No paywalls, subscriptions or downloads required.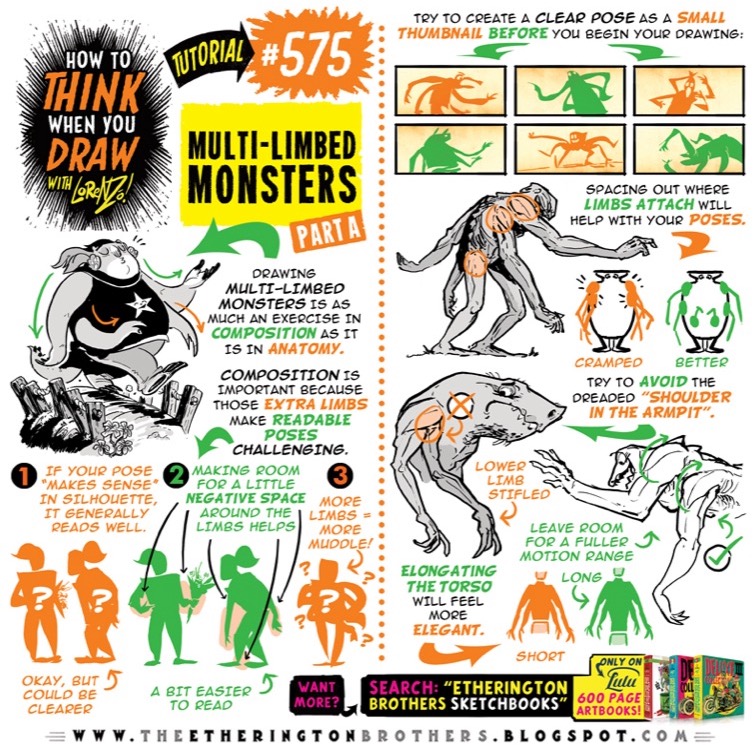 Lorenzo and Robin Etherington have worked with some of the biggest studios on the planet, including Disney, Dreamworks, the BBC and more. Their tutorials feature the same high energy and sleek graphics you'd expect from people experienced with properties like Star Wars and Kung Fu Panda.
The brothers have published a range of their own comics including Long Gone Don and Stranski with Lorenzo tackling art and Robin handling the writing. Lorenzo's art has a bold whimsy to it that might feel familiar to fans of Bill Watterson or Will Eisner. His style translates very well to the tutorials, which feature a vivid comic format that's easy to understand.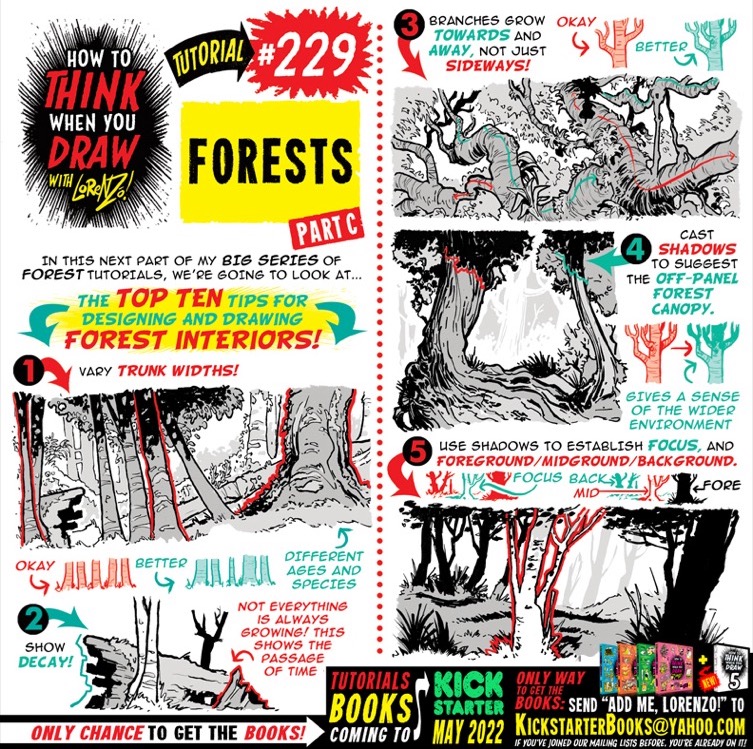 👉 Keep reading for a link directly to 300 free tutorials!
Learn to draw a WIDE variety of subjects
What stands out in the How to Think When you Draw series is its wonderful diversity of subject matter. While there are tons of great resources on figure drawing or portraits, the Etherington Brothers have created a niche of unique topics like:
Levitating figures
Cat heads
Motorbikes
Avalanches
Chain mail
Bird wings
among countless other subjects
If you've ever worked on creating comics, you probably realized the huge range of things you need to be able draw convincingly . Backgrounds, props, effects, animals and everything else that makes a story come to life.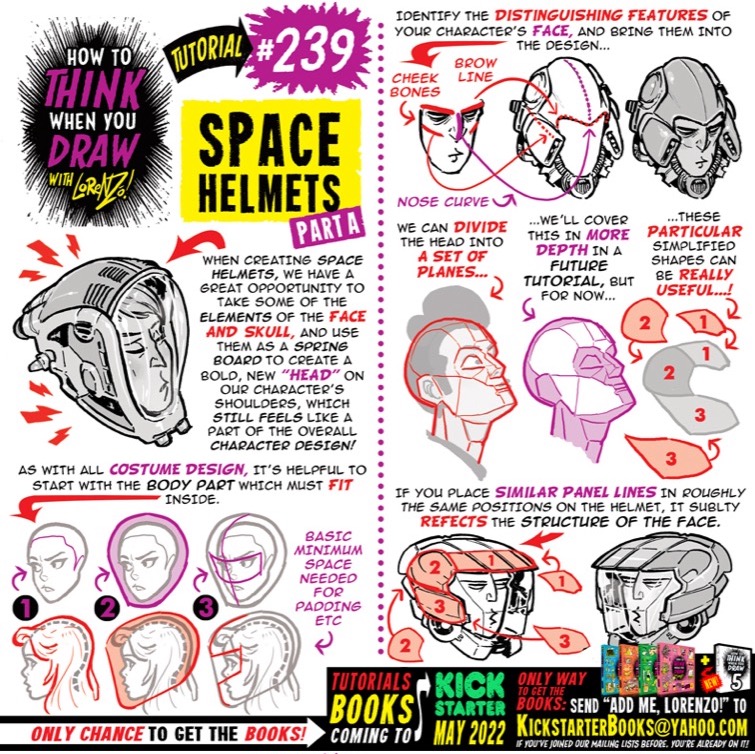 Prefer books? You're in luck…
While the internet is a great resource, we're still big fans of books. It can often feel easier to learn from a physical page -and it's a lot harder to get distracted! If you feel the same way, the Etherington Brothers have published collected volumes of their How to Think When you Draw series on Kickstarter.
As a stunning testament to their skills, they've raised over $3 million though the platform and hold the title of the most successful artbook of all time on Kickstarter.
They're currently collecting pre-orders for their fifth 200-page hardback of drawing tutorials, if you'd like to pick up a copy.
📖 Bonus alert – check out Lorenzo's free 52-page ebook How to Draw Comics aimed at kids and beginners.
List of Etherington Brothers free tutorials
So why are the brothers willing to give so much information away for free? Lorenzo revealed a fascinating insight during an interview with sketchwallet.com:
…I want to build an Encyclopedia of drawing tutorials so big and so diverse that 200 years after my death, someone somewhere is still using it. That's the plan, anyway!
As promised, click the image below to access the 300 free tutorials in How to Think When you Draw.