Despite the proliferation of the iPad, USB drawing tablets are still one of the absolute best tools for digital artists. Why? Here are a few key reasons:
You're free from the limits of mobile apps and can use the full versions of powerhouses like Photoshop, Affinity Photo, Clip Studio Paint, Krita, etc.
Your art can be created on a substantially larger monitor (or multiple monitors!)
Tablet styluses have a finer nib than touchscreen alternatives (like the Apple Pencil).
The textured surface of a drawing tablet is more paper-like than the smooth glass of a touchscreen.
Drawing tablets are significantly cheaper.
Huion has been producing graphics tablets since 2011 and has built an impressive catalog of digital art tools in that time.
Their products have cemented a reputation as being comparable to established brands like Wacom, but with much more affordable prices.
The Inspiroy H580x is possibly the cheapest 5×8″ drawing tablet available with a current price of just $44.99. In this review we'll put the device to the test and see if you really can start creating digital art for under 50 bucks.
Thank you to Huion for providing the tablet for this review.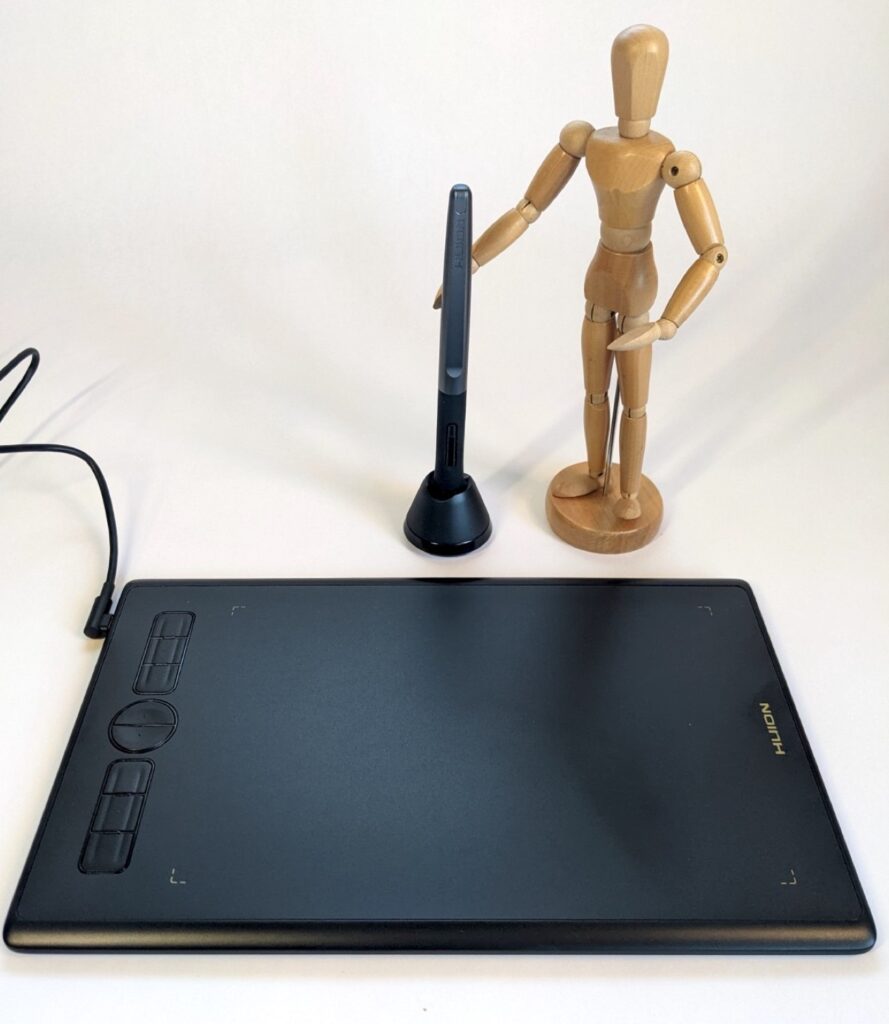 First impressions
The H580x is the middle size of Huion's Inspiroy tablet line. The smaller H420x uses a signature-sized 4×2″ drawing area, while the larger H620x features a 10×6.25″ area.
With total dimensions of 10.87 x 6.69, the H580x is similar in size to a laptop keyboard, though considerably thinner at just 8mm thick.
At unboxing the tablet includes:
The battery-free PW100 pen
Pen holder with 8 extra nibs
USB-C Cable
USB-A and Micro USB adapters
Quick start guide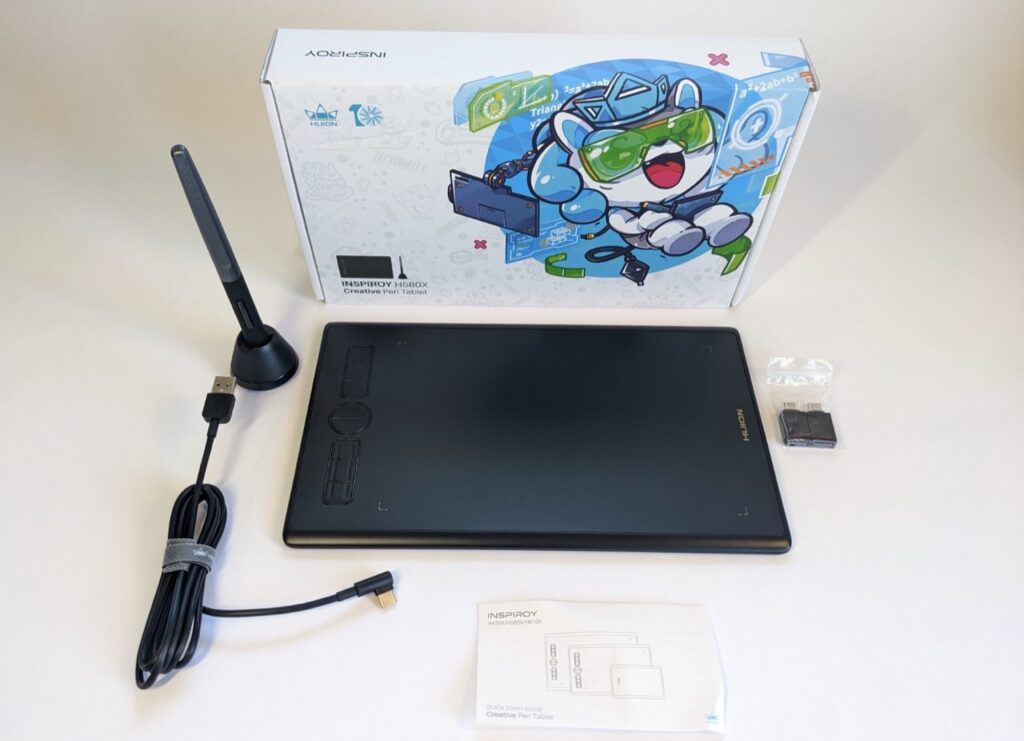 Setup was refreshingly simple after a quick download of Huion's driver.
The "HuionTablet" app includes customization screens for each physical button on the tablet and pen. The default configuration would work for most, but I preferred to tweak the undo/redo buttons and move the eraser controls to the pen.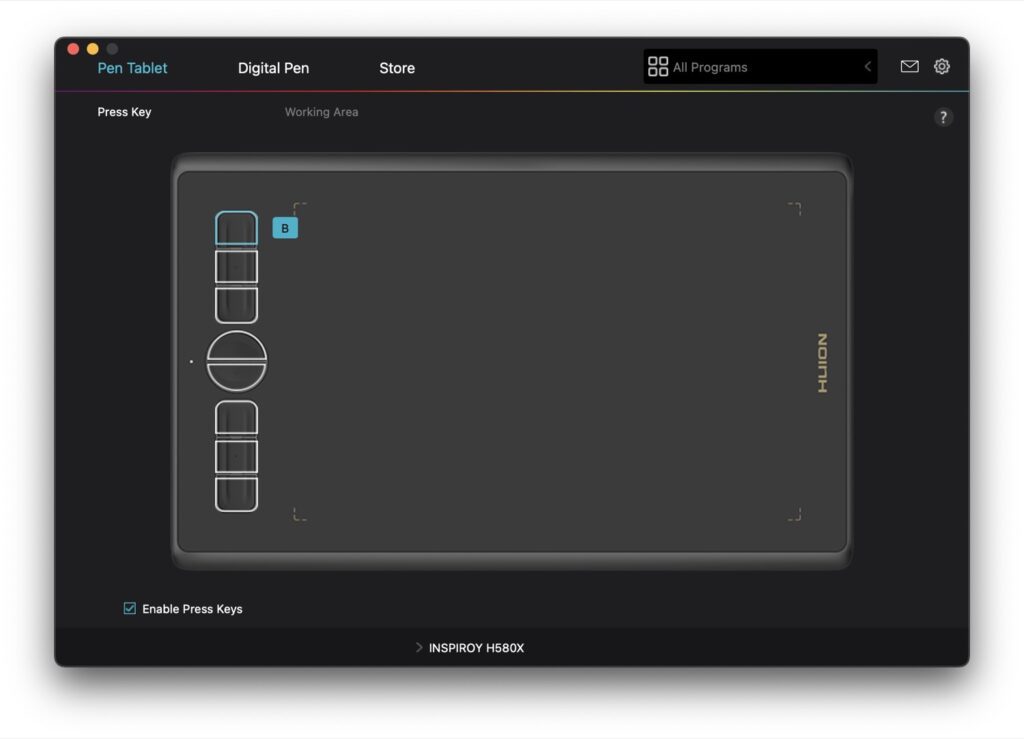 A second tab shows pressure sensitivity settings. You can create your own pressure curve or choose from five presets. There's also a nifty testing area on the side.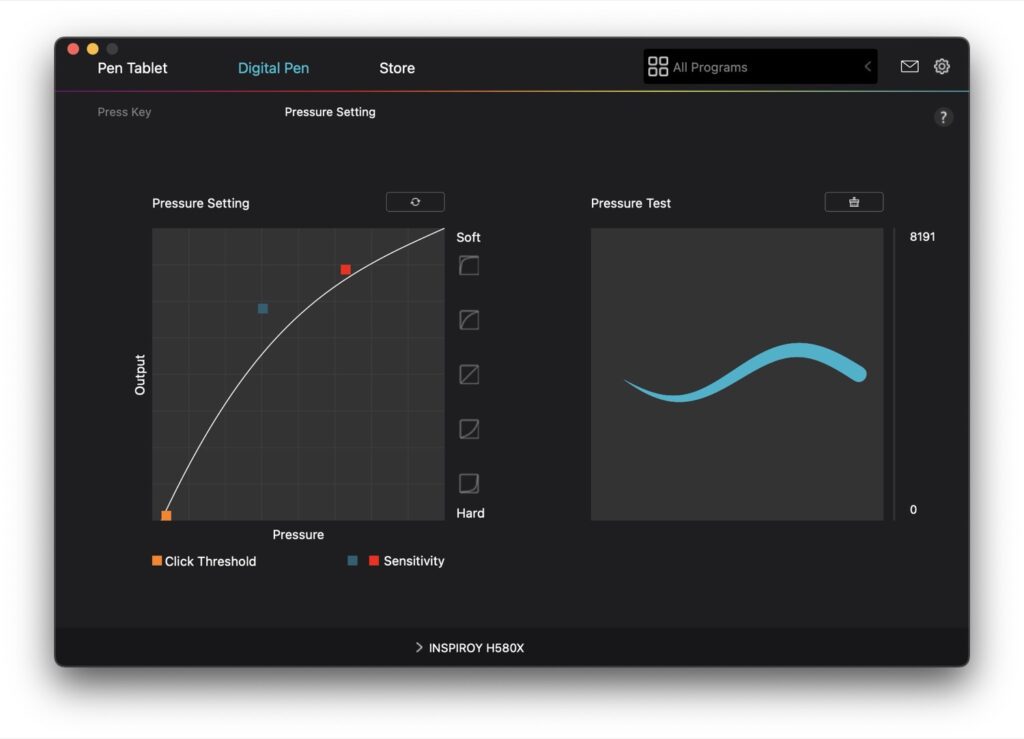 Compatibility
Huion's Inspiroy tablets are compatible with every major operating system with the exception of iOS. Android devices on the other hand can benefit from the plug-and-play connectivity and larger drawing surface of the tablet.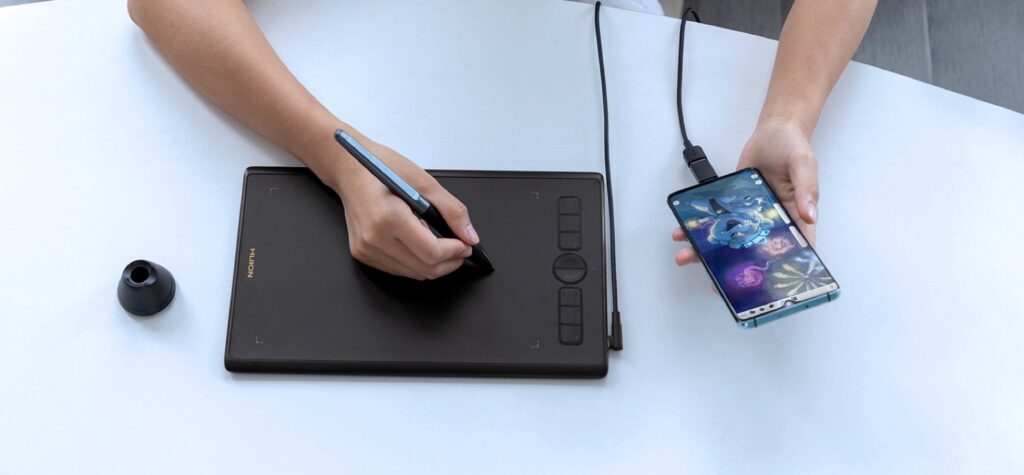 Looking for the driver download for the Huion H580x? Check out the downloads for Mac, PC and Linux here.
As far as software compatibility goes, Huion states their tablets work seamlessly with mainstream digital art apps like:
Photoshop
Illustrator
Clip Studio Paint
PaintTool Sai
GIMP
Krita
Affinity Designer
Affinity Photo
Corel Draw
Corel Painter
Digital drawing experience
To put the tablet through its paces, I painted a simple rim lit profile in black and white. The digital painting app used here was the highly recommended Affinity Photo for Mac.
Huion's PW100 stylus is extremely light (almost hollow feeling), though the flared rubber grip gives it a nice feel in your fingers. The nib looks comparable to a 2mm pencil, which makes it pretty adaptable for mimicking a variety of mediums. The brushes I worked with were the 2B and 6B pencils included with Affinity Photo.
While painting the slimness of the H580x meant that my wrist didn't have to cross over an unforgiving plastic corner. It's about the same thickness as writing on a legal pad.
Using the quick keys along the side took a little getting used to. They're quite close together so I did need to glance down to make sure I was hitting the right key.
As I progressed with the painting, there were a couple occasions where I switched the key assignments, which thankfully did not require a restart from either app.
The matte surface of the tablet was a definite highlight. Strokes felt easy to control with a great degree of tactile feedback from the pen. I can also report no discernible lag between each stroke and it's result on screen.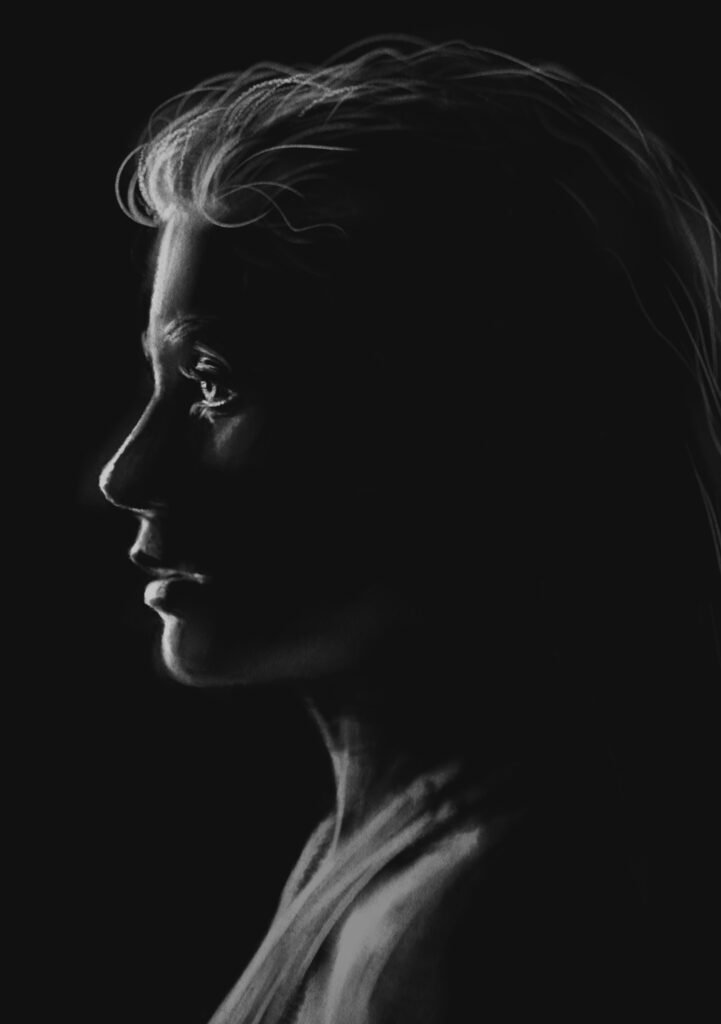 Huion H580x Specs
8×5″ working area
8,192 pressure levels
±60° tilt angle
Weighs 0.76lbs
8mm thick
USB C connectivity (plus adapters for USB A)
8 customizable buttons
OS support for Linux(Ubuntu), Windows 7 or later, macOS 10.12 or later, Android 6.0 or later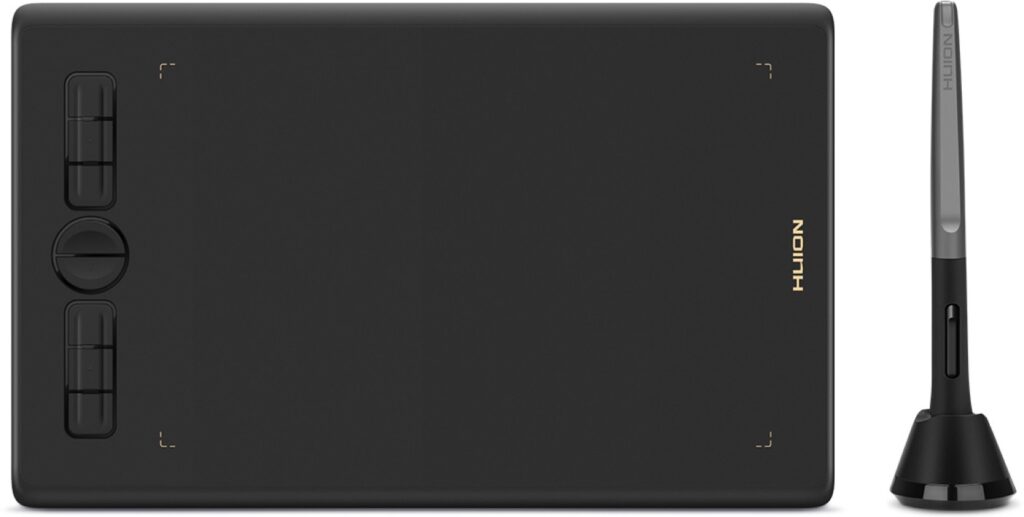 Final thoughts
For those looking to enter the world of digital art, the Huion H580x is a fantastic tablet. The 5×8″ working area is big enough to tackle a variety of projects without taking over your entire desk.
The pen, textured surface and super slim dimensions all help the tablet punch well above it's ultra affordable price tag.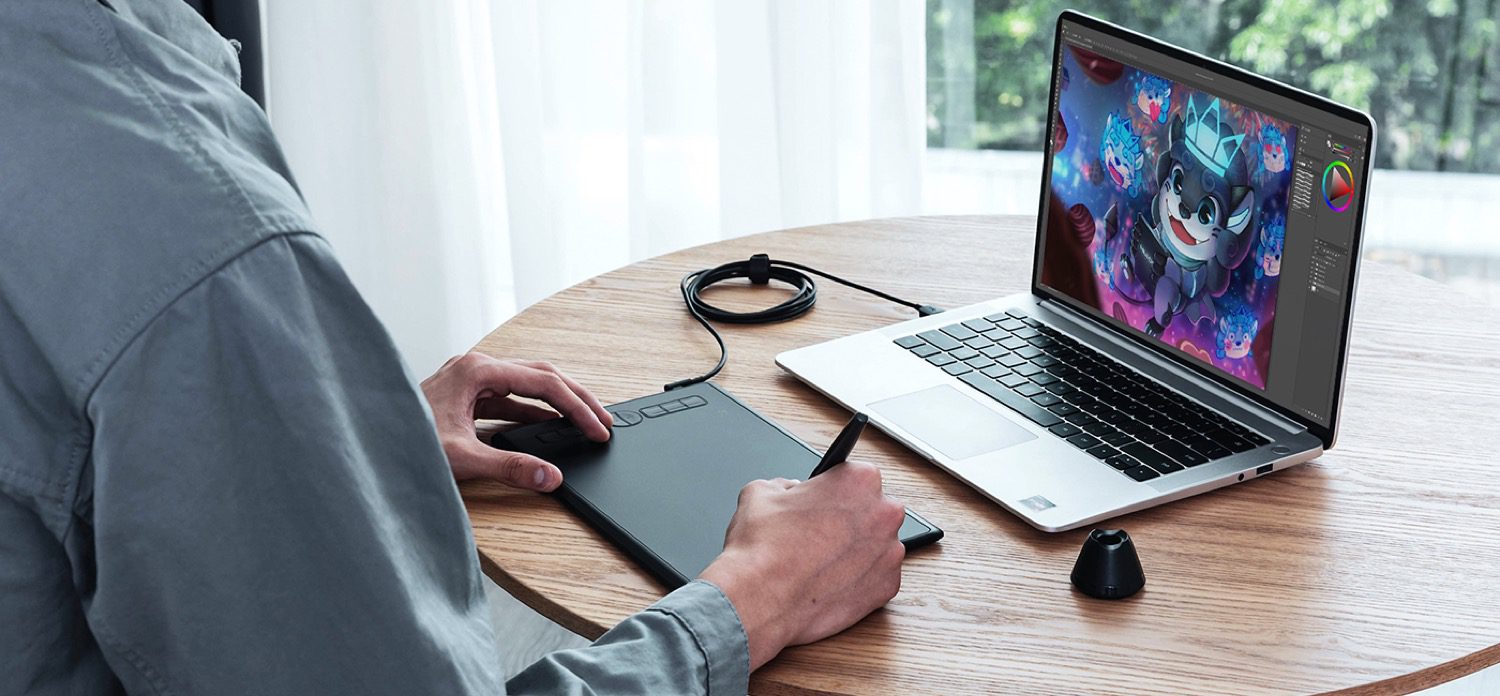 An affordable gateway to digital art
It's "just right" size, comfortable pen and outstanding compatibility help make this a great drawing tablet for those who don't mind using a separate screen.
Pros
Sub $50 price
Only 8mm thick
Great paper-like texture
Cons
Side keys show their price
Pen's a bit wobbly in holder