Cozy Days: The Art of Iraville
Everything you could ask for
A perfect summary of everything you'd want to see in an art book. Highly recommend for fans of Ira's style and artists interested in watercolor.
If you've read our art book reviews before, you might notice something a little different here… a perfect 5-star rating. That's rare at Mega Pencil, but one this art book deserves.
Ira Sluyterman van Langewedye, known as Iraville online, is a German illustrator known for her charming watercolor illustrations of nature, small towns, idyllic scenes, and everyday life.
"Cozy" would be an apt description for her style. Plants, cats and women in sweaters make frequent appearances.
In Cozy Days: The Art of Iraville we see 152 pages of Ira's inviting watercolors plus a wonderful amount of insights into her technique.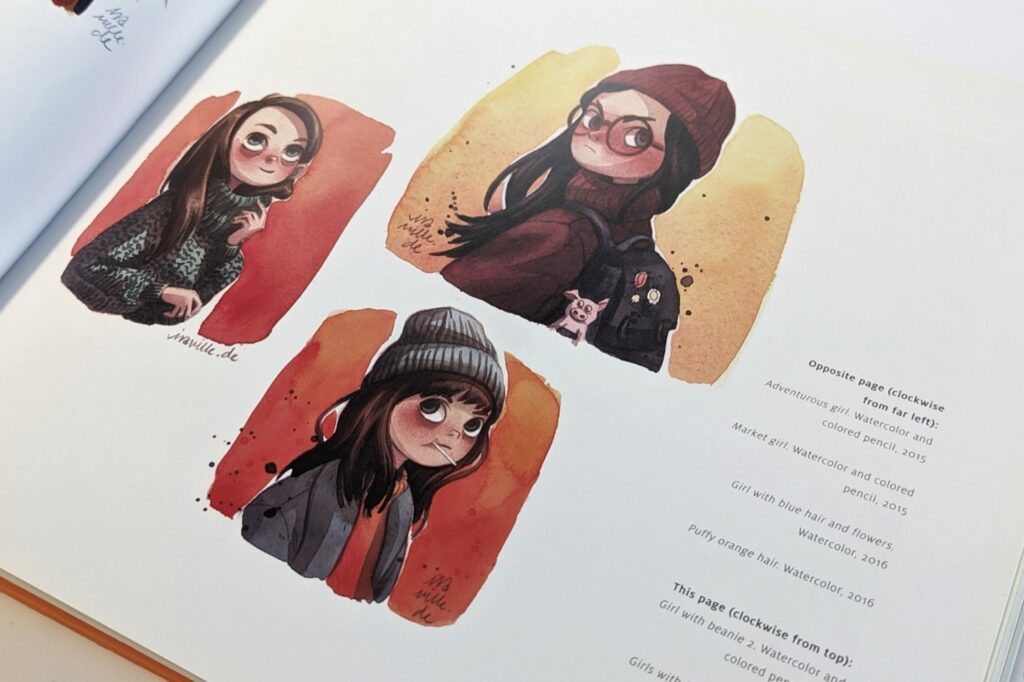 Iraville's origin story and workspace
The book starts with a 10 page introduction where Ira shares her beginnings as an artist. She started her career as an interactive designer for websites working almost entirely digitally. An experimental project involving ink blobs led her to realize her passion for tactile, physical mediums like pen and paper.
In her spare time Ira began posting her original art online, which soon led to new clients requesting illustrations and character designs.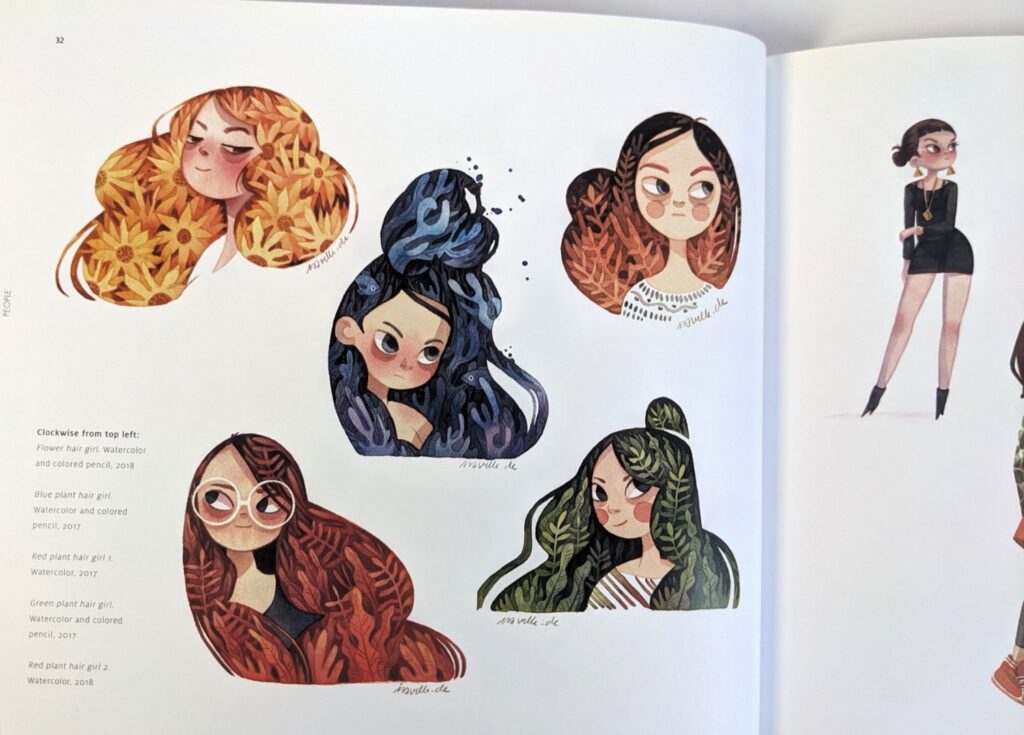 Cozy Days has plenty of behind the scenes content – something you rarely see enough of in art books. Ira explains her materials in detail with plenty of photos showing her collection of watercolors and colored pencils.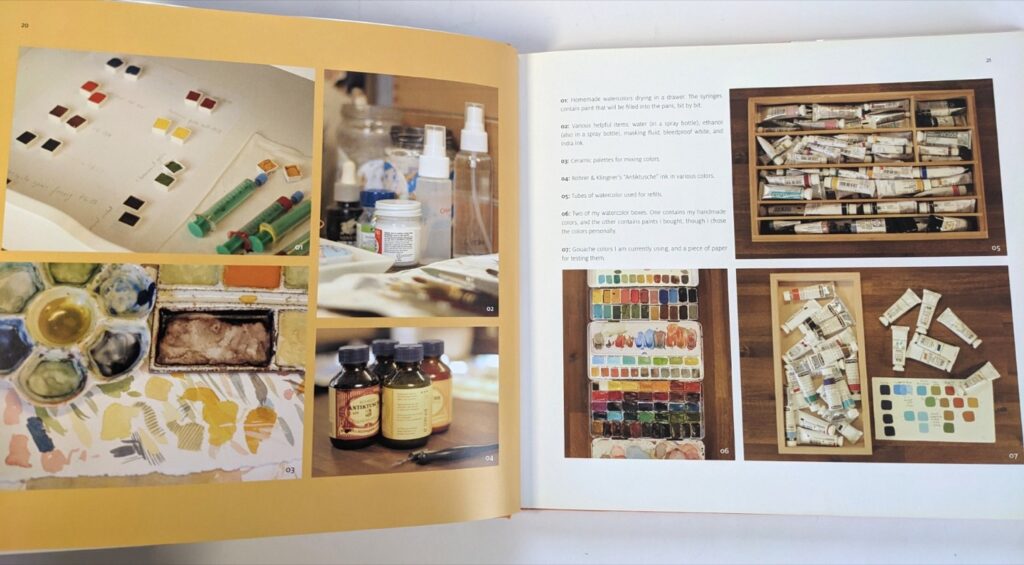 I just feel good when I paint a tree, or a bird, or even an old country house. Painting traditionally feels much ore relaxing than painting digitally, and I think that a lot of the people who look at my illustrations have a similar desire to see something non-digital.

Ira Sluyterman van Langewedye on why she paints traditionally
Whimsical watercolors of every category
We've done enough art book reviews to know chapter formatting isn't always created equal. In Cozy Days, the art is segmented into clearly defined categories:
People
Landscapes
Animals
Buildings
Plants
Each section shows 1-6 paintings per page along with their respective titles, medium and year.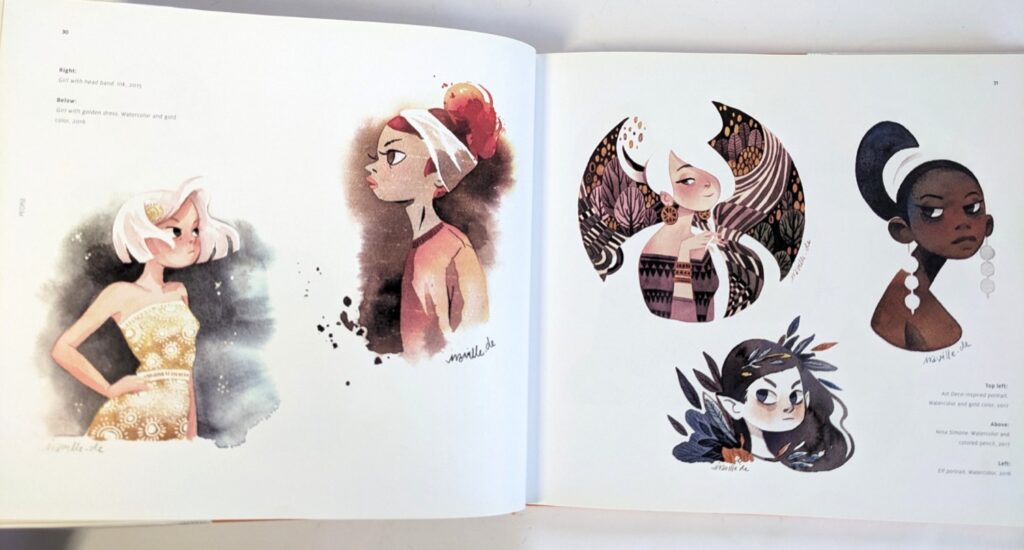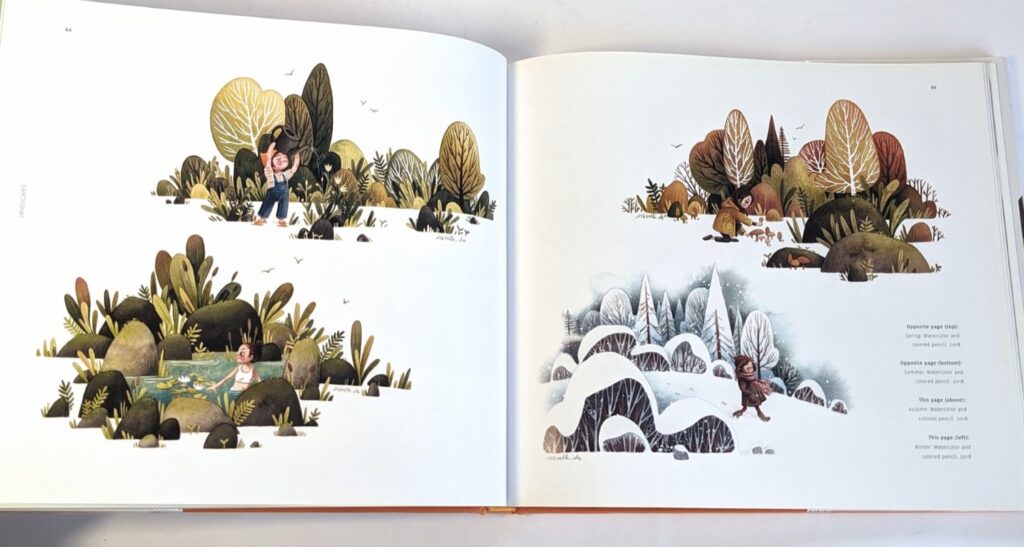 How to paint like Iraville
In between gallery sections are in-depth tutorials where Ira demonstrates different parts of her art process. In My painting process we're shown how Ira creates a watercolor piece from beginning to end. The chapter includes:
material details for paper, paints and brushes
initial sketching and thumbnailing
how to transfer the sketch to watercolor paper
taping and masking fluid steps
painting watercolor layer by layer
final digital touchups using Photoshop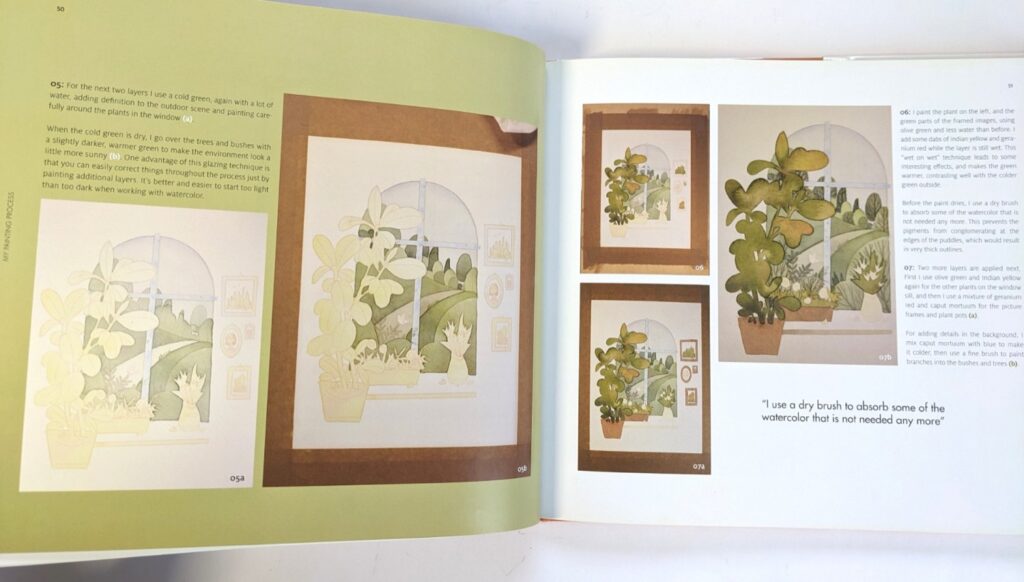 It may sound a little weird, but even now, I really love to watch different colors flowing into each other. It's as if they're doing what they want to do. It's so much fun to explore how the colors behave when I'm using different papers or different techniques. For me, it's totally relaxing and satisfying to paint with watercolors.

On falling in love with watercolors
Learn how to make your own watercolor kit and sketchbook
Cozy Days: The Art of Iraville is much more than just a gallery of pretty pictures. Besides walking us through her workspace and process, Ira also shows us how she makes her own watercolor palette and sketchbook by hand.
Make no mistake, these DIY projects aren't for the faint of heart, but do add a real sense of tactile "craftiness" you just don't get from store-bought supplies.
In Ira's words:
I like handmaking my materials – and handmade things general – because I somehow appreciate them more; trying to understand the materials I use helps me when I am working with them.
The book's detailed steps explain how to make your own half-pan watercolor from pigment powder, honey, glycerine and other materials.
Making your own watercolor sketchbook takes longer, but the end result looks amazing. Ira walks us through the entire process from picking the paper to sewing the binding.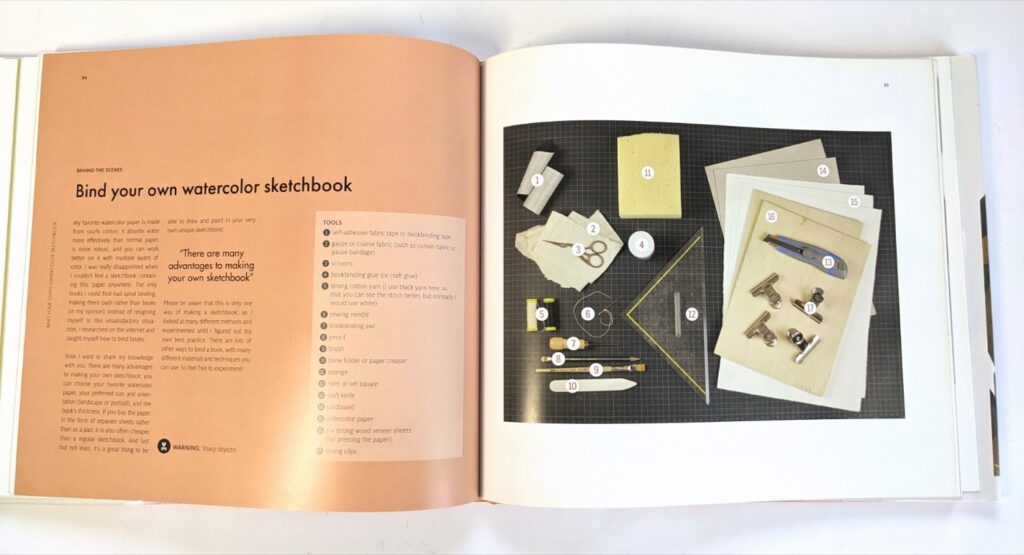 Final thoughts
Even if you're not a fan of the cozy, feminine style of Iraville, Cozy Days is still a phenomenal asset for artists. Ira's thoughts on social media and the important of creating art YOU like are a welcome message, along with keen insights into her medium and process.
Overall, highly recommended.
---