If there's one core activity that connects the many disciplines of traditional art, it's sketching. Sculptors, painters, cartoonists – you name it and they probably have a worn little notebook on them right now full of pencil sketches.
It's the skeleton that holds together a larger piece of art. The initial strokes on paper that transfer ideas in your head to the real world.
Sketching is a fast (and cheap) way to draft concepts and an incredible art form in its own right.
So what makes for a good sketching pencil? In the end that's a very personal decision, but the entries in our list went through the following guidelines:
Quality – it should be made from premium materials by a reputable company and designed for the demands of an artist.
Comfort – it should feel good in your hand for extended periods and be easy to take on the go.
Cost – as a naturally depleting item, a good pencil should be affordable to replace or refill.
With that in mind here are our picks for the best pencils for sketching currently available.
As an Amazon affiliate, we may earn a small commission from your purchase. This helps support Mega Pencil at no cost to you. 🙂
For a full set of sketching pencils it's hard to beat the Mars Lumograph line from Staedtler. The brand has been making pencils for over 180 years and has an excellent reputation among artists and designers. The pencils are made in Germany from sustainably sourced wood and with super-bonded lead that's designed to wear evenly.
The 12 pack includes a full range of lead weights from 4H to 6B. Having that wide spectrum makes it possible to accomplish both quick sketches and fully realized graphite drawings. The set also comes with a slim metal case to protect the pencils and keep them portable.
While they might look like regular colored pencils at first glance, Prismacolor Col-Erase pencils hold a special place in many artists hearts. The magic lies in the small amount of wax that's mixed into the colored leads. This gives the pencil a smoother, softer look and is ideal for quick gestural sketches. Many artists (including animators) use Col-Erase pencils to produce under-drawings that are then layered over with darker pencil or ink. By using a colored line, it's also possible to digitally select and erase later.
Another perk is of course its namesake eraser. While the waxier lead isn't quite as easy to erase as standard pencil lead, it still lifts from the paper much easier than other colored pencils. A real life saver when mistakes happen.

Woodless pencils are an odd sight when you first encounter them. They might look like charcoal sticks, but they are in fact simply pencils without the wood casing. Removing the wood allows the graphite core to be much larger than a standard pencil. This allows for a wide surface area for shading and a quick, smooth line much like the Col-Erase above.
The Koh-I-Noor Progresso series is a great entry for those looking to add woodless pencils to their arsenal. While bigger sets are available, this package comes with 4 pencils ranging from HB, 2B, 4B and 6B. To save your fingers from a smudgy mess, each pencil is coated in a protective lacquer that comes away as it's sharpened.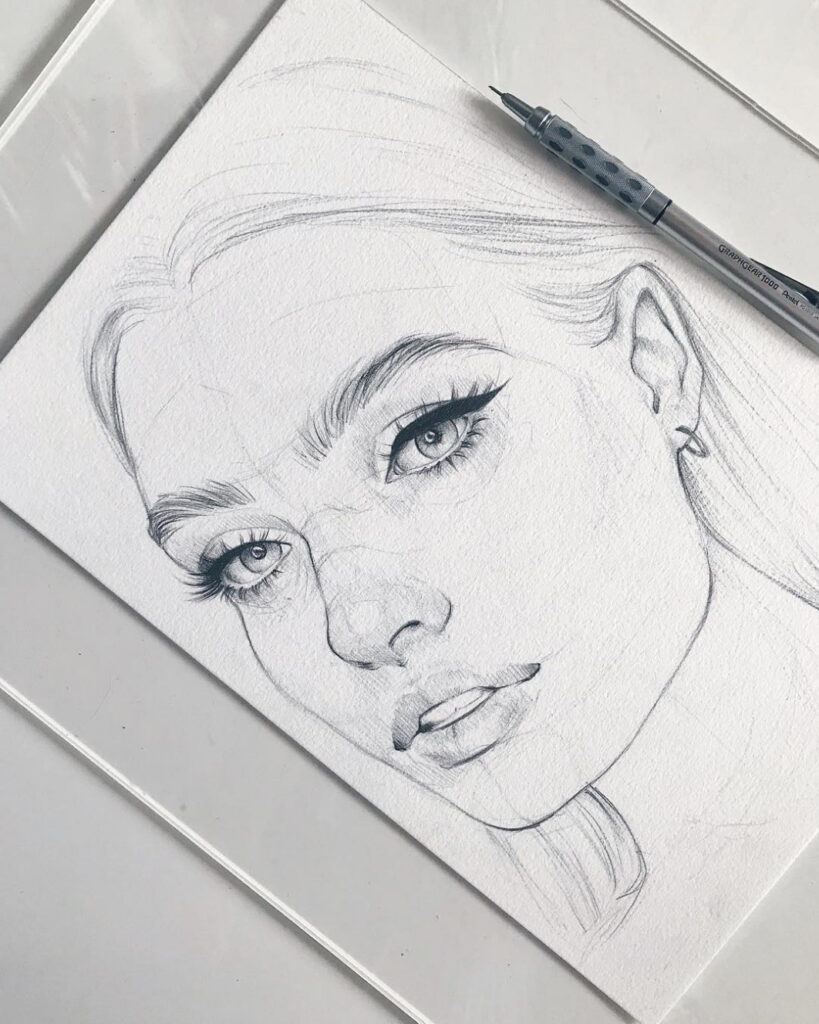 The first mechanical pencil in our list is one of the highest rated pencils out there. Japan has a stellar reputation for producing some of the world's most precise writing tools and the Pentel GraphGear 1000 is a perfect example. There are many clever features here, but the most notable is the retracting nib tip. By pulling back the clip on the side, the lead nib pops into the body of the pencil. This protects the tip from becoming bent or damaged and is ideal for travelers (or keeping it in a pocket).
The metal knurling at the grip is enhanced by rubber pads that make it very ergonomic to hold. The pads are also color coded so you tell which lead diameter you're using with just a glance. The eraser cap at the end is labeled with the lead size, making it easy to keep multiple GraphGear 1000s in your collection. Available sizes include 0.3mm, 0.5mm, 0.7mm and 0.9mm.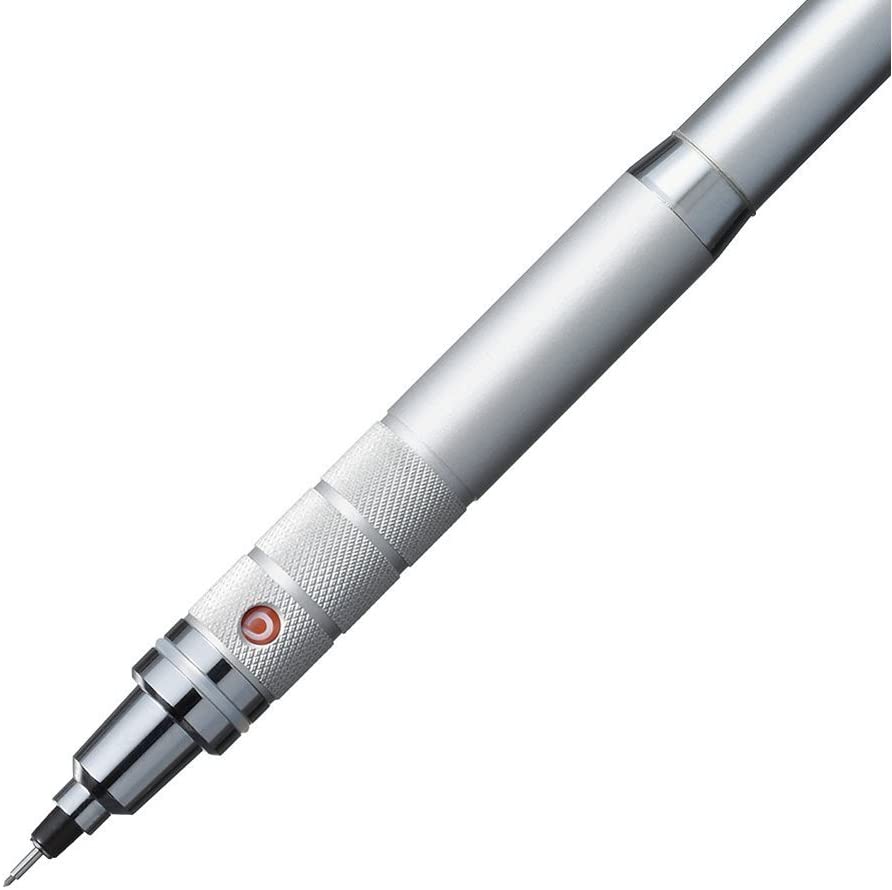 Uni, a sub brand of Mitsubishi, has also made some notable contributions to the world of pens and pencils. Their Kuru Toga line of mechanical pencils has a very cool trick up its sleeve… When the pencil is lifted from the paper the change in pressure automatically rotates the inner core holding the lead. This prevents the lead area from wearing unevenly and keeps it far sharper than other pencils.
The clever mechanics at work here make Kuru Toga pencils perfect for crisp linework and hatching where a sharp point is ideal. One thing to note is that the extra sharp point can sometimes feel like a smaller lead than the pencil is sized for – so with a 0.5mm Kuru Toga, expect it to draw more like a 0.3mm.
Clutch pencils, or lead holders as they're also called, deserve a position in any artist's toolkit. They offer the size and line width of a traditional wood pencil, but are endlessly replenishable like a mechanical pencil. A simple clasp (or clutch) holds the lead stick in place and can be extended by pushing the tab at the back. The 2.0mm lead lasts significantly longer than mechanical pencils and its added girth makes it great for fast, broad sketches when held sideways.
The Rotring brand has been around since 1928 and has a strong reputation among artists and draftsmen. The 300 series clutch pencil is a solid option for sketchers who enjoy the look and feel of a wooden pencil, without the pain of watching them dwindle away to stubs.

If there was anything worthy of the name "Mega Pencil" it's this 5.6mm lead holder from Koh-I-Noor. The massive pencil holds lead more than twice as thick as the Rotring above and is excellent for laying down loads of graphite. Koh-I-Noor has a loyal fan-base and is known for its products lasting decades. It's easy to see why – their 5.6mm clutch pencil seems to be made out of airplane parts.
The full metal body feels solid in the hand and the added bulk makes it easy to grasp for extended periods. A removable screw on cap holds a built-in sharpener, which is good since most standard sharpeners would be too small. Another benefit of the larger lead size is that it's much less likely to break from drops that might shatter regular pencil lead.
Simply put, Blackwings are considered the Rolls Royce of wooden pencils. They've been favored by a range of artists from Animators like Chuck Jones to composers like John Williams and Quincy Jones. During a 10 year gap when they were out of production, devoted users spent up to $50 for gently used Blackwings on eBay.
What is it about them that's so special?
From the incense-cedar wood casing, Japanese crafted graphite and iconic rectangular eraser there's a lot to like about a Blackwing pencil. Unlike standard sketching pencils that can come in up to 19 different shades, Blackwings are available in just 4. As many as you need for most projects and much easier to carry along. From lightest to darkest, they call their shades Natural, 602, Pearl and Matte.
The eraser is also a joy to use thanks to its rectangular edges – it's also extendable and replaceable.
In many ways Blackwing's reputation precedes them, but who doesn't want to use the same pencil that drew Bugs Bunny?
For artists that often switch between paper and digital, the Rotring 800+ is a godsend. Its unique hybrid design allows it to convert from a top tier mechanical pencil into a digital stylus that works with tablets and phones. A twist and click mechanism retracts the entire lead sheath into the barrel of the body. This leaves the rounded, touchscreen capacitive stylus tip fully presented and ready to use.
No Bluetooth or recharging is required and the stylus will work anywhere your finger does. The brass body and gnurled grip have a very premium feel and the pencil feels well balanced in your hand.
The Rotring 800+ comes in your choice of black or silver in both 0.5mm and 0.7mm varieties.