An inking powerhouse
While the full 10 pen set might be overkill for some, the ink quality and color fastness is flawless.
Pros
Rich, black ink quality
Immune to alcohol markers or watercolor
Refillable design
Cons
The grip's a bit on the smooth side
Pricier than single use alternatives
Ah pens.
Do they ever get old?
Those crisp black lines mark a permanent commitment to your creative vision. Each stroke is a one way inky voyage with no turning back (unless you make a really bad mistake of course).
In this post, I'll be testing some of the most well regarded fineliner pens out there – Copic Multiliners. Favored by professionals, these pens are perfect for creating comic art and manga, fine art illustrations and ink sketches.
Copic pens are particularly popular for use with alcohol markers, as the pigment is specifically designed not to bleed or smudge.
I wanted to draw something that would make good use of the large variety of nib sizes, so decided on an extremely cuddly tyrannosaurus-rex.
Follow along and learn more about the pens, plus watch this sketch turn into a finished ink drawing!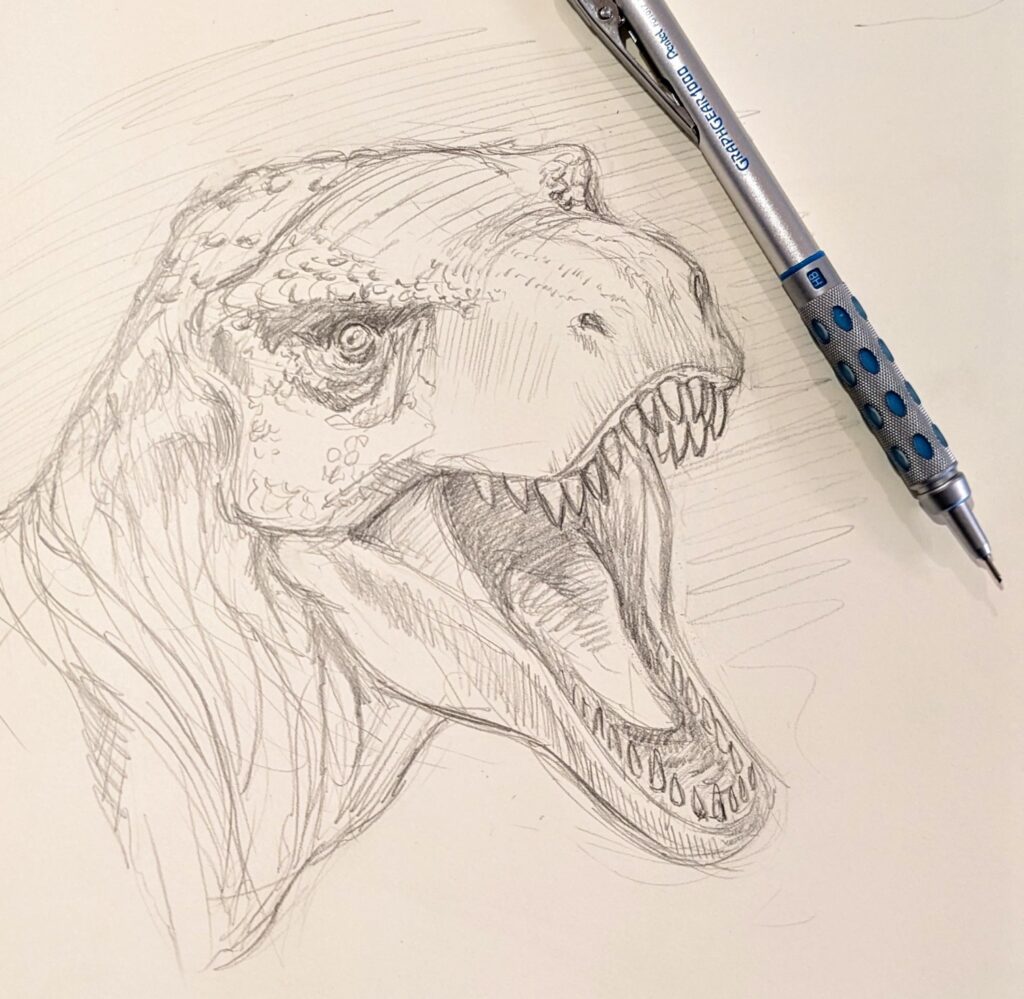 First impressions of Copic Multiliners
The set I'm using includes all 10 nib sizes, ranging from the acupuncture-sized 0.03mm up to 0.7mm.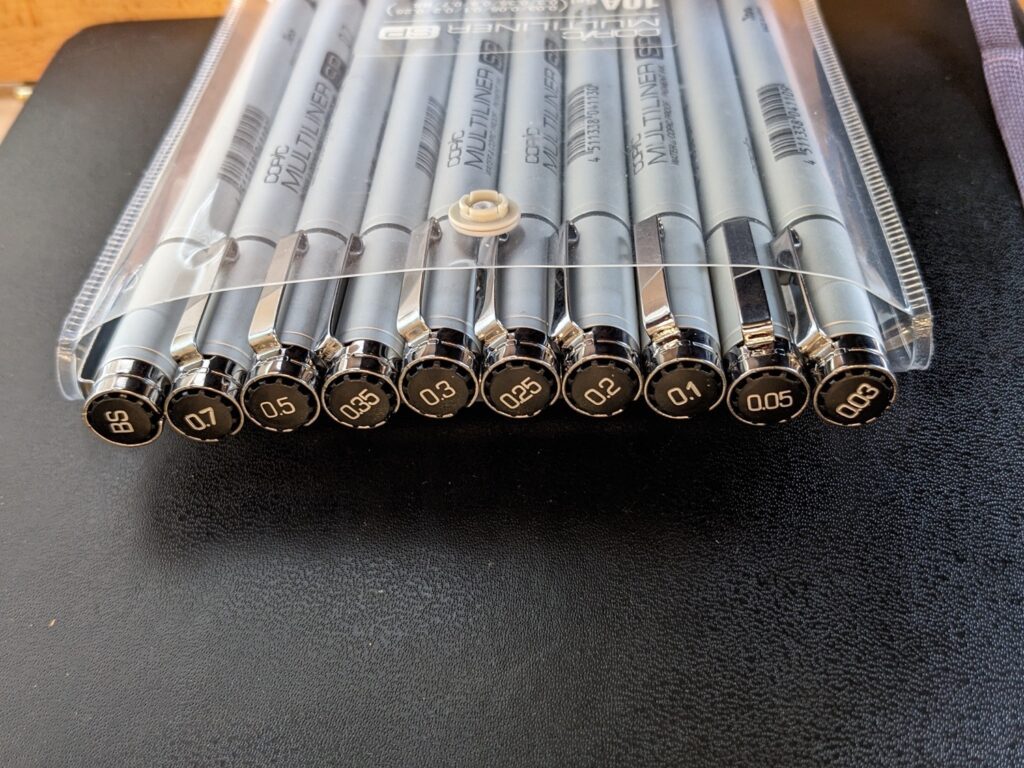 The aluminum body of Copic's SP version of multiliners is a stand out feature. Designed to be a more sustainable option than their standard multiliners, the inner cartridge is replaceable, so the body of the pen itself can last a lifetime.
They have a satisfying heft in the hand and do feel "professional" compared to cheaper plastic pens.
The nib size is labeled on the side of each pen, plus on the cap.
Inking a drawing with Copic Multiliners
1: Initial outlines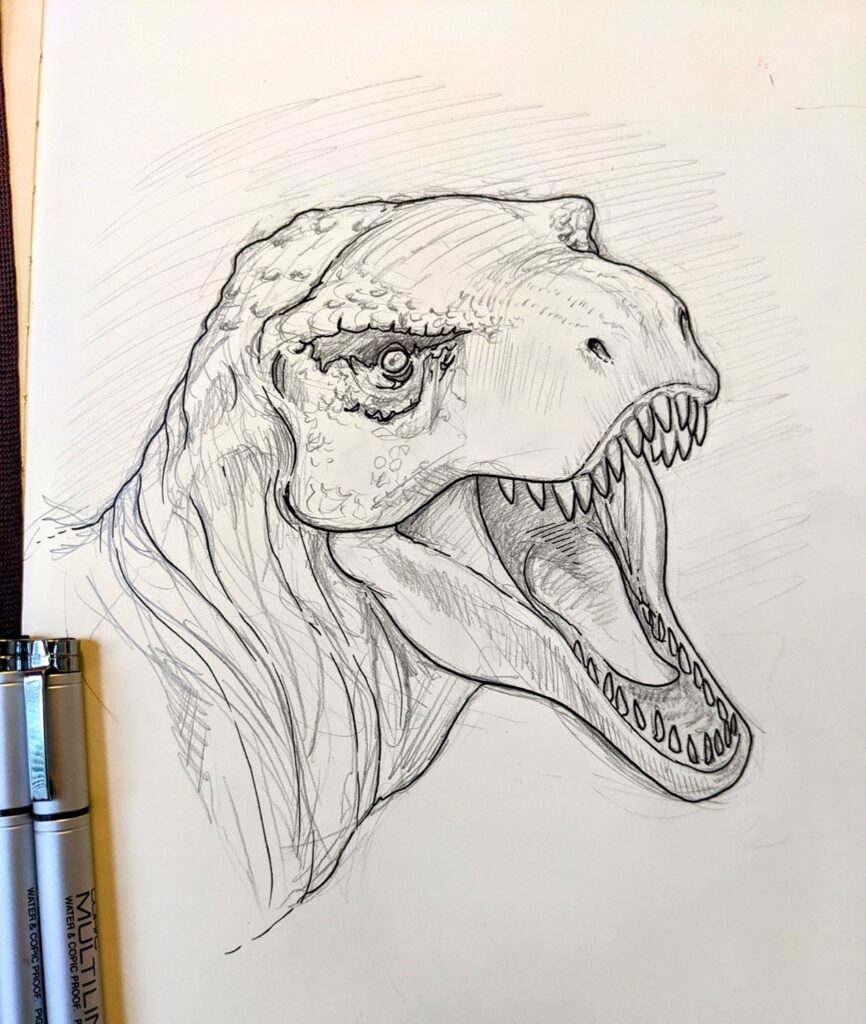 My first step was to outline the major shapes. Using the 0.5mm, I followed the contours of the dinosaur's skull and jaw, outlining areas that will be filled black.
2: Fill areas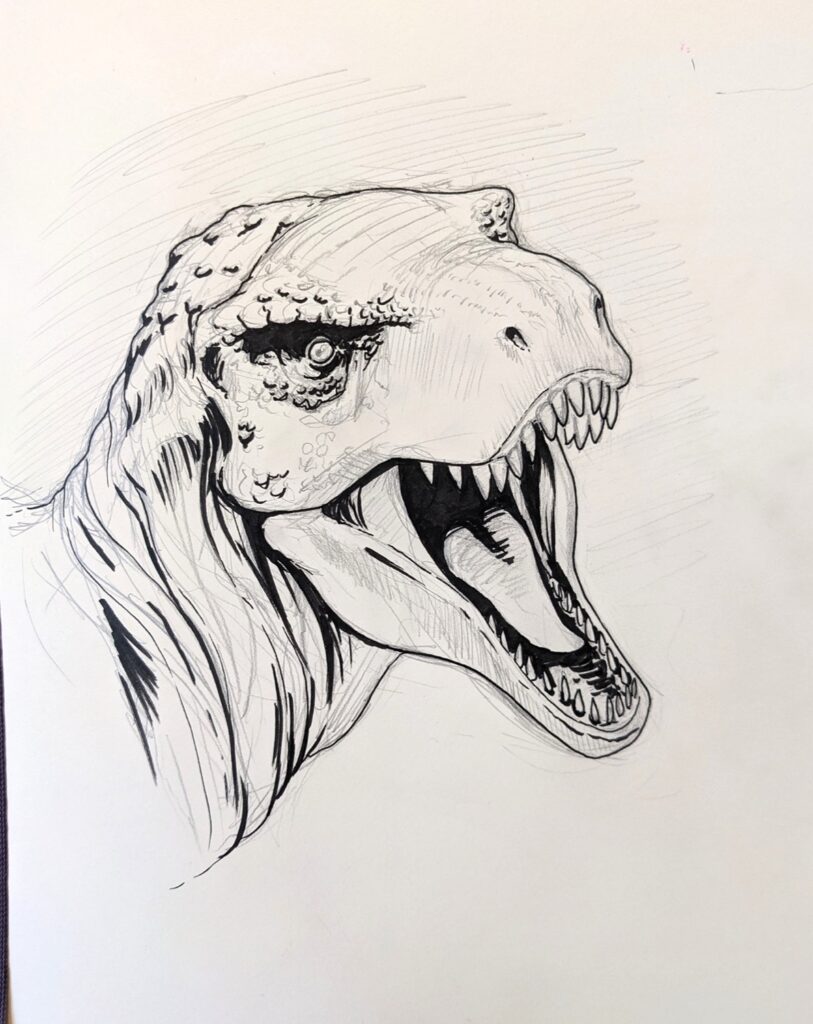 Then came the brush marker for the larger dark areas. I've used many of the best brush marker brands and had pretty high expectations for Copic. While the bristles are small compared to something like a Pentel Pocket Brush, they had a nice taper and were easy to control.
The Copic also didn't have trouble with the bristles coming apart, like I've seen from Micron brush pens.
3: Defining details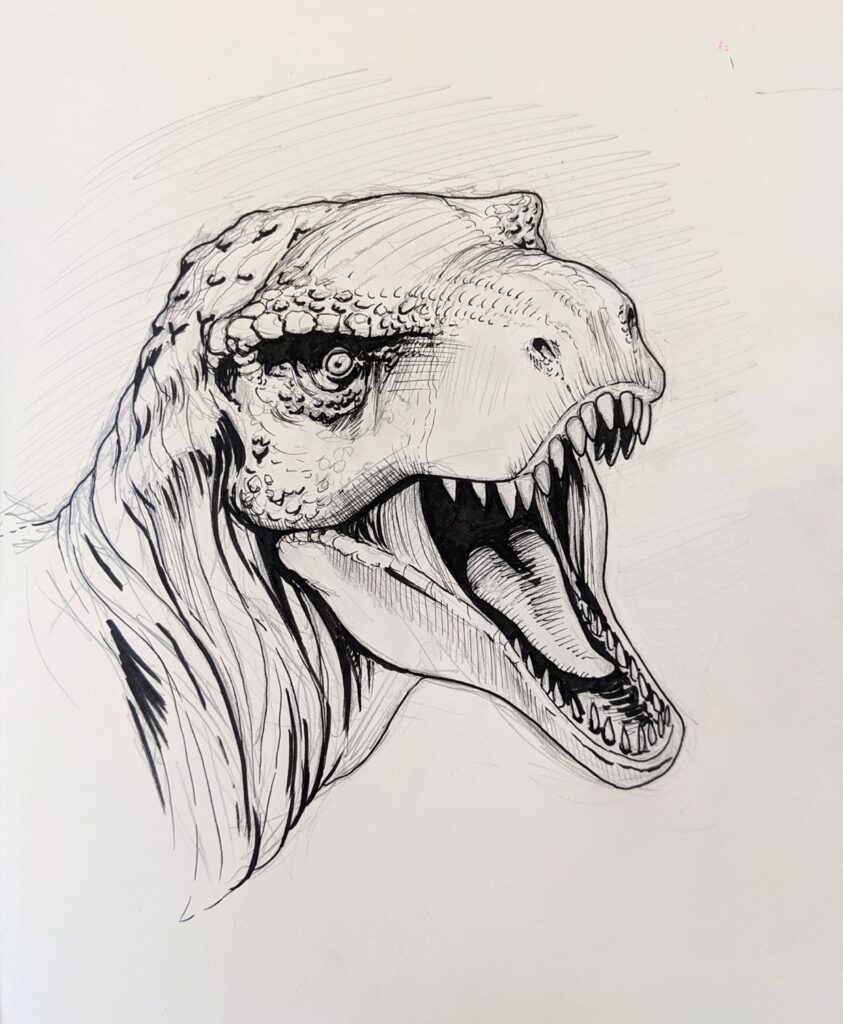 Continuing to trace elements from my pencil sketch, I switched over to the smaller 0.1mm pen. Ink quality was superb. No smudging and consistent, deep black ink flow.
4: Adding tone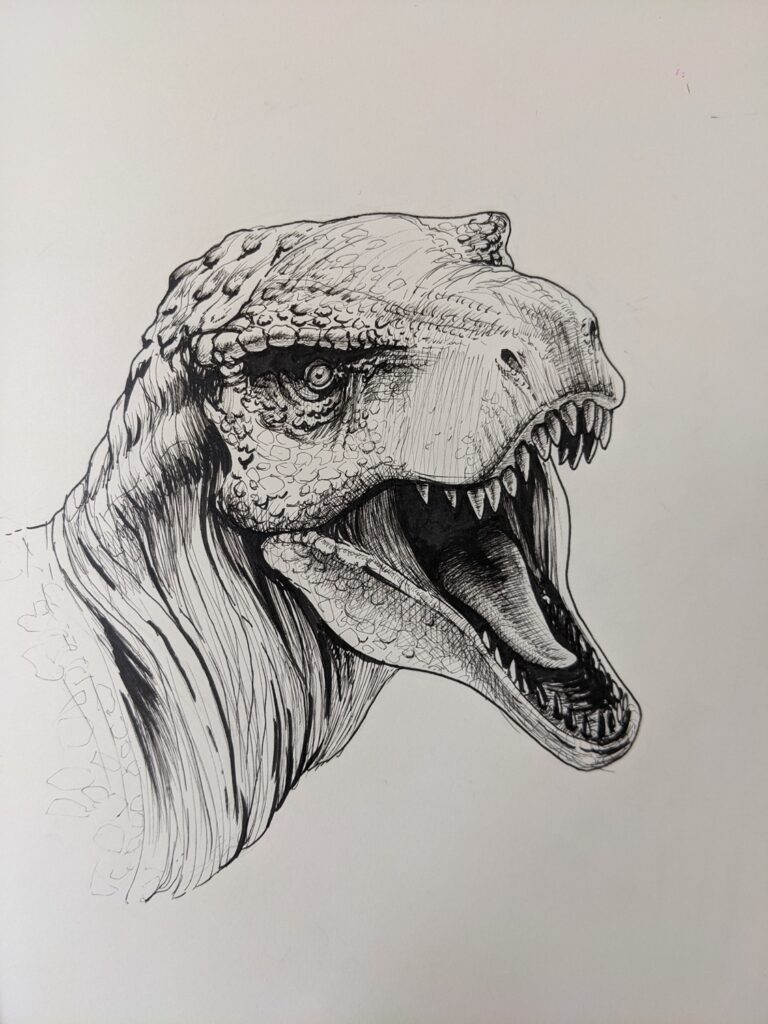 This is where a large pen set can really shine. To add both texture and a kind of middle-tone, I began hatching shaded areas with the smaller pens. The 0.03 and 0.05mm allowed me to add pebbly, rough skin and a sense of light source.
5: Finishing touches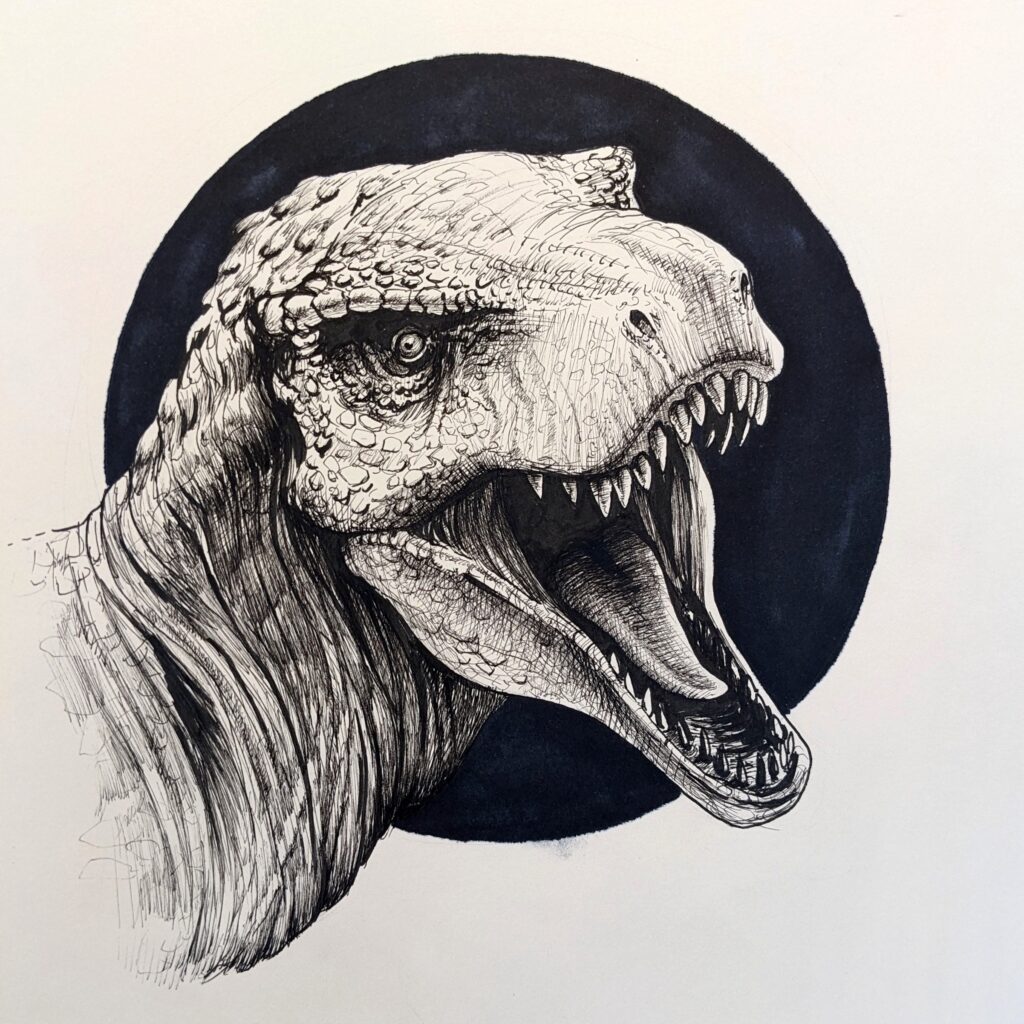 Ink drawings are all about creating contrast, so I decided to add a circular backdrop design to help the t-rex pop.
After a few more layers of hatching, it's time to walk away and call it complete.
Are Copic Pens really marker-proof?
Many pen brands claim this, but not all are created equal. I can safely say that yes, Copic Multiliners are 100% alcohol marker proof and won't bleed or transfer.
If you'd like an example, check out my review of Alpha markers, which used these same pens.
How do you replace the ink cartridge in Copic Multiliner SP pens?
At over $5 per pen, this set is a bit on the pricier side. BUT… learning how to refill the ink means you can continue to use Copic Multiliner SPs pretty much forever.
$5 ÷ forever = a heck of a deal.
To refill the ink, you'll need a refill cartridge. Size B works for 0.1mm and bigger, while size A is for 0.3 and 0.5mm sized pens.
You can also purchase an SP changer tool, but a needlenose pliers also works.
If your nib has become bent or worn out, Copic sells replacements for those too.
To watch how to replace the cartridge from beginning to end, check out this video:
Final thoughts
Overall, Copic Multliner SP pens are a perfect choice for artists looking for refillable, pro-quality pens in a range of nib sizes. If you work with markers or watercolor their color fastness is unmatched.
Plus, how many other art supplies can last a lifetime?