If you're an artist looking for an alternative to Instagram, or just a new place to expand your reach, you might have heard of Bubblehouse. The app is designed as a dedicated platform for creatives and boasts several unique features built specifically for artists.
After spending some time poring over the app, we've reviewed the best reasons your art should be on Bubblehouse.
Magical, marvelous modules
The most compelling feature of Bubblehouse has to be what they call "post modules". These are interactive post types that can combine multiple images into a single, super engaging post.
Currently there are six modules to choose from, including:
Single image
Swipeable gallery
Before/after combo with slider
Duo (side by side images)
Panorama (side scrolling image)
Evolution (up to 10 images with slider)
The evolution module was a particular stand-out for one reason… artists can finally create step-by-step process posts in a beautifully simple format.
This is the perfect way to showcase the progression from pencil sketch, to a finished piece of art with every setback and triumph along the way.
Alternatively, the evolution module can also be used for brief animations like this: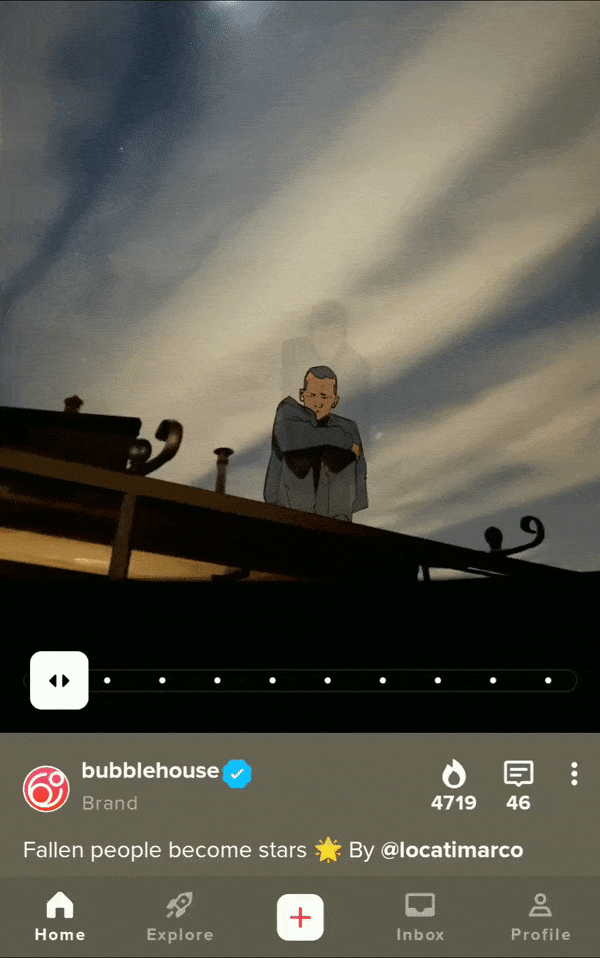 Customizable profile pages
If you're looking for an app that's as much portfolio as social network, Bubblehouse fits the bill. Their profile features have several options that blow Instagram out of the water and can serve as a functional digital calling card for artists.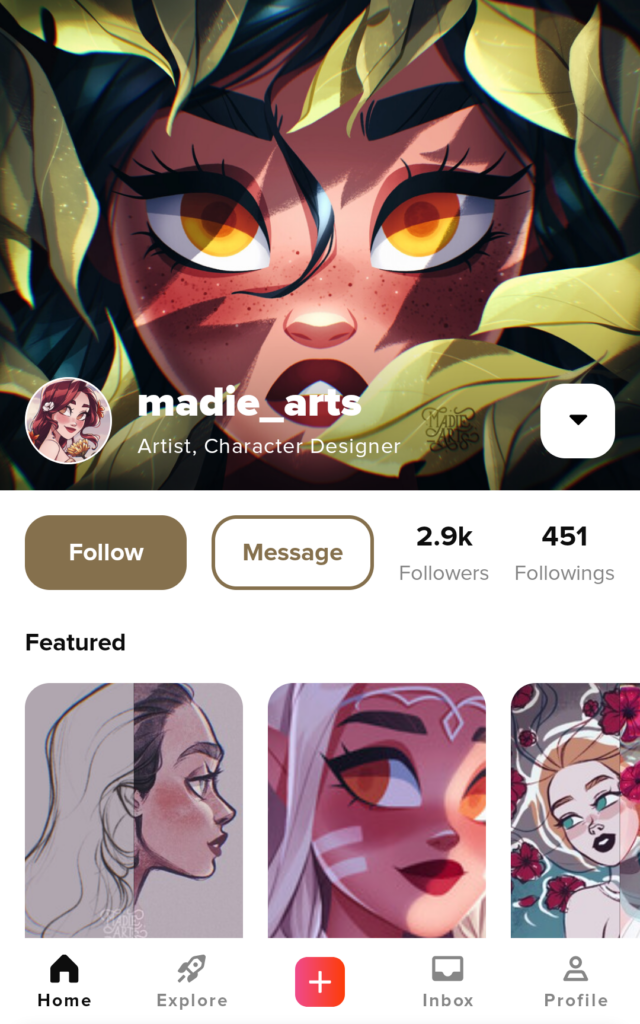 Full width cover photos are an ideal spot to place your best art. You can also select posts for your own "featured" section that shows above your chronological feed.
Hidden hashtags
One of the first differences you'll notice is the apparent lack of hashtags on Bubblehouse. The hashtags are still there and searchable like you'd expect, but you have to long press an image to see them.
It's a simple thing, but it really makes things feel less #cluttered. 😉
Bubblehouse vs Artfol vs Instagram
Another contender in the art community space is an app called Artfol, which we reviewed in full here. While both apps have a significantly smaller userbase than Instagram, their art-centered features make them compelling alternatives.
Will you ever wake up to 1m followers and hundreds of comments on Bubblehouse? Probably not, but an engaged and positive community of people already interested in art might be more than enough to make up for the divide.
The table below outlines some of the key differences between Bubblehouse, Artfol and Instagram.
Bubblehouse
Artfol
Instagram
Userbase > 55k
Userbase > 100k
Userbase > 1b
Chronological feed
Chronological feed
Algorithm feed
Post types:
Single image
Gallery
Before/after
Duo
Evolution
Panorama
Post types:
Single image
Text only





Post types:
Single image
Gallery
Video
Story



Single outbound profile link
Multiple outbound profile links
Single outbound profile link
Featured posts in profile
Featured posts in profile
Chronological posts in profile
Like, follow, comment
Like, follow, comment and reshare
Like, follow, comment
Direct messaging
Direct messaging
Direct messaging
Doesn't crop uploads
Doesn't crop uploads
Crops image uploads
Final thoughts
While Instagram might have the biggest userbase, it's also the toughest platform to stand out and try to "beat the algorithm". Bubblehouse on the other hand cuts out the chatter and purely targets the smaller audience of artists and creatives.
Their modules are some of the absolute best ways to present art online – especially for a mobile app.
While the platform is still relatively new, we look forward to watching their growth and seeing what new features they add next.