There are few people who have spent as much time in Middle-Earth as John Howe. The acclaimed illustrator served as concept designer throughout both The Lord of the Rings and Hobbit film trilogies.
If you've ever marveled at the stunning designs featured throughout those films, you likely have John Howe to thank.
In A Middle-Earth Traveler, the reader can enjoy hundreds of incredible sketches by Howe inspired by the rich world J.R.R. Tolkien created.
Unlike many of the "Art of" books related to Lord of the Rings, this is not a collection of images from any particular film. A Middle-Earth Traveler is instead a kind of walking tour through the major places, events and characters that shaped Tolkien's world.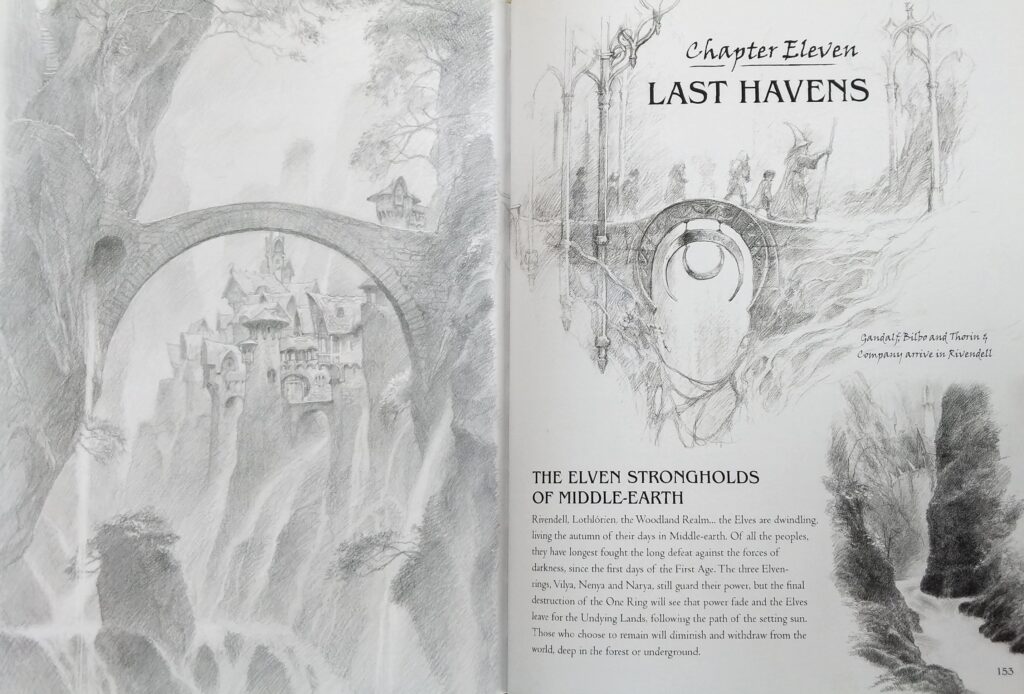 Contents
As you might hope from a book like this, A Middle Earth Traveler is absolutely jam packed with art. The chapters cover many different realms, from the Goblin Caves and Cities of Men, to the Hills of the Shire and Plains of Rohan.
Each page is accompanied by Howe's comments on the history and relevance of the place or event depicted. In this way, the book reads much like an illustrated Tolkien encyclopedia.
The book features many sketches of lost kingdoms and ancient myths that were never shown in the films, along with stories and quotes from Tolkien to help add a sense of weight to the art.
🤓 Trivia alert: John Howe played one of the Nine Kings of Men in a brief cameo in The Fellowship of the Ring.
The art
In A Middle Earth Traveler we find a stockpile of sketches including concept art from the films, as well as dozens of new pieces exclusive to the book.
There's a gentle mistiness to Howe's sketches that perfectly suit this genre. Each town and landscape is so natural and organic they almost feel like they were sketched from life.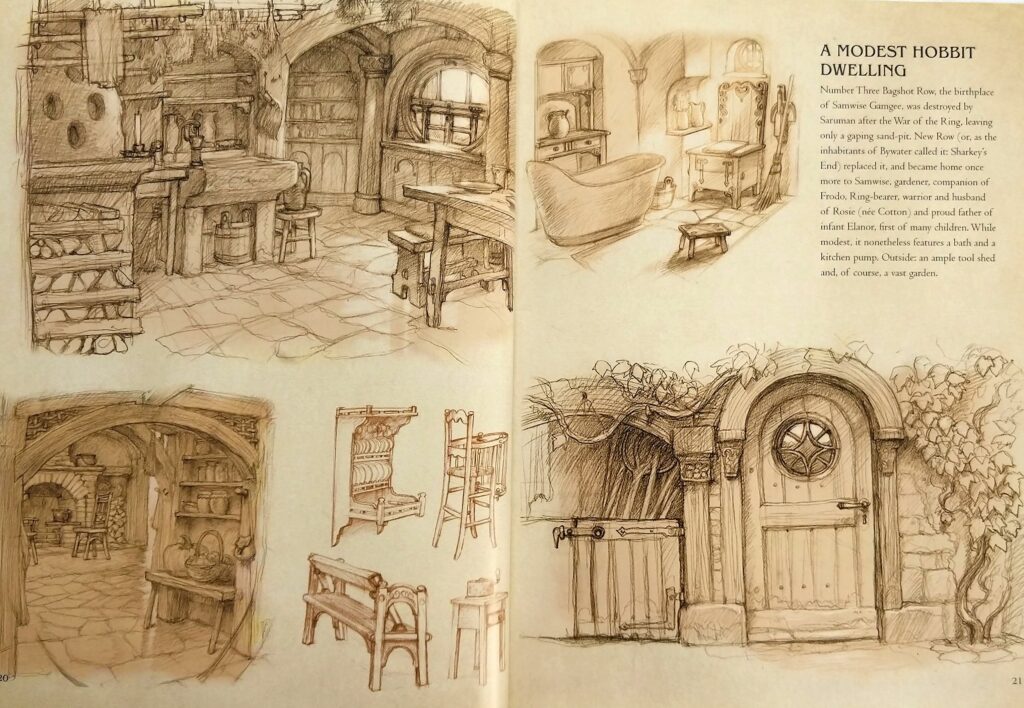 The architectural studies are particularly awe-inspiring. Whether it's the tower of Barad-dûr, the City of Dale or Radagast's kitchen, the level of precision and detail in these sketches is truly amazing.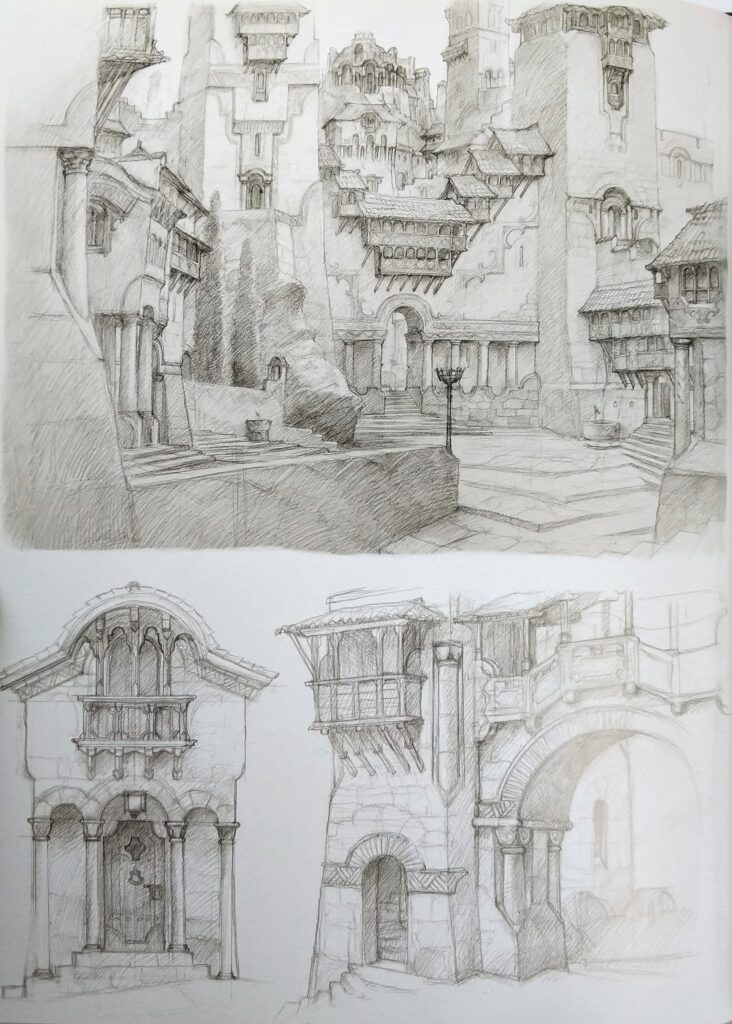 Another highlight are the drawings of simpler, but far more relatable everyday objects that make up Middle-Earth. Dwarven cups, shovels, satchels and lanterns give an idea what their day-to-day life might be like.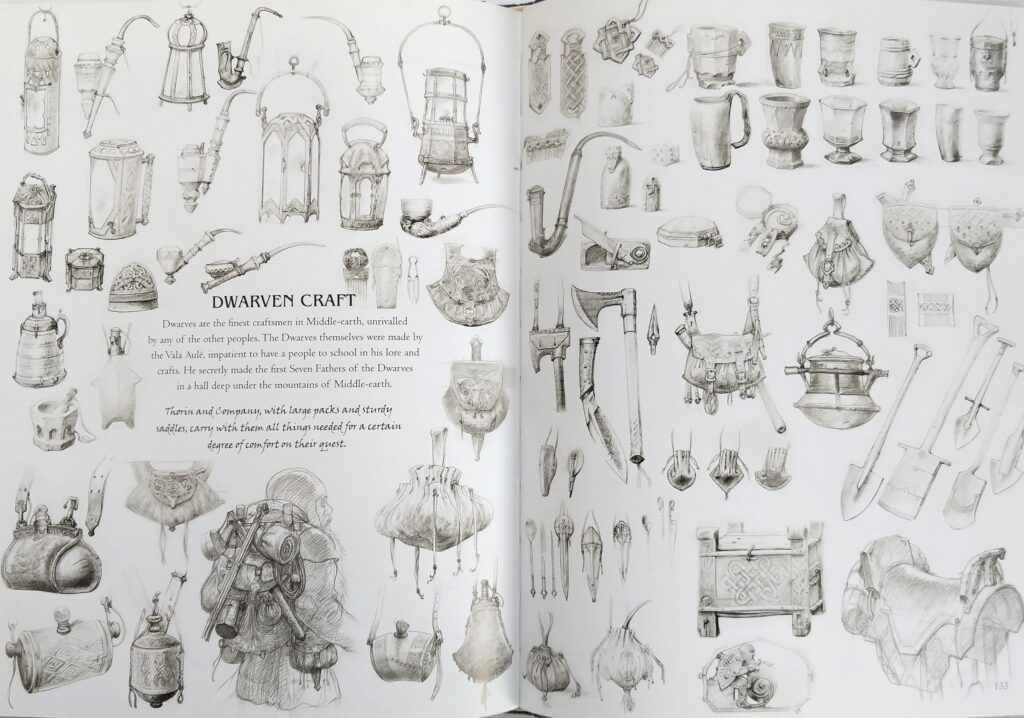 The challenges were of every nature, from daggers to dragons, from humble clay cups to towering sets, the whole part of an incredibly varied but nonetheless hopefully coherent design-as-you-go world.

John Howe on his experience as a concept artist for Lord of the Rings
Fans looking for insights into Howe's artistic process however may come away disappointed. While it is a book of sketches, there are no "how to" portions or any mention of materials or techniques. Artists interested in learning more about his approach might be better served by Howe's Fantasy Drawing Workshop.
Final thoughts
Whether you know your Smeagles from your beagles, you don't have to be a Tolkien fan to appreciate the impressive collection of fantasy art on display in A Middle Earth Traveler. John Howe is a master of the genre and his sketches never fail to inspire while proving just how powerful the humble pencil really is.