If you're looking to expand your inking skills, a good brush pen is pretty much required. While we love the crisp and consistent lines left by technical pens, there's nothing that can match the boldness and personality of drawing with a brush pen.
Using a bristle tip lets you vary your line width immensely, from thin trails to blocky sweeps.
Brush pens are also a HUGE time saver compared to using ink and brushes separately. No clean up, dipping or messy ink blotches flying around!
Many of the industries top comic artists, illustrators and cartoonists swear by brush pens, including masters like Karl Kopinski and Kim Jung Gi.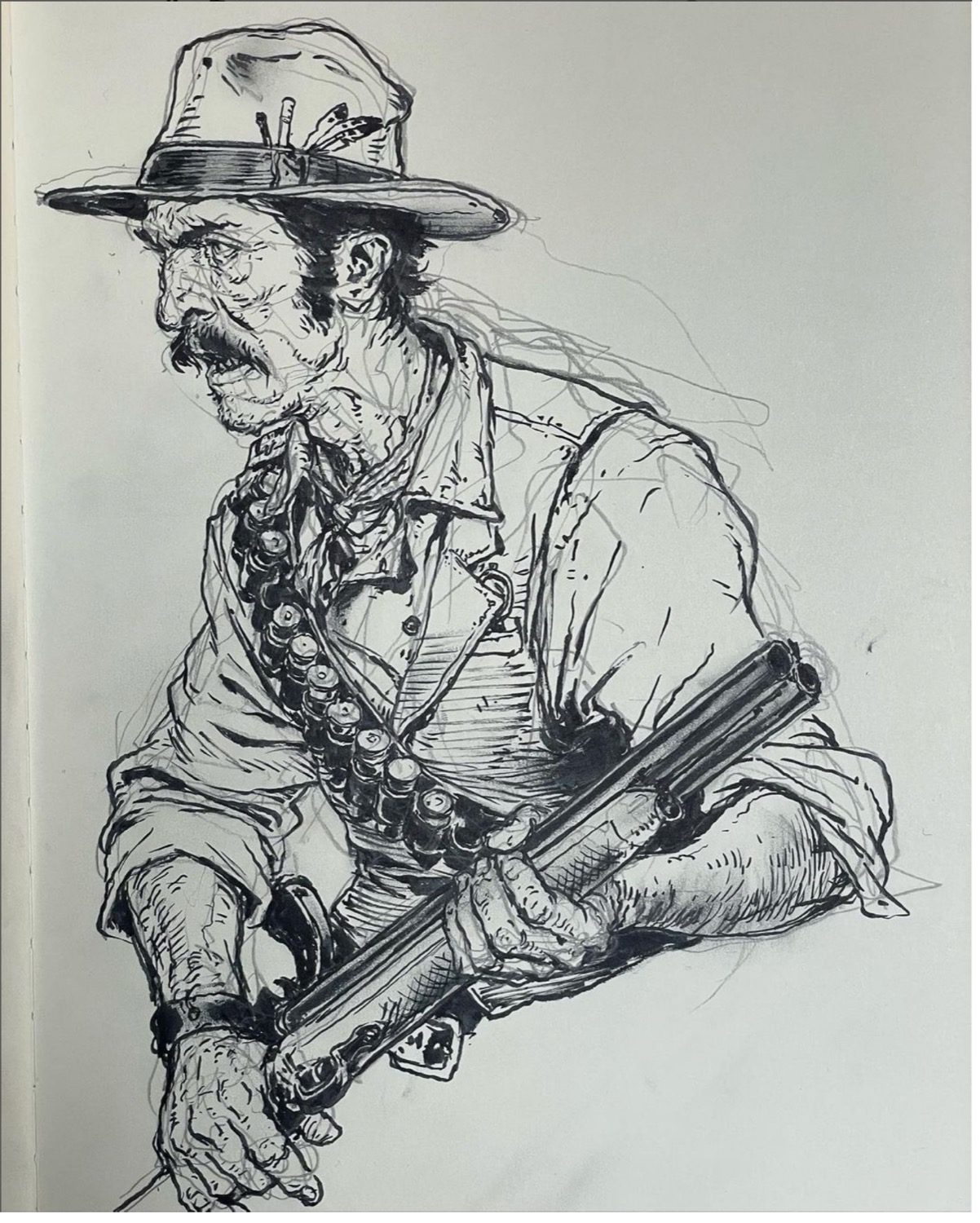 You'll find the majority of our entries listed below come from Japanese brands, who have the best reputation when it comes to brush pens. That likely stems from their heritage in calligraphy, where the quality of your bristles and ink are highly important.
As a general rule, calligraphy tools tend to be made to a higher standard than "artist's pens" and are a good term to look for.
In this round up we'll share the best brush pens available based on our own experience. Each entry will offer a list of the pen's best features, plus a link where you can try it for yourself.
As an Amazon affiliate, we may earn a small commission from your purchase. This helps support Mega Pencil at no cost to you. 🙂
Pentel Arts Pocket Brush Pen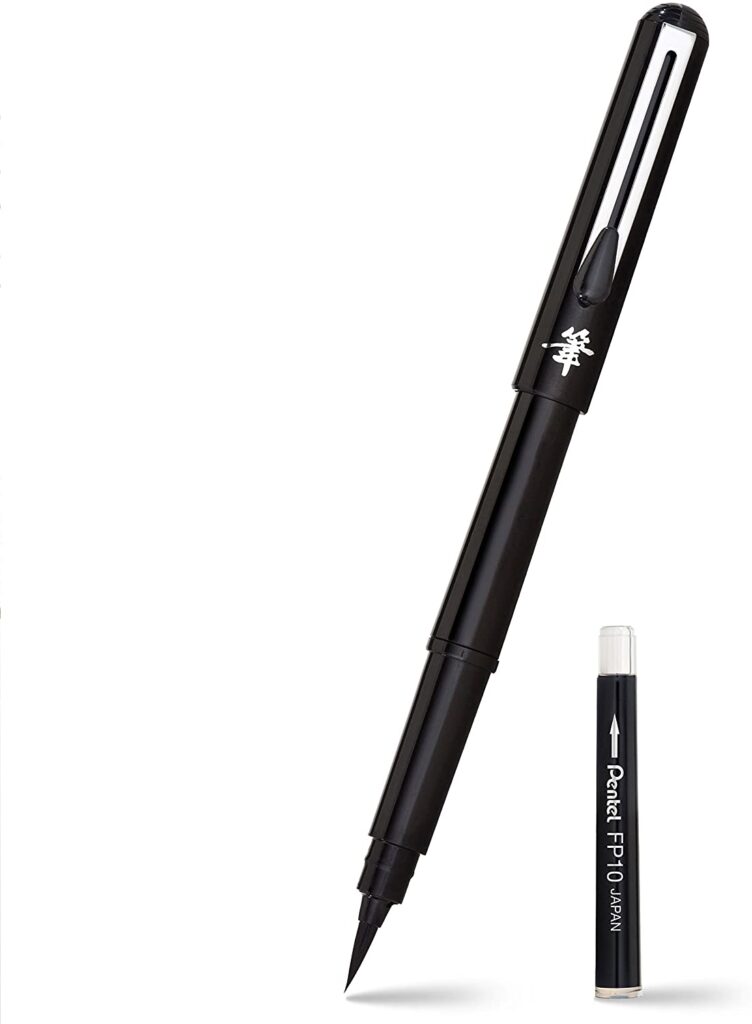 Pentel's pocket brush pen is one of the best all rounders due to its phenomenal quality and reusability. Strokes leave a rich, India-ink blackness without streaking or bleeding through the paper.
The ink cartridges are cheap and simple to replace, plus the bristles maintain their point even after extended use.
Refillable cartridges
Deep black ink
Durable bristles
Tombow Fudenosuke Brush Pens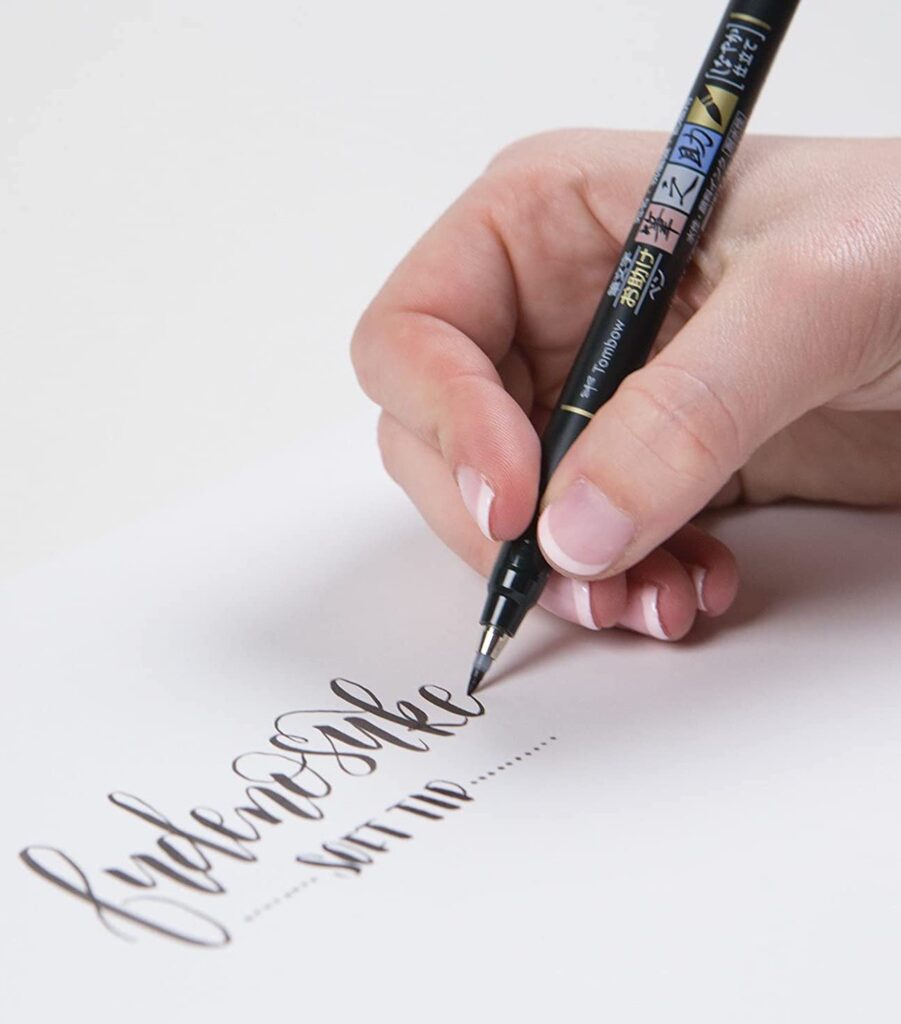 As explored in a full review of the Fudenosuke pens, they're some of our favorites when you need a small and controllable brush tip.
The two pack includes two different size tips, each with a springy felt brush that's ideal for details bigger brush pens might struggle with.
Easy to control
Flexible fine point for details
Under $3 per pen
Pentel Arts Sign Pen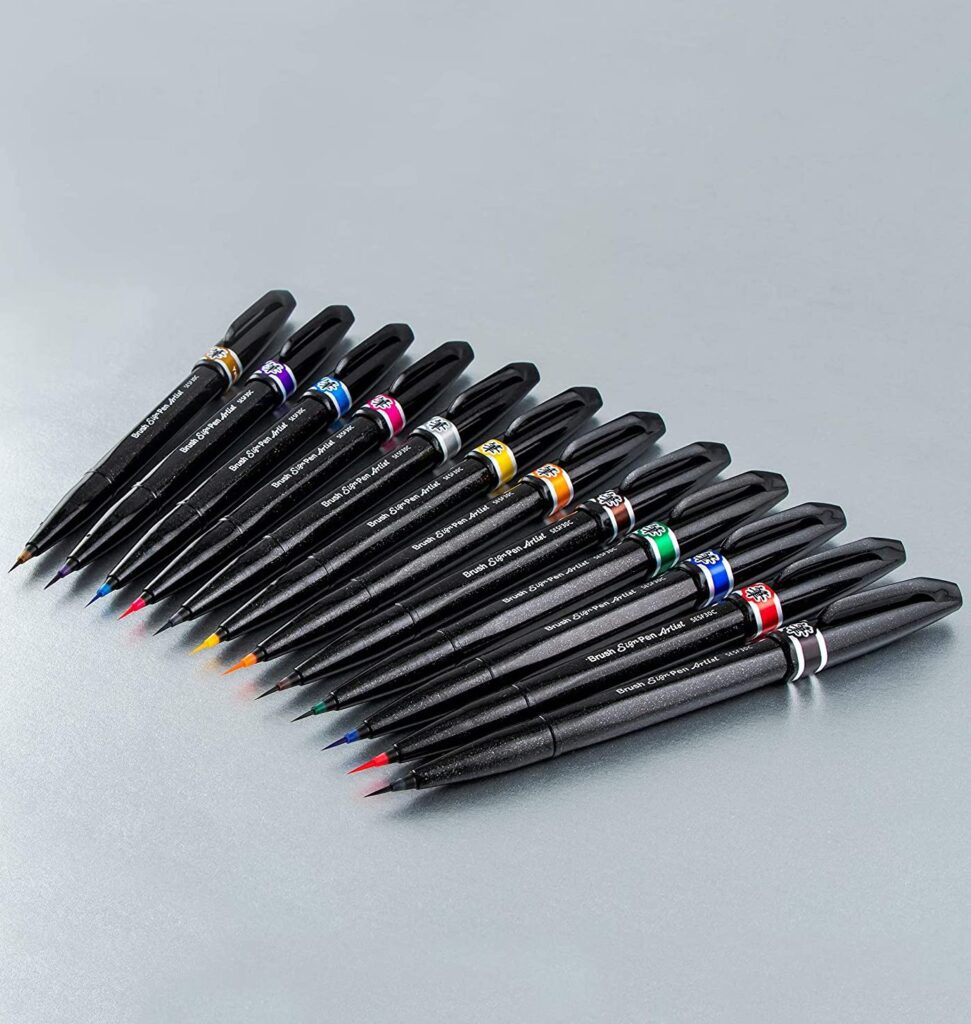 Another popular brush pen from Pentel is their line of Sign Pens. Equipped with sable-like micro brushes, the pens can tackle fine lines but still flatten out for broad strokes too.
While the pens are disposable, the ink lasts surprisingly long. Our black Sign Pen has been going strong for over a year!
Micro brush capable of small details
12 colors available
Ink reserves last longer than Tombow's
Pentel Arts Aquash Refillable Brush Pen

If you enjoy watercolor, you may have heard of Pentel's Aquash line of water brushes.
Their easy to refill chamber can be used for more than just water though. This pigment filled variety houses a supply of light black ink that's perfect for grayscale sketching.
The reservoir is highly adaptable and can be filled with black or colored ink, or diluted mixtures for inkwashes.
You can also control the ink flow by gently squeezing the barrel to increase pressure – perfect for filling large areas or blending.
Refillable and reusable
Large 'no-roll' reservoir
Most customizable option on our list
Sakura Pigma Brush Pen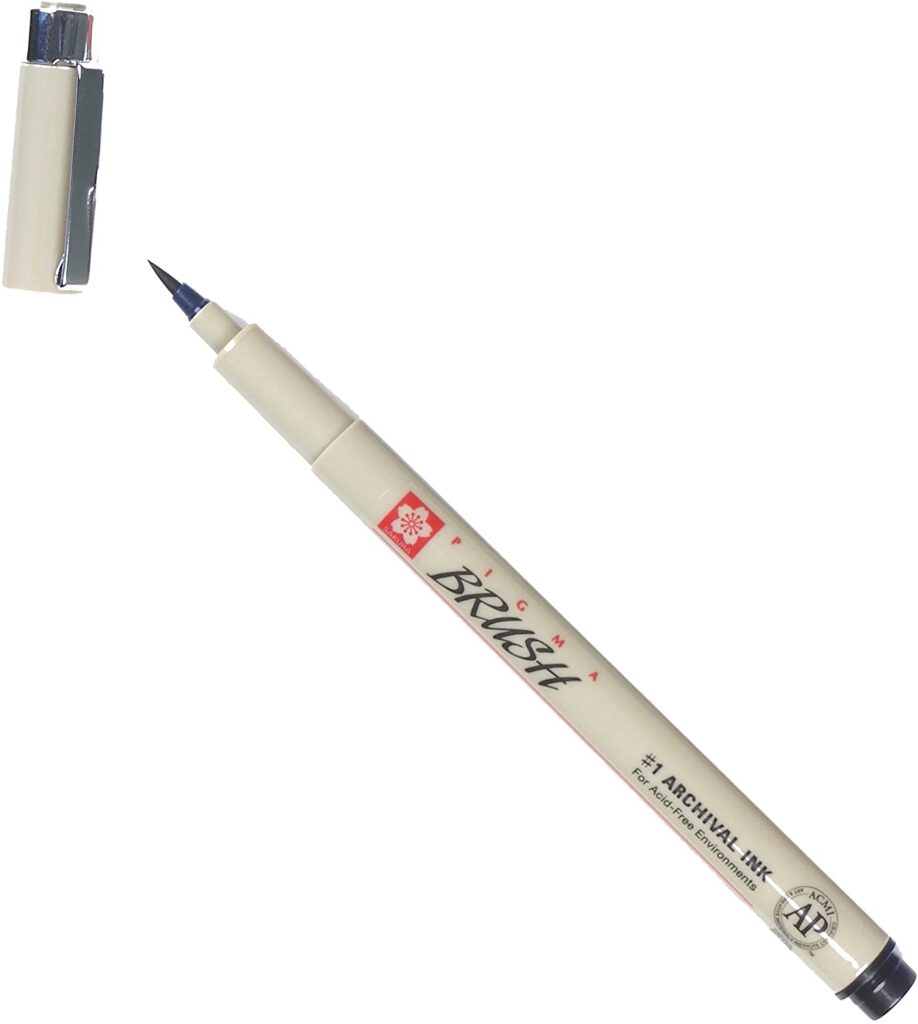 This brush pen is often bundled with Sakura's excellent Micron pens, and utilizes the brand's renowned Pigma ink.
If you're looking for a brush pen that plays nicely with other media like watercolor or oils, Sakura's entry is ideal thanks to its archival ink that won't bleed or fade.
The nib is stiffer than competitors and feels a bit more like a marker tip – great for beginners still tackling brush control.
Waterproof, archival grade ink
Sturdier tip is easier to control
Multiple colors available
Faber-Castell Pitt Big Brush Pen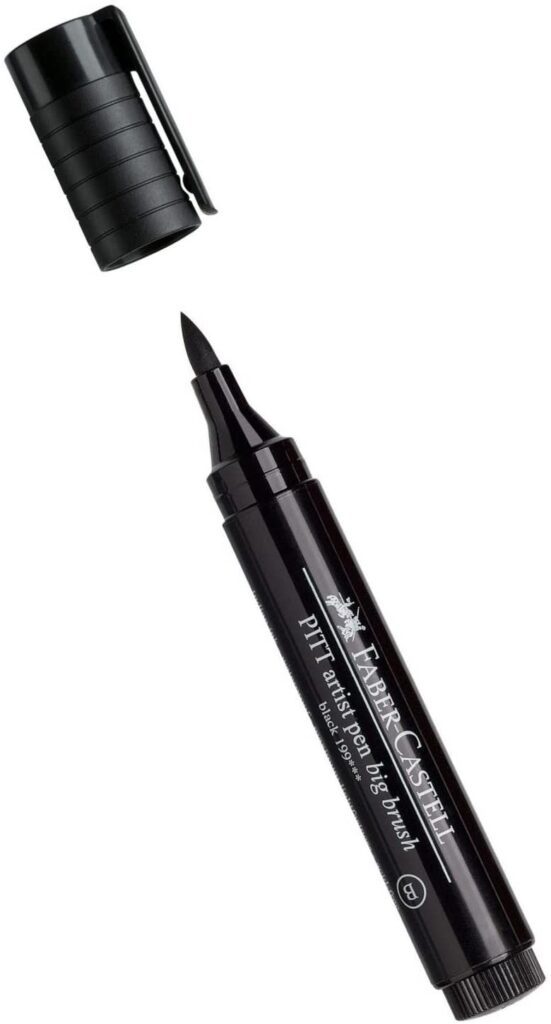 Sometimes you need to work big. Whether you're filling in a large area of black or are drawing wall art, there comes a time when a small pen just won't do.
That's why every artist should have a big black brush pen in their toolkit.
Faber Castell's PITT pens uses high quality India ink, which is waterproof, permanent, odorless, lightfast and doesn't bleed through paper.
Ultra black India ink
Flexible brush tip
Massive ink supply