New art supplies can often spark new ideas, which is why I was excited to test the latest line of alcohol markers from Alpha Colors. The South Korean brand has been producing art materials since the 60s and now sells a range of markers, paints, watercolors and more.
The 12-color set of brush markers I tested is similar to the popular Copic Sketch markers – a double ended alcohol marker with a brush tip and chisel nib design.
To test the set to the fullest, I sketched a sci-fi scene ideal for wild colors with a limited palette.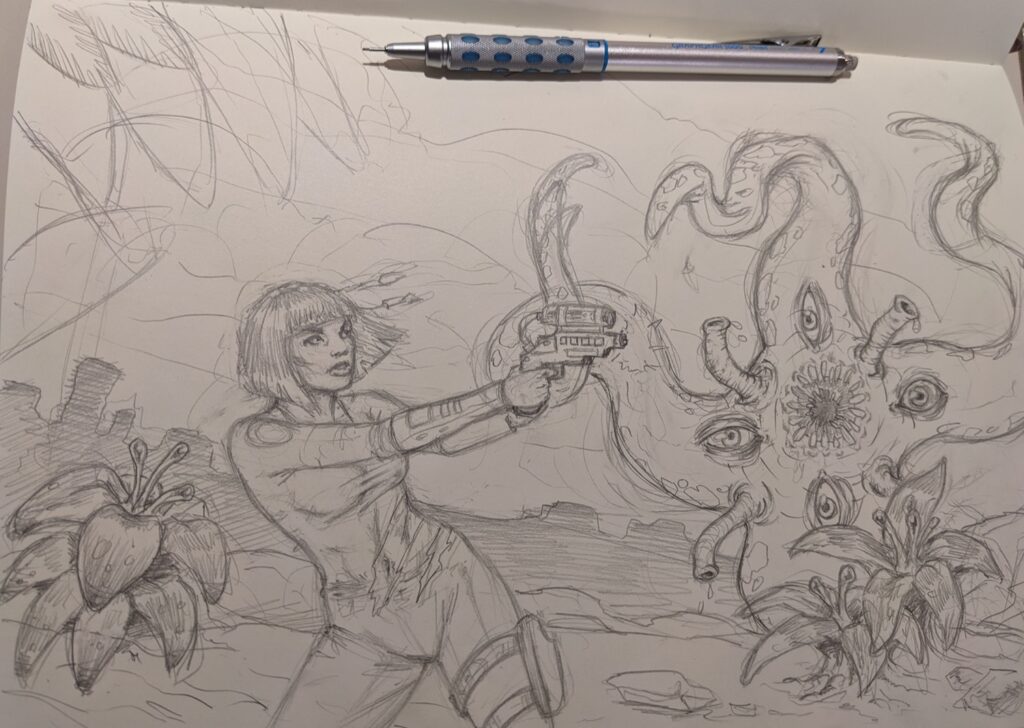 Alpha Brush Marker impressions
Unboxing the set revealed a clean and simple clear container with a built-in divider. The colored end of each marker displays its color code and name. The silver bands along the marker's body work as a quick way to tell which end is the broad nib or brush nib.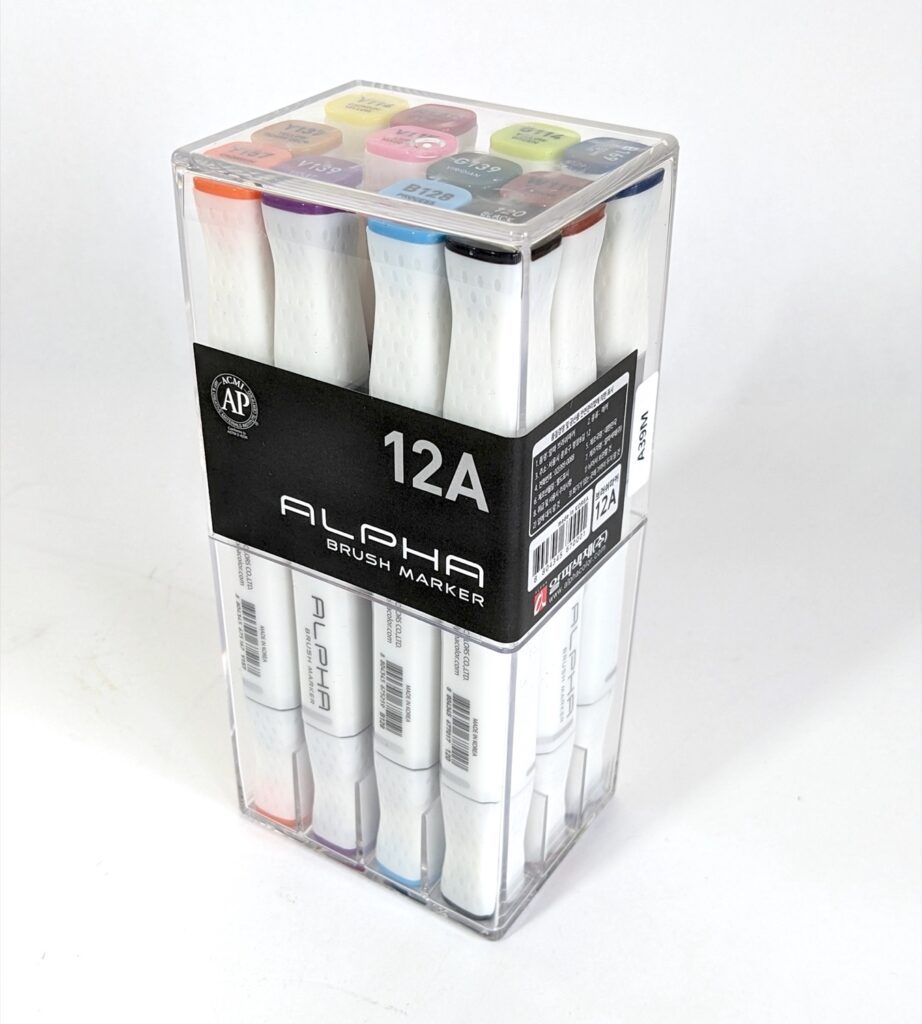 Unlike the rounded of shape Copic Sketch markers, the body of Alpha markers are square and quite hefty. They look very similar to Copic Classics, except for the use of the brush nib instead of a fine nib.
Alpha also produces alcohol markers under the Mepxy brand. These look almost identical, but use different color palettes.
One stand out feature were the caps. They're fantastic!
Their curved shape and dimpled surface are super easy to grasp. It's a simple thing, but much appreciated after extended use.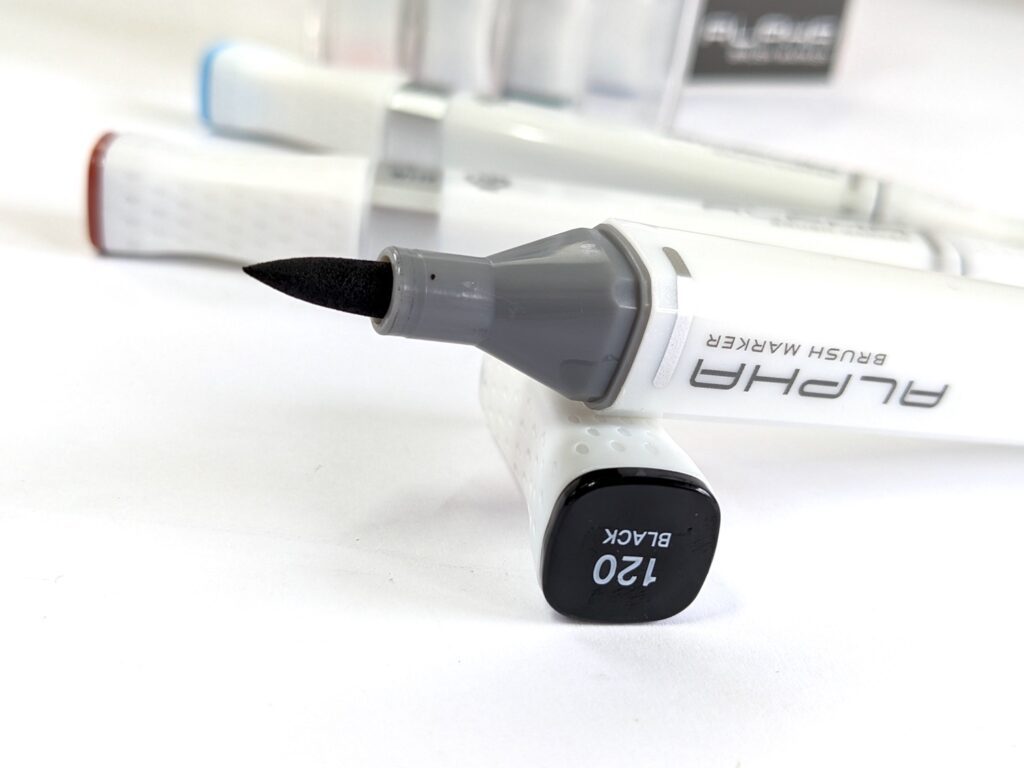 Coloring with Alpha Markers
If you enjoy working with markers regularly, more is definitely better. Blending alcohol markers isn't as easy as something like watercolors or colored pencils, so a large set really makes thing easier. That said, I wanted to stick with the 12 colors available, which meant testing their appearance on paper first.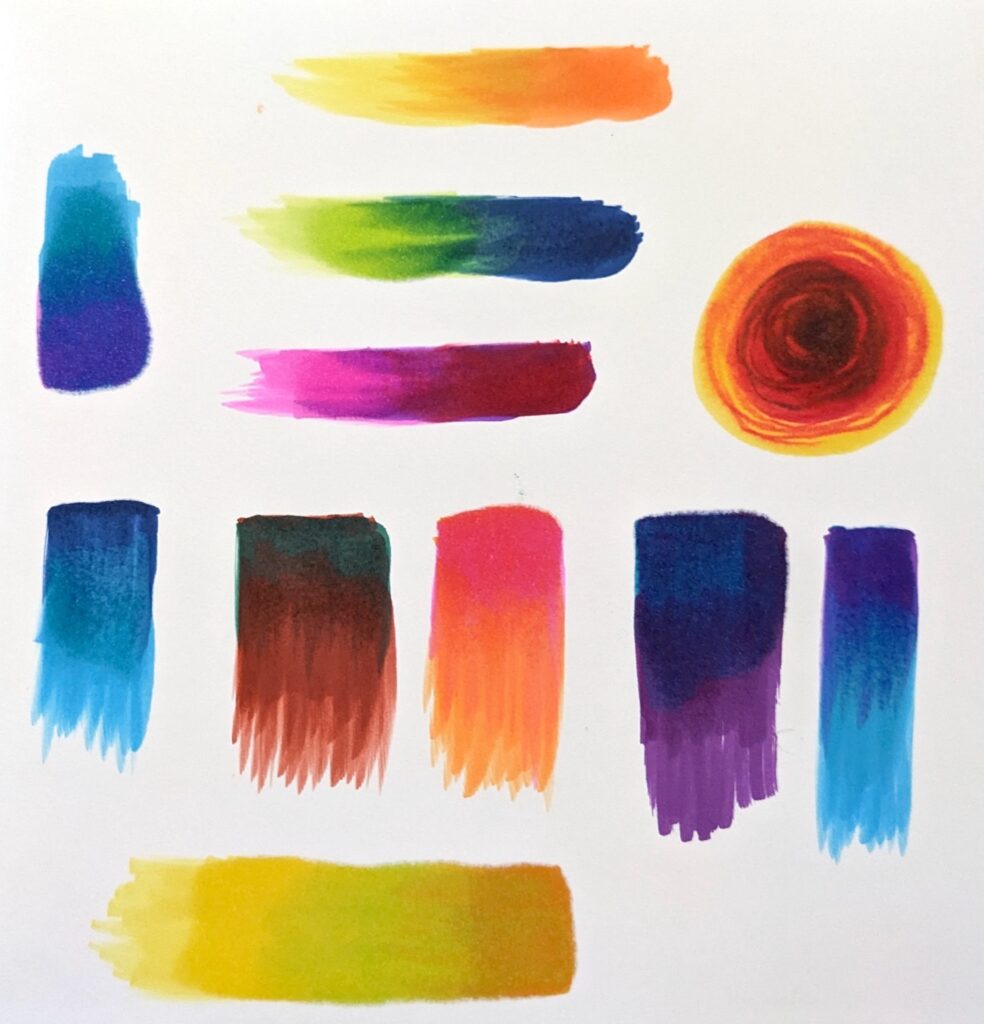 Paper quality is another crucial aspect of coloring with markers. Too much tooth (texture) and the paper will suck the pigment in like a cloth and cause it to bleed unexpectedly.
That's why I went with an A4-sized Moleskine Art Sketchbook. The paper is smooth but still thick enough to avoid too much bleed through.
Ink choice is another important aspect of working with alcohol markers. Some pens (even waterproof ones!) will smudge when exposed to the acidity of the marker pigment. I went with Copic Multiliner pens, which are specifically designed for use with alcohol markers.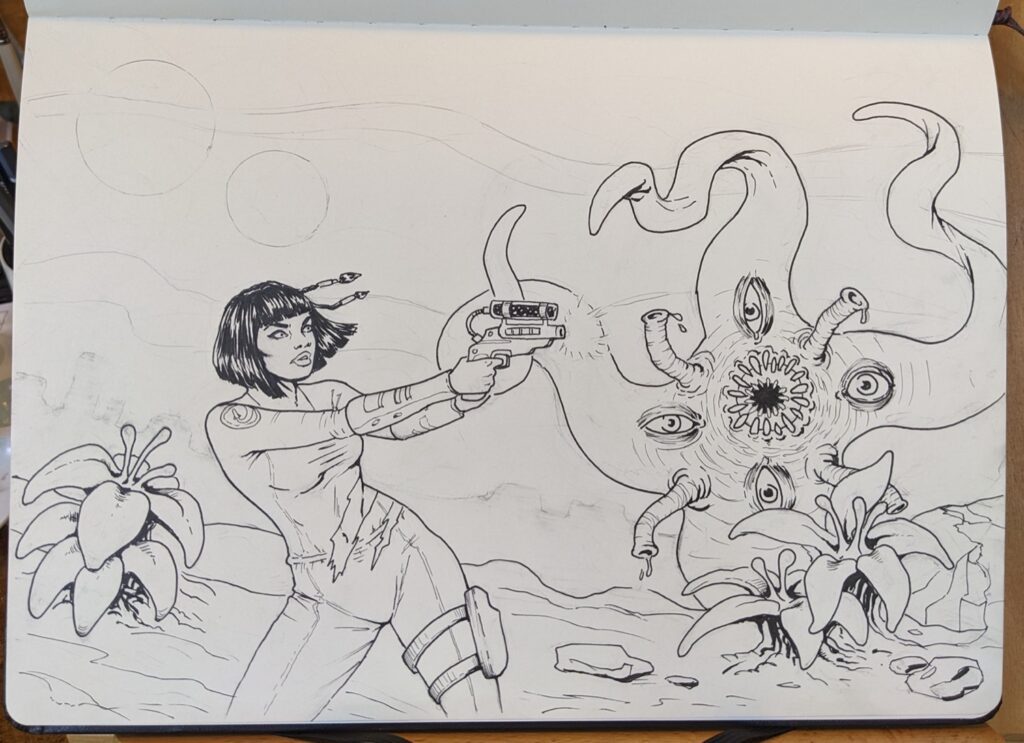 Planning color placement
Before putting anything on paper, I like to think about which colors will go where and make sure I don't end up with too much overlap.
I also knew there were certain elements that would be defined without ink outlines, like the sky and background formations.
Will it streak?
Streaking is one of the tricky aspects of markers that turns many people off to the medium. Water based markers are notorious for this (think Crayola) and make it almost impossible to fill large areas.
Alcohol pigment eases much of the problem, but not all markers are created equal. When I first started laying down the Cadmium Orange sky using the brush tip, I DID notice some streaking. Then I switched to the broad nib and saw a much smoother result.
The pigment flow from the broad nib was higher than the brush, which resulted in a more even color application. In fact, a VERY smooth application. That's a plus for Alpha here.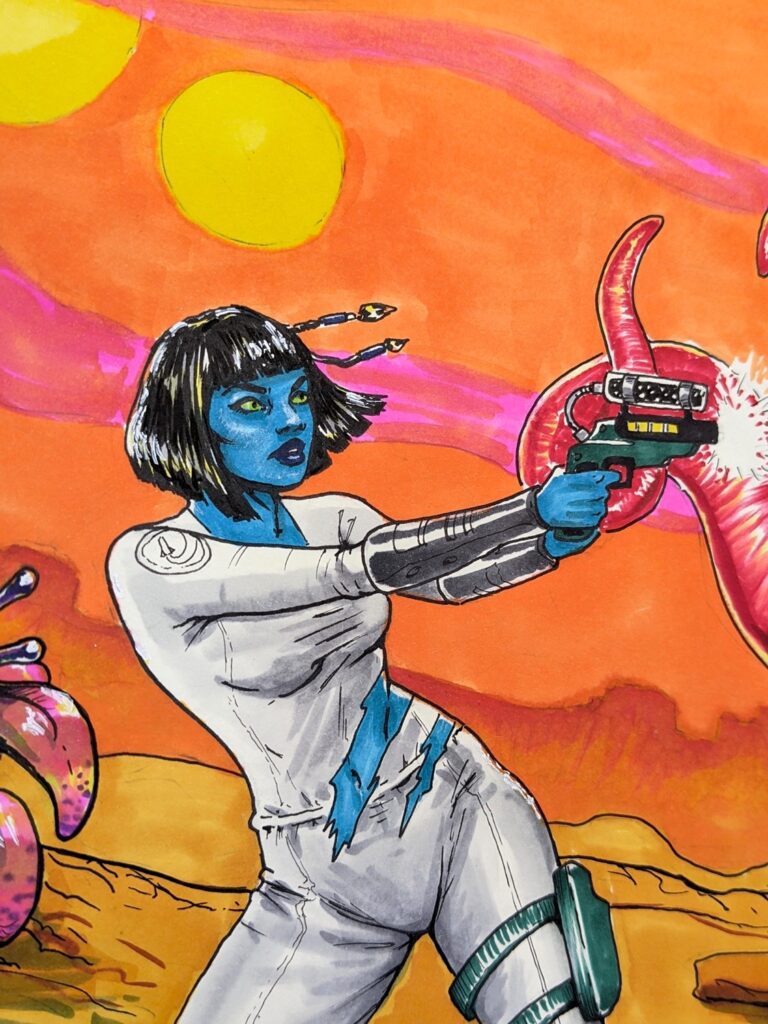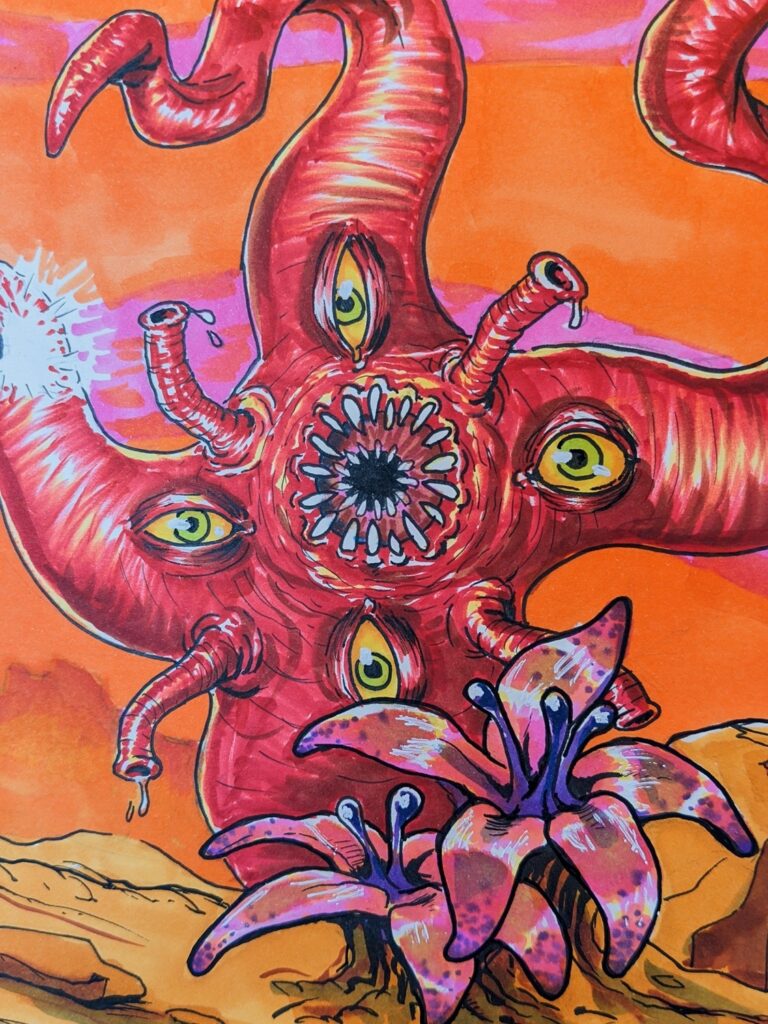 Fill. Blend. Repeat.
The flowers and tentacle monster both used three different colors with many highlights. Sometimes that much pigment can bleed into the highlight zones requiring correction later, but I didn't encounter much of that here.
Alpha Colors' brush tip really shined coloring the tentacles.
The brush tapered off with each stroke, leaving a nice transition that made the forms look both round, textured and kinda slimy!
Final thoughts
Overall, I was impressed with Alpha Colors brush markers. They are a great tool for creating vibrant art with clean lines, smooth transitions, and highly saturated colors without the worry of streaking.
While they might not have the brand recognition of Copic, they felt like a compelling alternative for those looking to explore alcohol marker art.
What remains untested is how the colors will stand over time. Some changes can happen both on paper and in the markers themselves as time passes. We'll keep you posted here if we have any updates.