When Elon Musk unveiled the the Cybertruck in 2019, it practically broke the internet. Its gleaming mass of brutalist geometry and stainless steel was a radical departure from traditional automotive design, not to mention that viral little incident with the window.
With a design inspired by a heady mashup of Blade Runner and James Bond's submarine car, it wasn't a surprise that the Cybertruck's appearance was polarizing to some.
"It looks like it was drawn in a Pictionary game using rulers. It looks like Wile E. Coyote ordered it from the Acme Corporation to drop on the Road Runner." Quipped Mashable.
Joe Rogan had a different opinion, saying: "The cybertruck is the coolest car I've ever seen in my life. Insanely attractive in real life, and feels like a huge leap into the future"
But you know what else can be polarizing?
Art.
Jackson Pollock, Andy Warhol and even Pablo Picasso were slammed by mainstream art critics for their distinct styles, but were eventually seen as visionaries in their field.
Could Tesla's Cybertruck be as much a revolutionary for car design as Picasso was for modern art? We'll have to wait until long-anticipated deliveries begin later this year.
Until then, it's safe to say the Cybertruck has already become a source of inspiration for the art community. Drawings, paintings, 3D renderings and even sculptures of the iconic truck have popped up frequently on social media.
The Best Cybertruck Art
In this post we'll share some of the best art featuring the Tesla Cybertruck, along with links to learn more about each artist, or where you can buy the art directly.
Engineered Divinity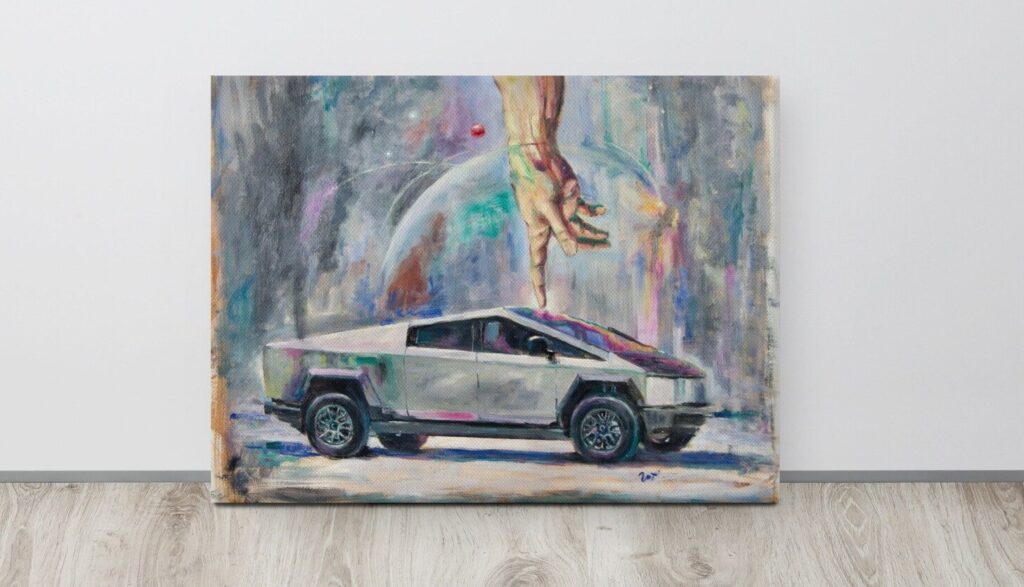 This canvas print of an original painting is a clear homage to Michelangelo's The Creation of Adam. Is it the hand of God transferring a divine spark of life to the Cybertruck? Is God simply testing the suspension? These are the kinds of topics this conversation piece will inspire.
Electromagnificent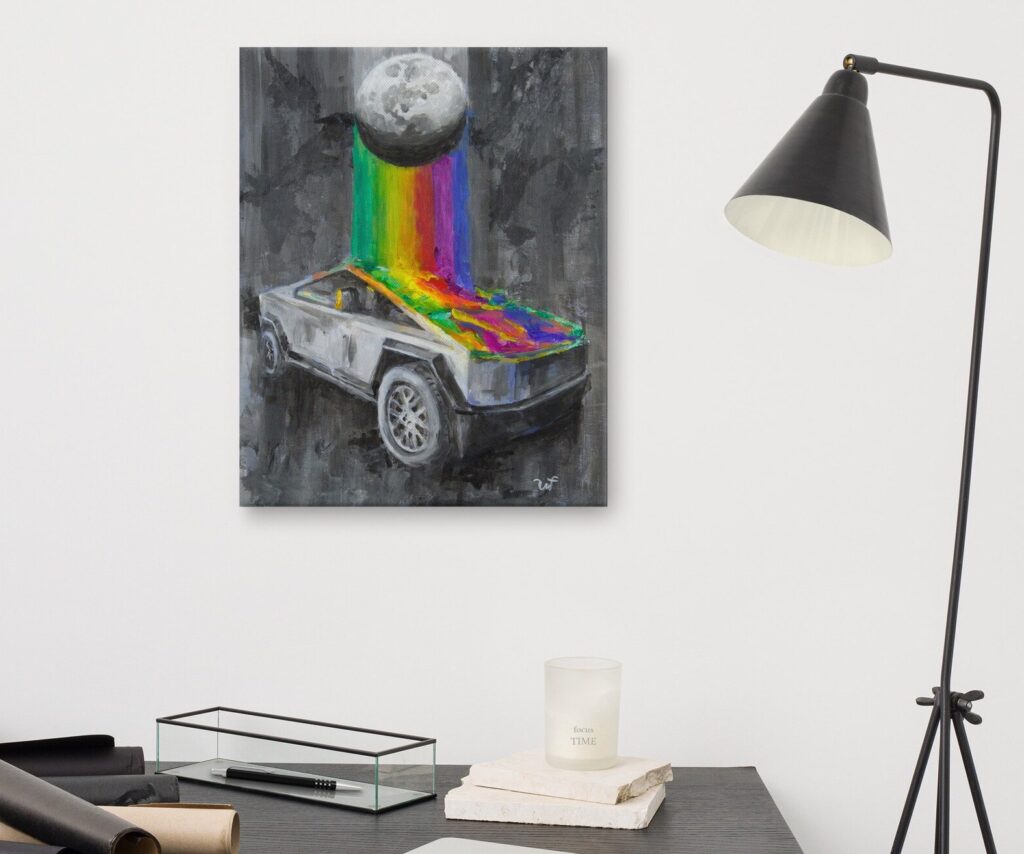 Offered from the same Etsy seller as the previous piece, this print features a colorful barrage of paint from space. Is the artist alluding to the Cybertruck's potential use on the moon? Or perhaps… extraterrestrial origin?
Tesla Cybertruck blueprint poster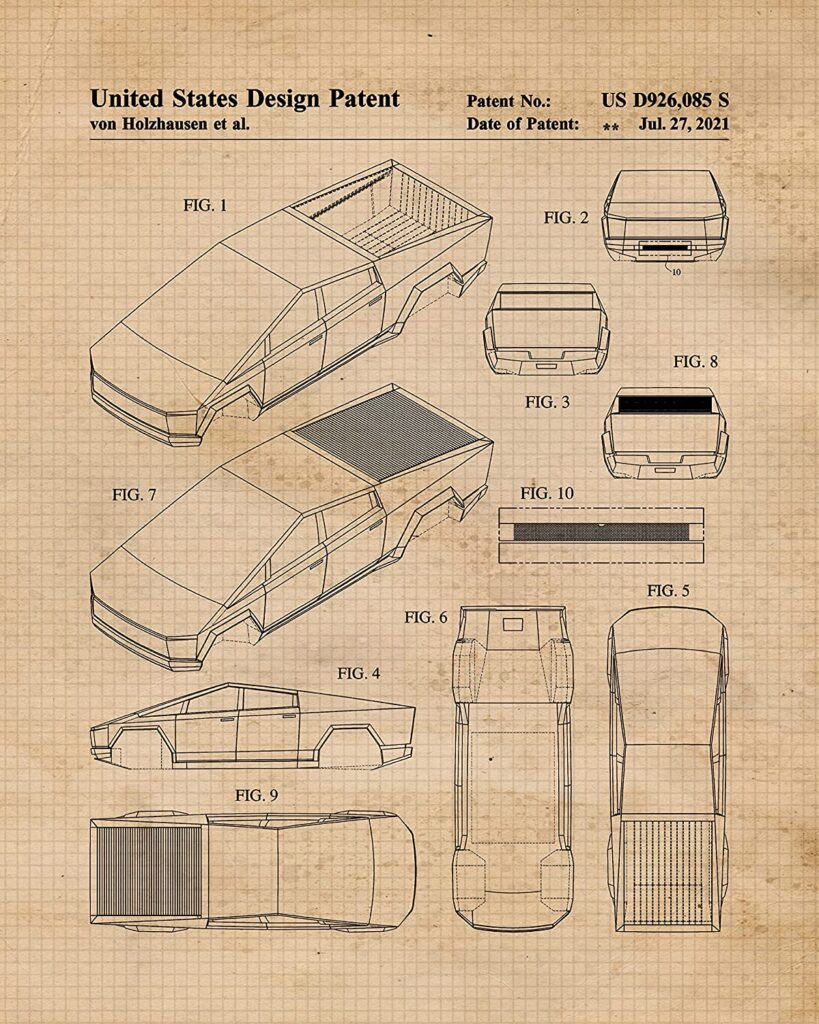 This 11×14″ wall poster features the actual Cybertruck design images submitted to the US patent office. The print references Tesla design lead Franz Von Holzhausen and shows the truck from 10 different angles.
Lowpoly Fun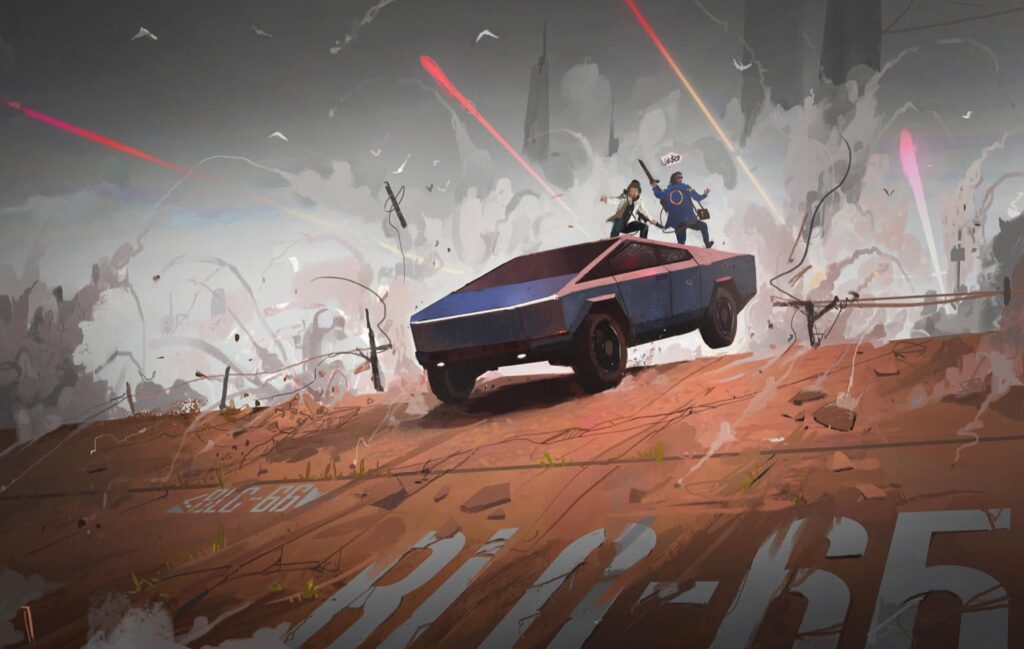 This digital art piece was painted by concept artist Ismail Inceoglu and features the Cybertruck in a dystopia laser battle. The precarious characters bouncing around the vehicle's "vault" is a nice touch.
Wooden Cybertruck model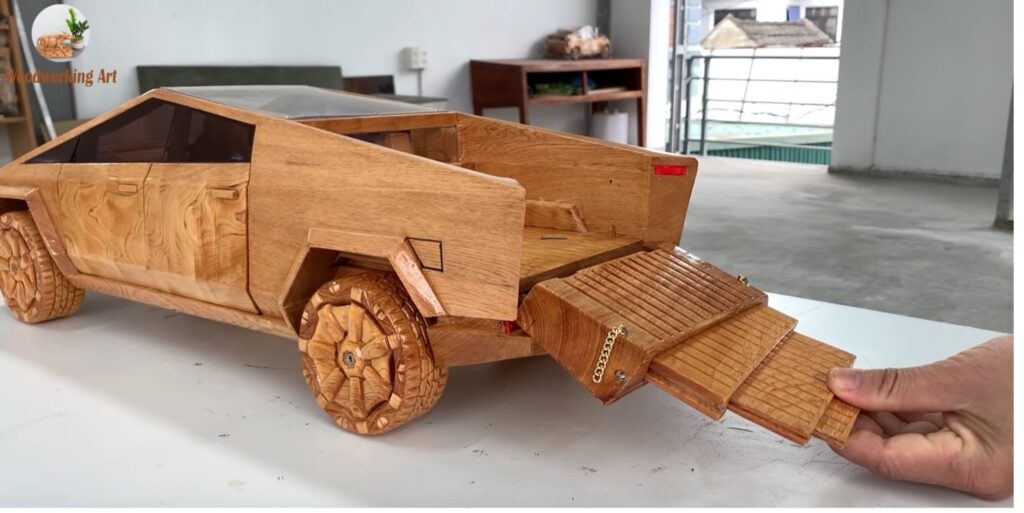 If you haven't seen the woodworking masterpieces at the YouTube channel Woodworking Art, you're in for a treat. This scale model wooden Cybertruck not only has the same overall proportions as the real truck, but is amazingly functional too. There's a working steering wheel, suspension, doors and even a folding tailgate with a telescoping ramp.
Cybertruck vs DeLorean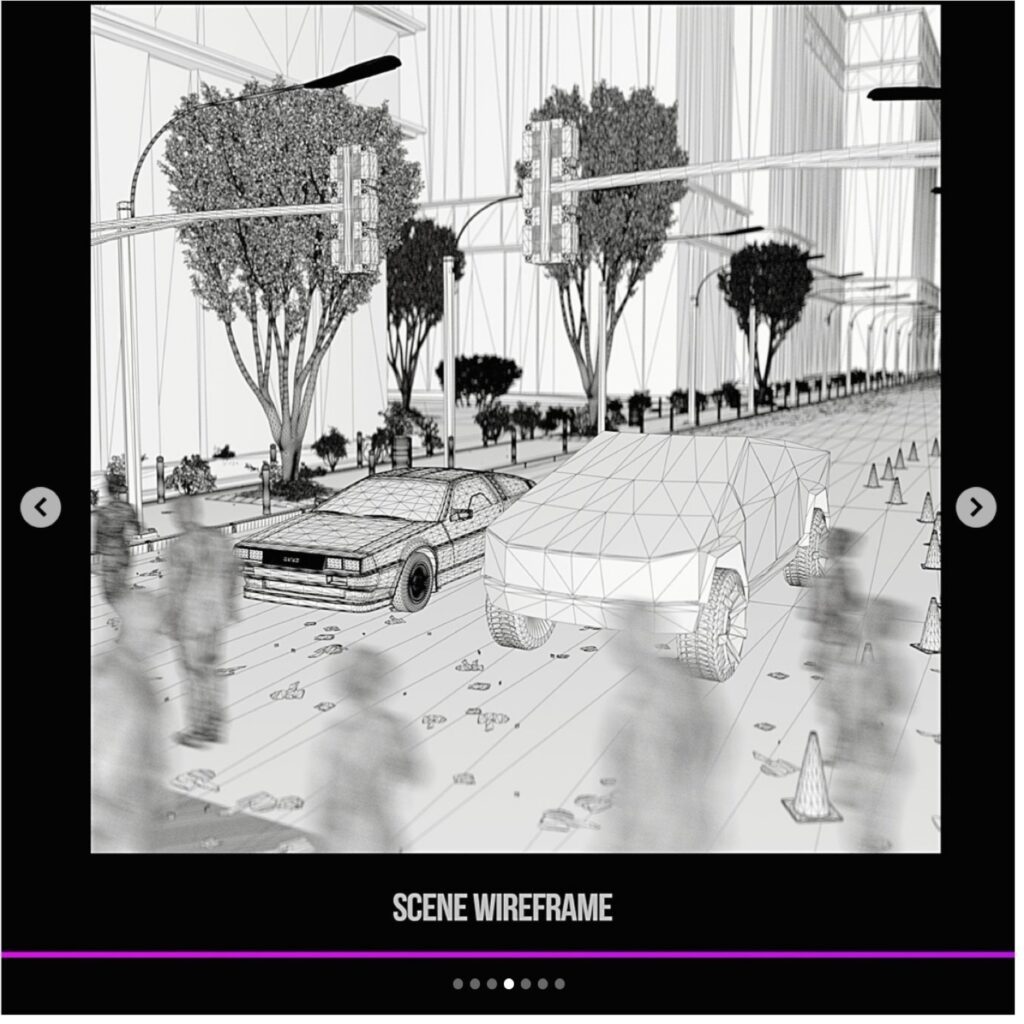 The Cybertruck and DeLorean both feature stainless steel bodies, but that's pretty much where the similarities end. This CG rendering from retric.dreams features the two iconic vehicles lined up at a stoplight. Are they going to race? If they did, the DeLorean really WOULD need a flux capacitor to beat the Cybertruck's stated 2.9 second 0-60mph time.
Cybertruck silhouette metal wall art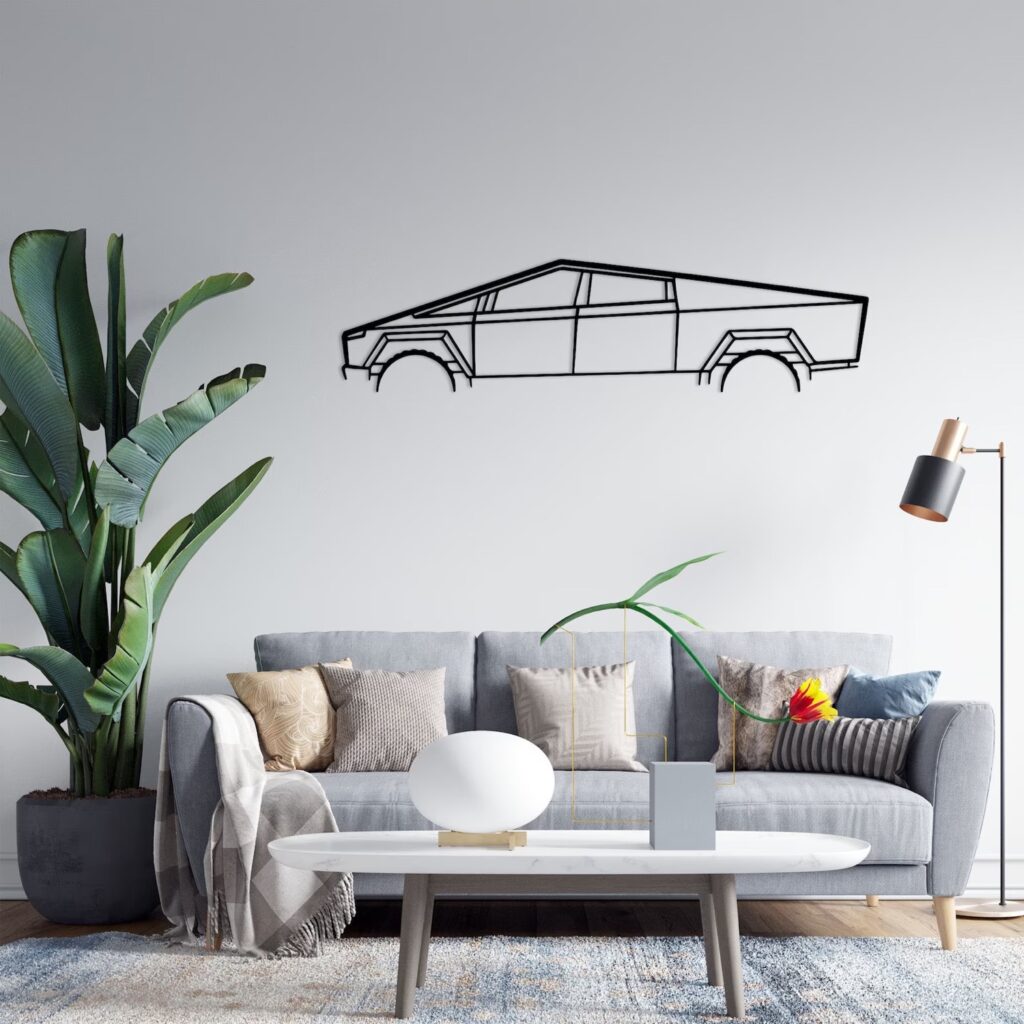 Tesla's foray into the pickup market has a very iconic trapezoidal profile. This metal Cybertruck wall art showcases it in an array of sizes up to a whopping 5ft. It almost begs for a mural to be painted behind it.
Stainless steel Cybertruck wall art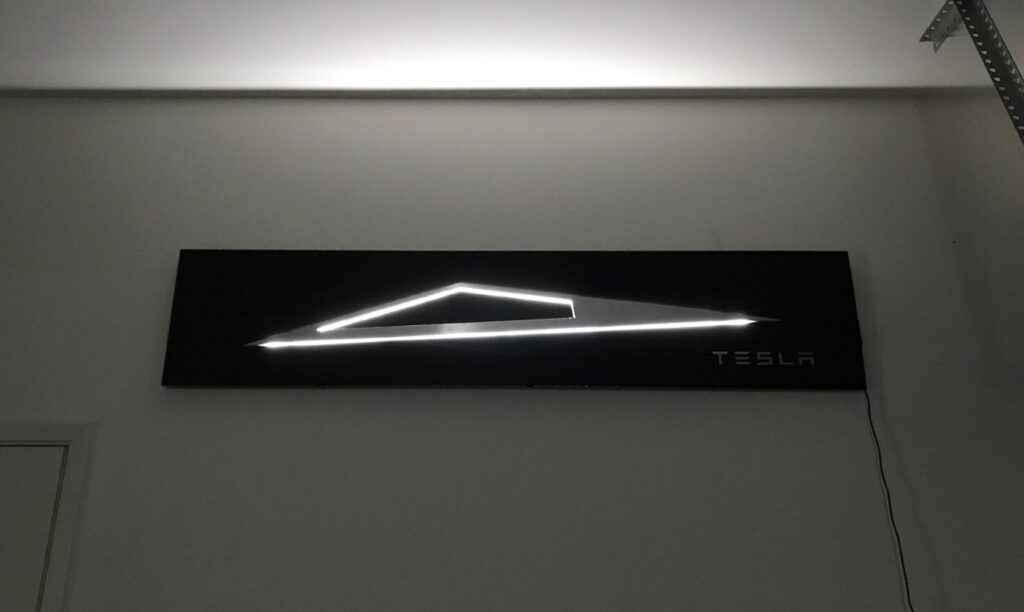 This laser-cut minimalist sculpture is made from 30x stainless steel, just like the real Cybertruck. The artist installs LEDs on each piece to help give the truck a futuristic silhouette.
Cybertruck neon sunset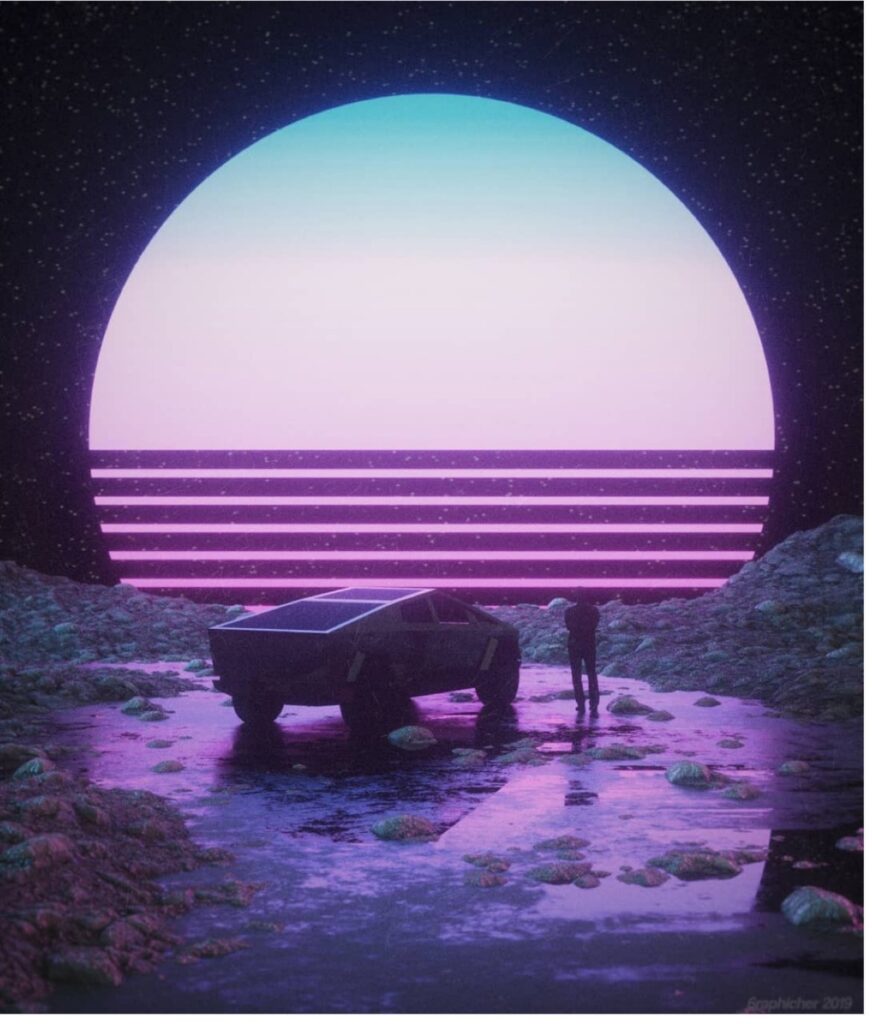 The otherworldly colors and landscape make the Cybertruck look right at home. Could it be Mars? We'll leave it for the viewer to decide. Art by 6raphiche.
When Love Comes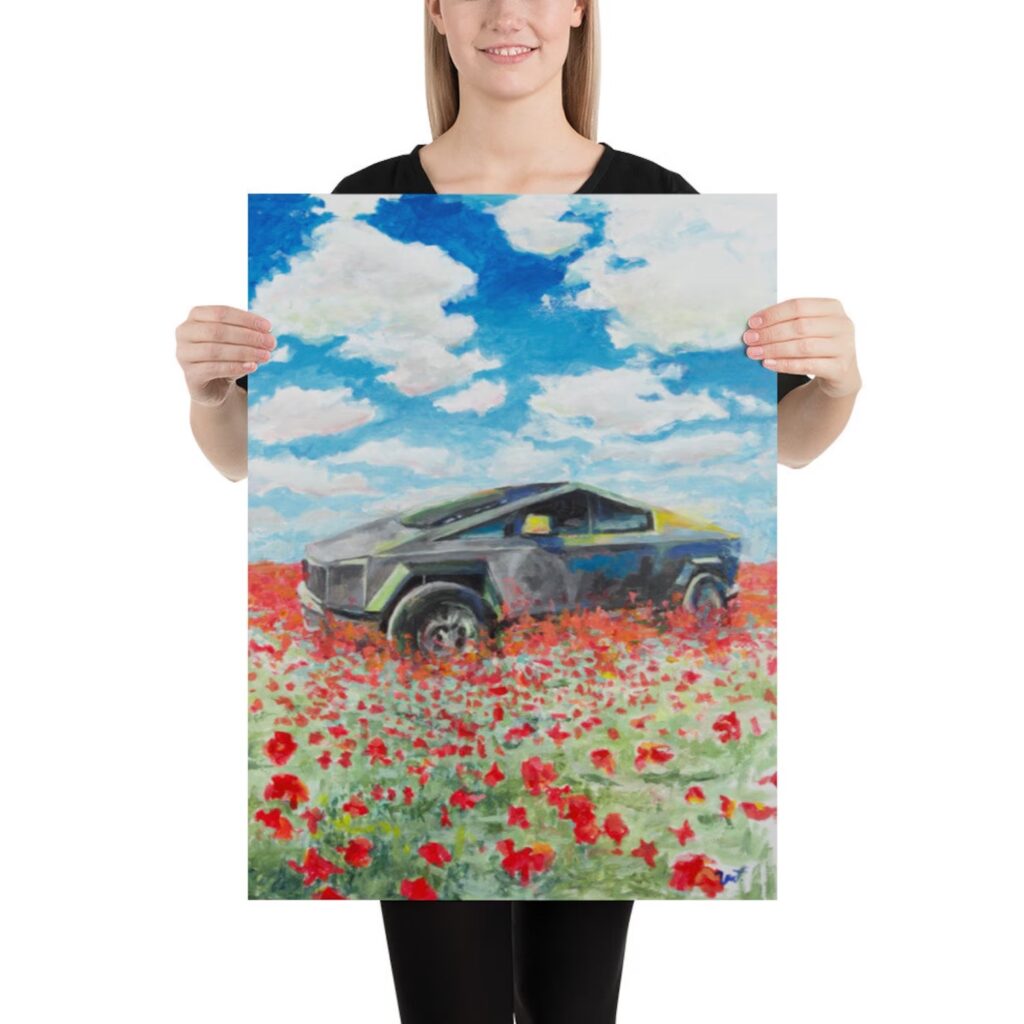 Artists have a long history of placing the objects of their affection in a field of flowers. In this Cybetruck print, we see the iconic electric vehicle lovingly painted in a bucolic field of poppies. Maybe this is how reservation holders picture their delivery day?
Cybertruck – FunSize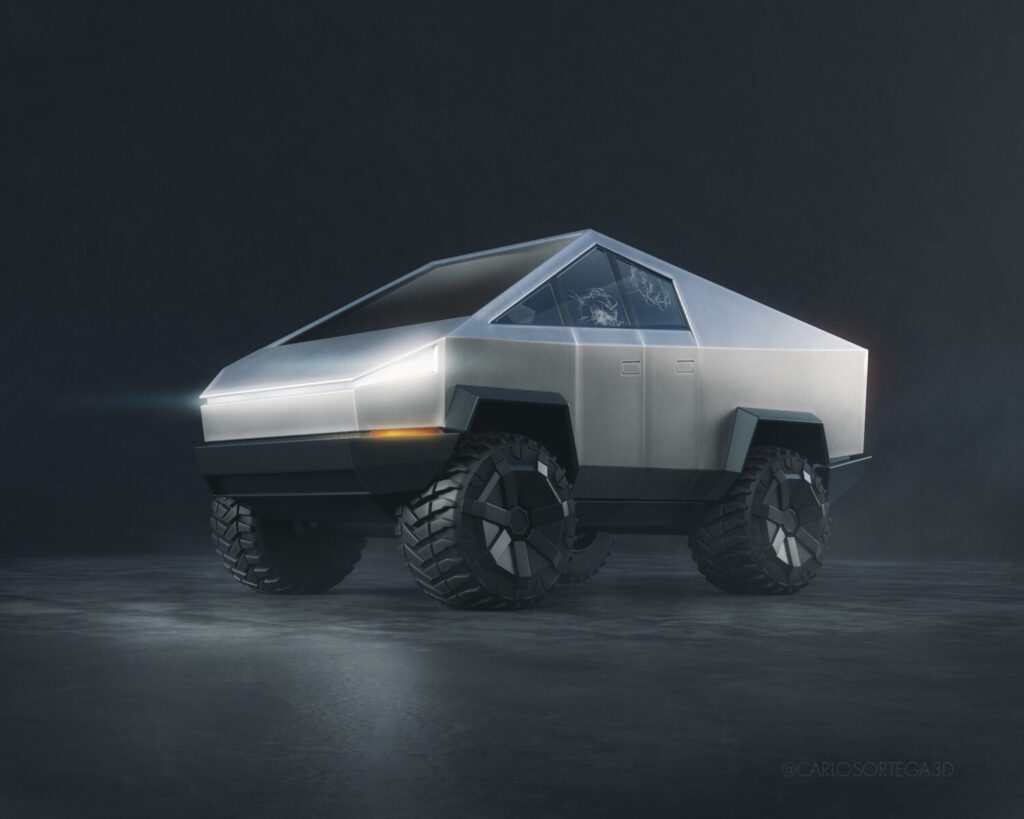 Ever wonder what the Cybertruck might look like if it was a playable vehicle in MarioKart? This adorable rendering from 3D artist Carlos Ortega Elizalde gives us a glimpse.
Cybertruck made from straw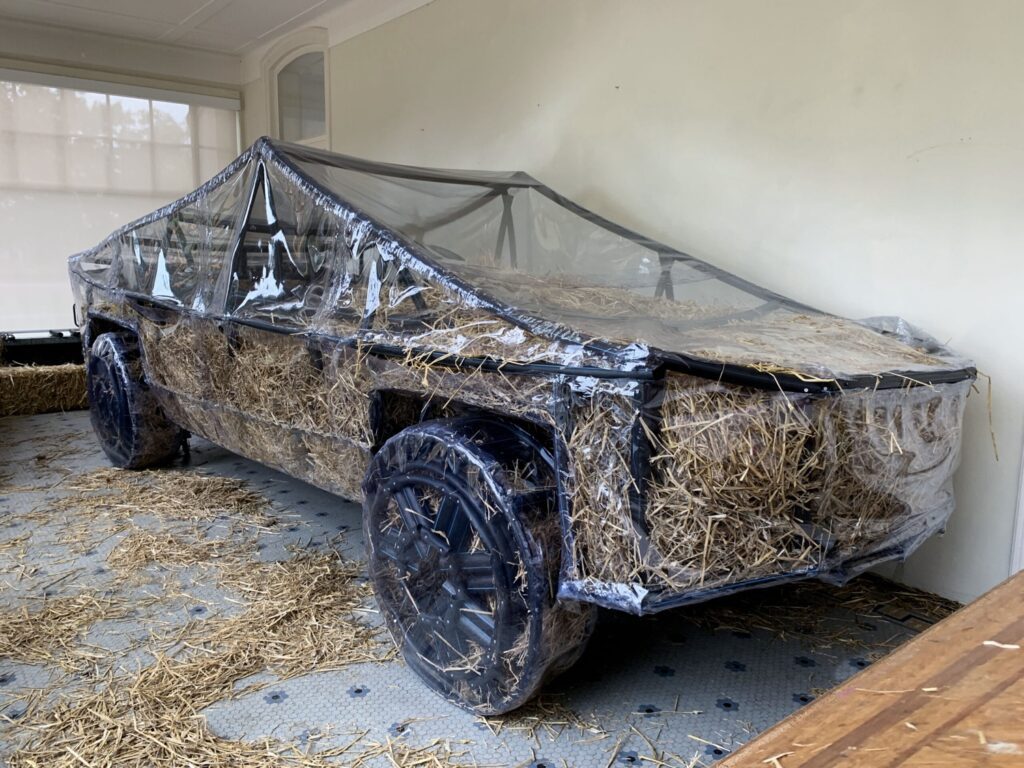 Dubbed Solution For a Possible Situation this life-size reproduction of the Cybertruck was crafted by Wouter Klein Velderman. The 19ft truck is assembled out of tylene tubes, screws, staples, transparent foil and of course, straw.
How to draw the Tesla Cybertruck
If you're feeling inspired by this collection of amazing Cybertruck art, you might want to try drawing the truck for yourself. It's angular design makes it easier than you think! Here's a tutorial using ballpoint pen and alcohol markers: