The day a pencil becomes too short and stubby to use is a sad one indeed. Much like a person, they start off tall and lustrous, then life wears them down to nothing but a used up husk.
I once had a pencil, let's call him "Uni". Oh, Uni was the apple of my eye, perfect in every way, until one day, stubby and short as a bean, he was no longer usable.
The heartache was real. 💔
But then, a knight in shining armor came to the rescue: a big beautiful pencil extender.
It breathed new life into Uni, and we were back in action, doodling the day away. Now, if you've ever felt a similar pencil-sized void in your life, this guide to the best pencil extenders is just for you.
Prepare to have your pencil (and mind!) expanded. 🤯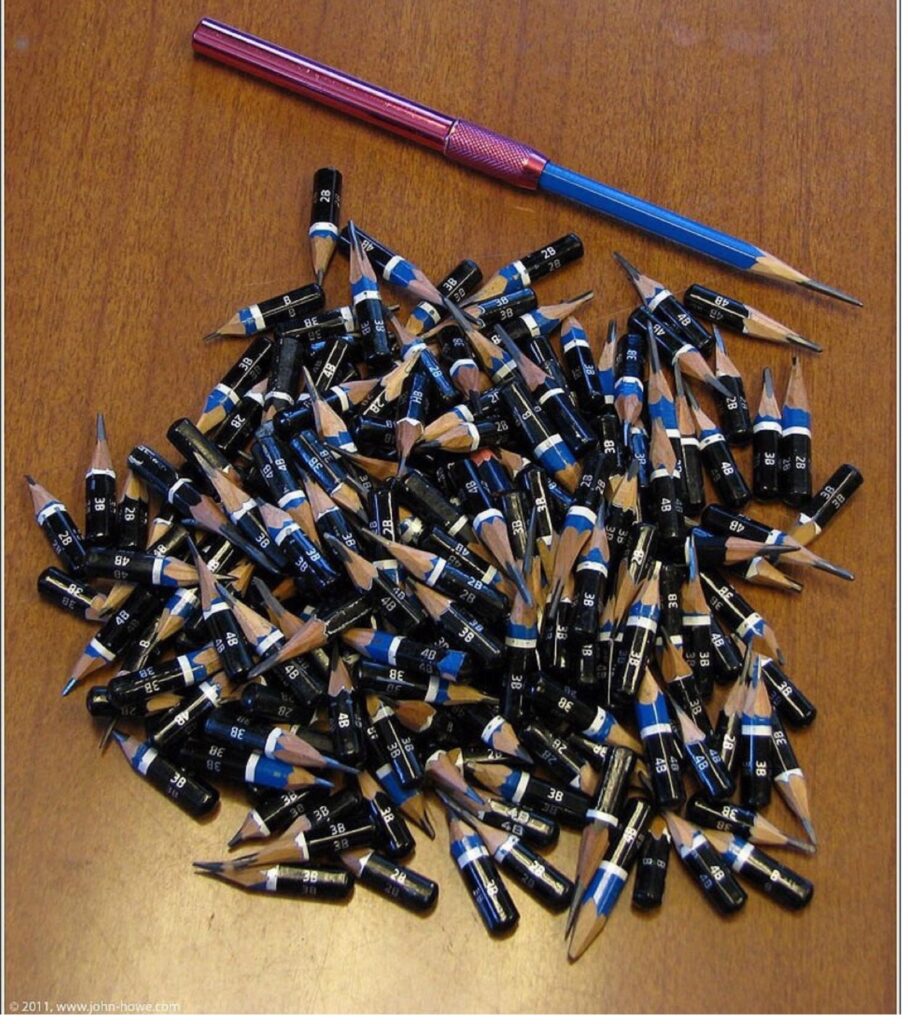 What is a Pencil Extender and Why Do You Need One?
At its most basic, a pencil extender is a device that attaches to the end of a shortened pencil to provide a more comfortable grip. But it's not only about comfort. Artists love pencil extenders because they can keep their favorite pencils in the game longer, even when they're down to the nub.
Another perk? The longer a pencil lasts, the less money you have to spend replacing it. Waste not, want not.
Colored pencil artists can also use pencil extenders to maximize the longevity of their favorite hues. Imagine having your favorite shade of alizarin stick around just a bit longer – a worthy convenience, wouldn't you agree?
Now that we've extended your curiosity, let's jump into the 5 best pencil extenders to consider. We chose these selections based on the reputation of their brands, costumer reviews and price point:
As an Amazon affiliate, we may earn a small commission from your purchase. This helps support Mega Pencil at no cost to you. 🙂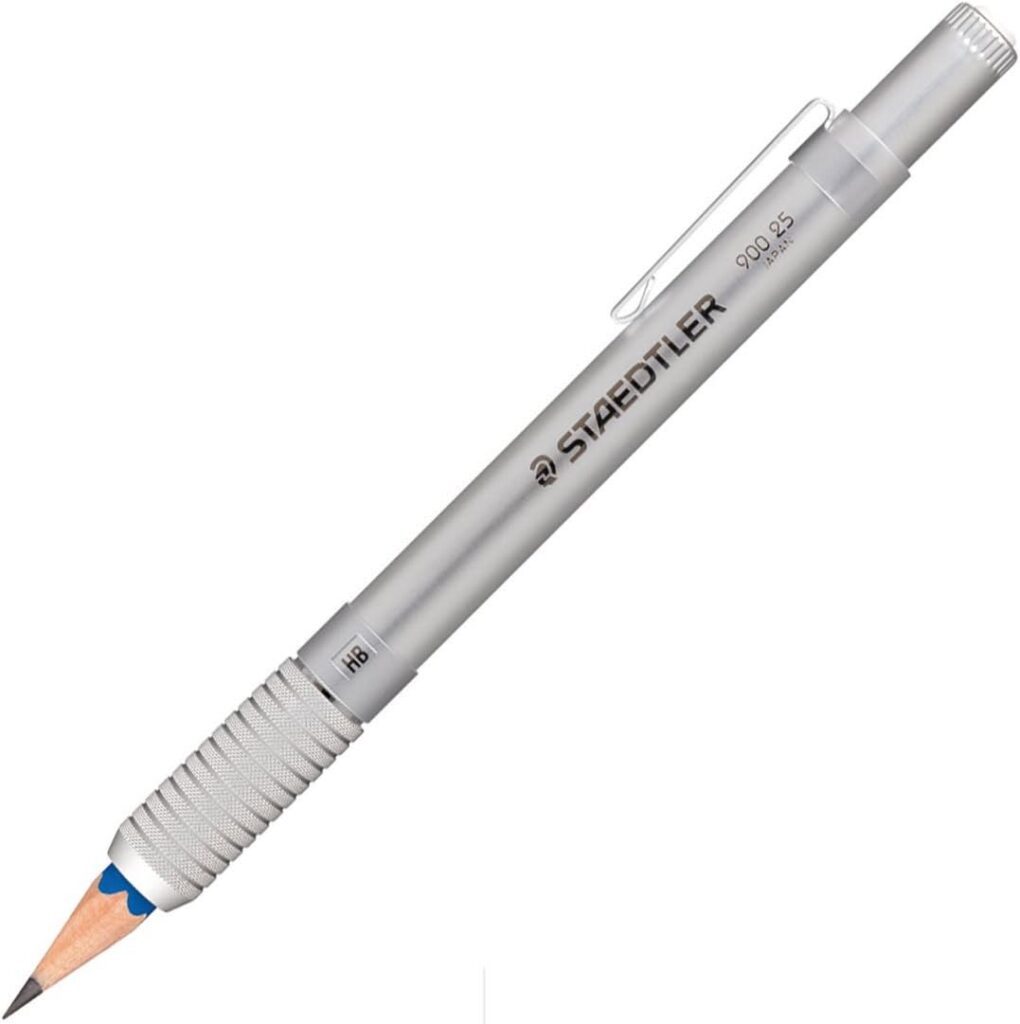 The ever-reliable Staedtler doesn't disappoint with this feature-packed extender. A gnurled metal grip makes it supremely easy to grasp, plus a rotating dial can be set to the pencil's lead weight (2H-4B).
But the biggest perk is that it's the only extender with its own replaceable eraser. A handy feature considering most extenders cover up the pencil's own eraser completely.
I have to say, it's not bad on the eyes either.

There's no shame in being frugal, or 'miserly' as some people might say. It's a name stalwart pencil maker General's has run with for their popular pencil extender.
The Miser works for average hex shaped and round pencils. Its rustic looking blend of metal and wood is also a welcome touch.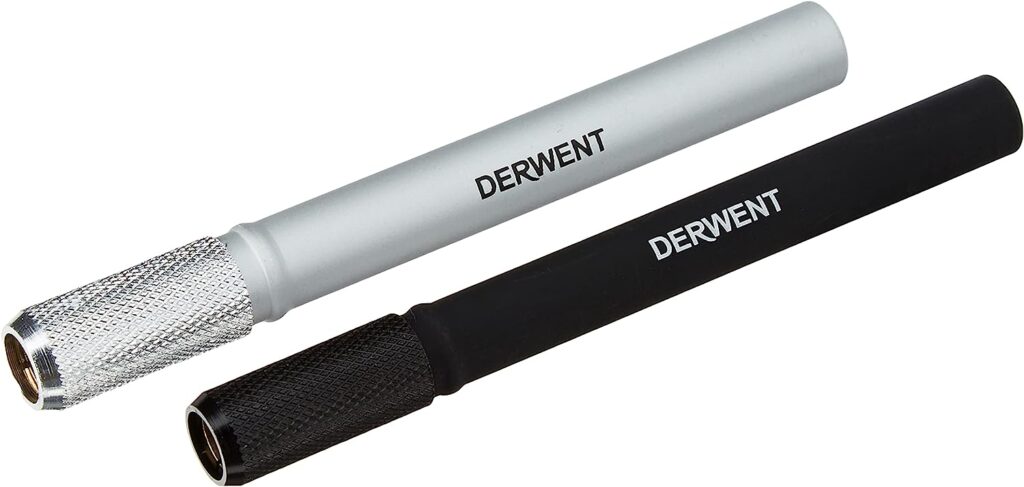 The Derwent Pencil Extender set offers one extender for standard-sized 7mm pencils and one for thicker 8mm pencils. If you're a fan of Derwent's Inktense, Lightfast or ChromaFlow colored pencils, these extenders are ideal.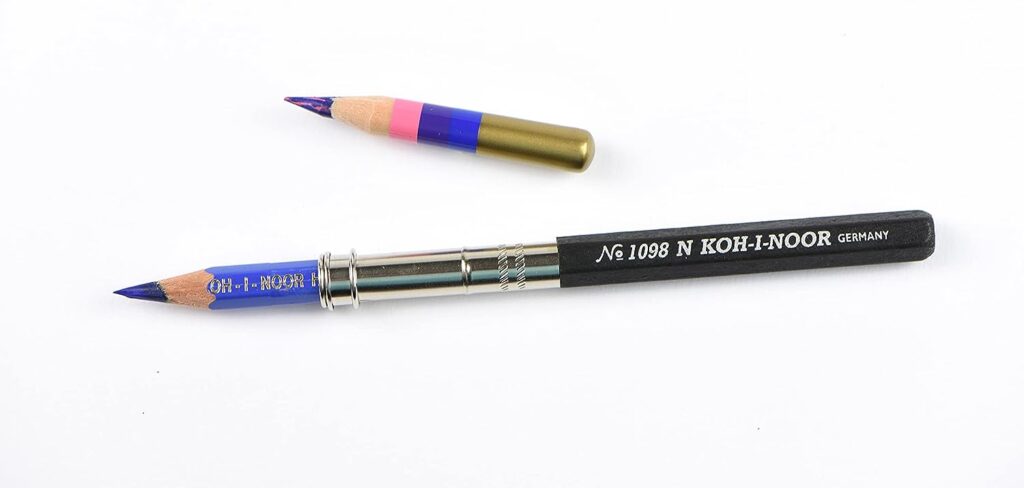 Koh-I-Noor is another artist brand that has earned a stellar reputation over the past 100 years. Their 'universal pencil lengthener' might have a funny name, but has very high reviews among pencil aficionados.
Koh-I-Noor's lengthener fits round and hexagonal pencils with a sliding ring that holds the shaft in place. The classic design looks very similar to The Miser, but is black instead of wood grain.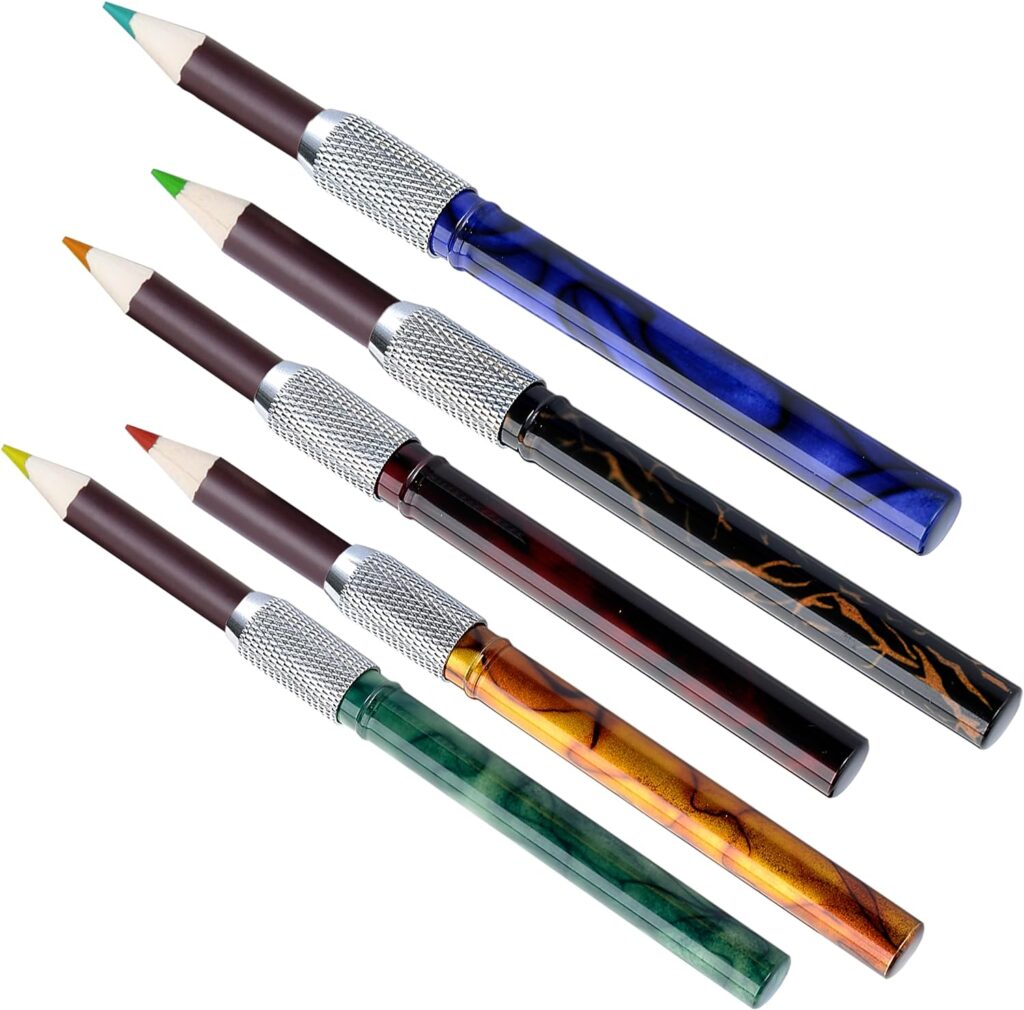 While this brand is new to us, we couldn't ignore their rave reviews. Sold in a set of five, these extenders work with pencils under 8 mm including Faber-Castell polychromos and Prismacolor premier.
The marbled patterns along the shaft not only look fancy, but make it easy to tell them apart too. At only $2.40 per extender, they're also the cheapest on our list.
How to make your own pencil extender
If you're the crafty sort who prefers to go the DIY route, there are actually several ways to make your own pencil extender. This video from Bonnita Doodles explains several methods using common household supplies:
---
And there you have it – a guide to extending the life of your favorite pencils, and your sanity.
Remember, the best pencil extender not only allows you to wring every last sketch, doodle, or heartfelt note out of your favorite pencil but also ensures that you're kinder to your wallet and the environment.