As we've said before, sketching regularly is the single greatest habit you can develop to improve your drawing ability. Sketching flexes your artistic muscles and the more often you do it, the stronger you become.
That's why anything that makes sketching more convenient and accessible is always on our radar. And there's perhaps nothing that embodies the words "convenient and accessible" more than the Sketch Wallet.
A brilliant combination of sketchbook and everyday wallet, the Sketch Wallet packs everything you need to draw on the go in one pocket-size package.
The brand was kind enough to send us a unit to review, which we put through its paces below.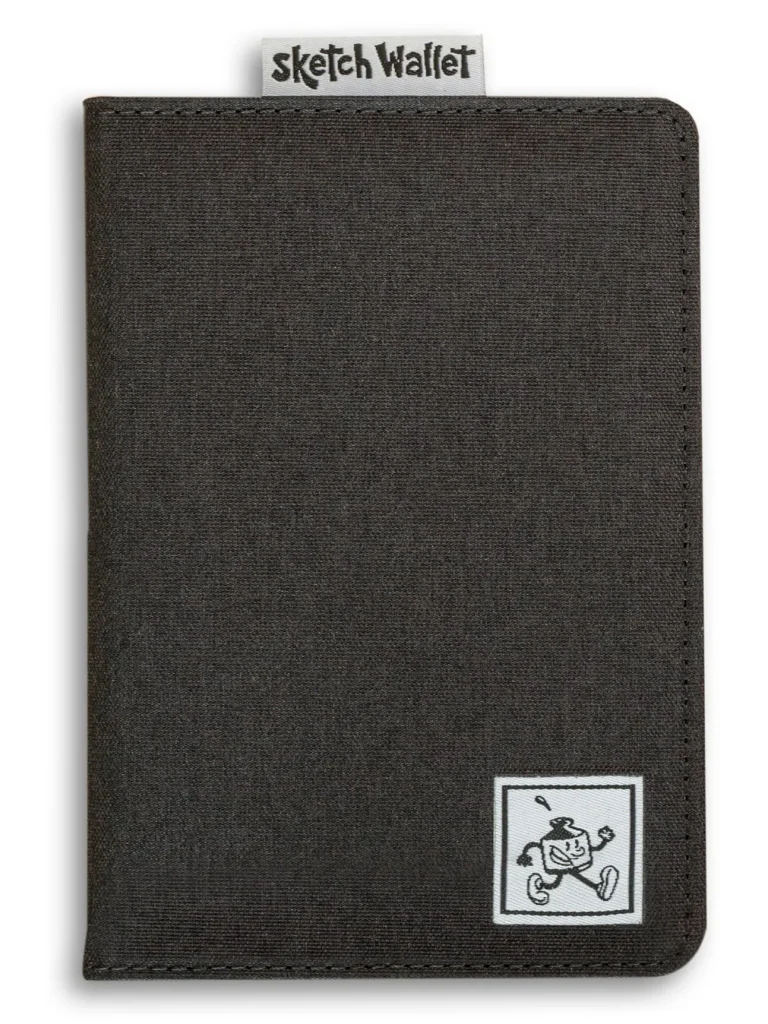 🤓 Fun fact: Sketch Wallet originally started as a Kickstarter project. After 5 successful campaigns the brand now sells a range of wallets plus nifty sketchplanners too.
Never let a good idea go to waste
You never know when inspiration might strike. The most creative concept you've ever had could spontaneously flash into your consciousness when you're least expecting it.
It could be in line at Costco. It could be during a walk with your Labrador. It could happen during an elevator ride or waiting for your tires to be rotated.
While musicians might be able to record melodies that pop into their heads at 4am, artists are left scrambling for a scrap of napkin to scribble on.
The Sketch Wallet offers a solution.
If there's one thing the average person always has with them, it's their wallet. By adding a 60 page sketchbook and pencil it means those creative gems never need to fade into the ether again.
Whether it's a moment of insight or just a way to pass the time, the Sketch Wallet makes it as easy as possible to capture ideas and practice your skills.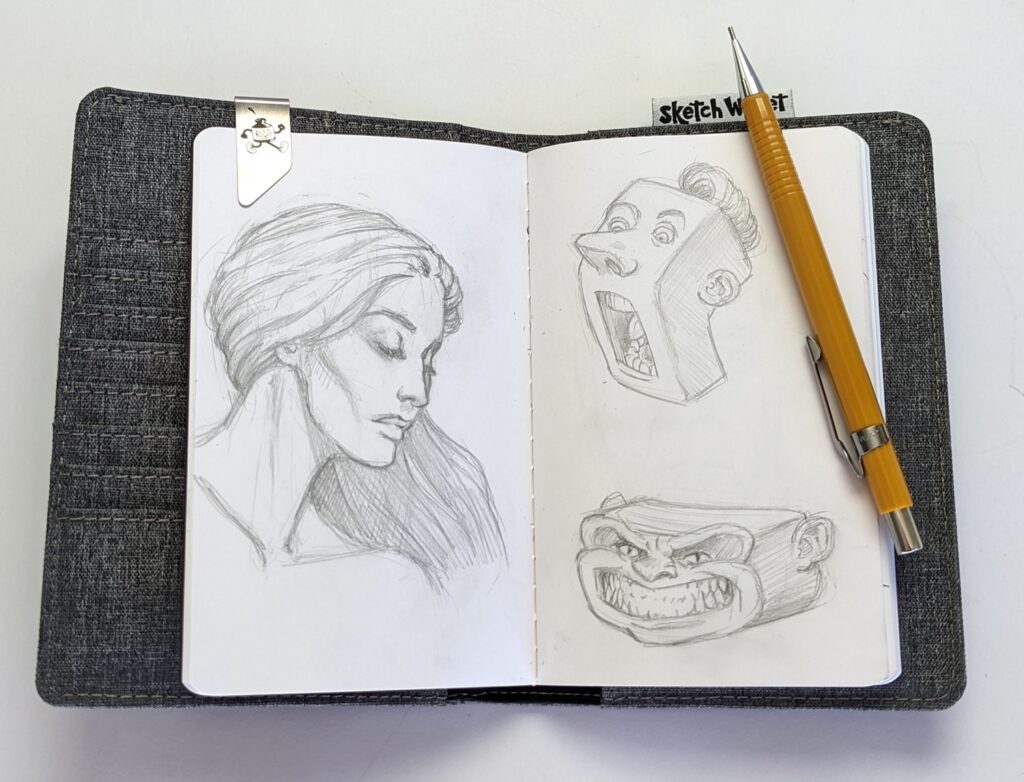 Unboxing the Sketch Wallet
The wallet comes in three different sizes, which range from a more standard wallet size, to larger dimensions seen in other travel-sized sketchbooks. The "Original" we were sent features 3.5″x5.5″ paper, along with 7 card pockets.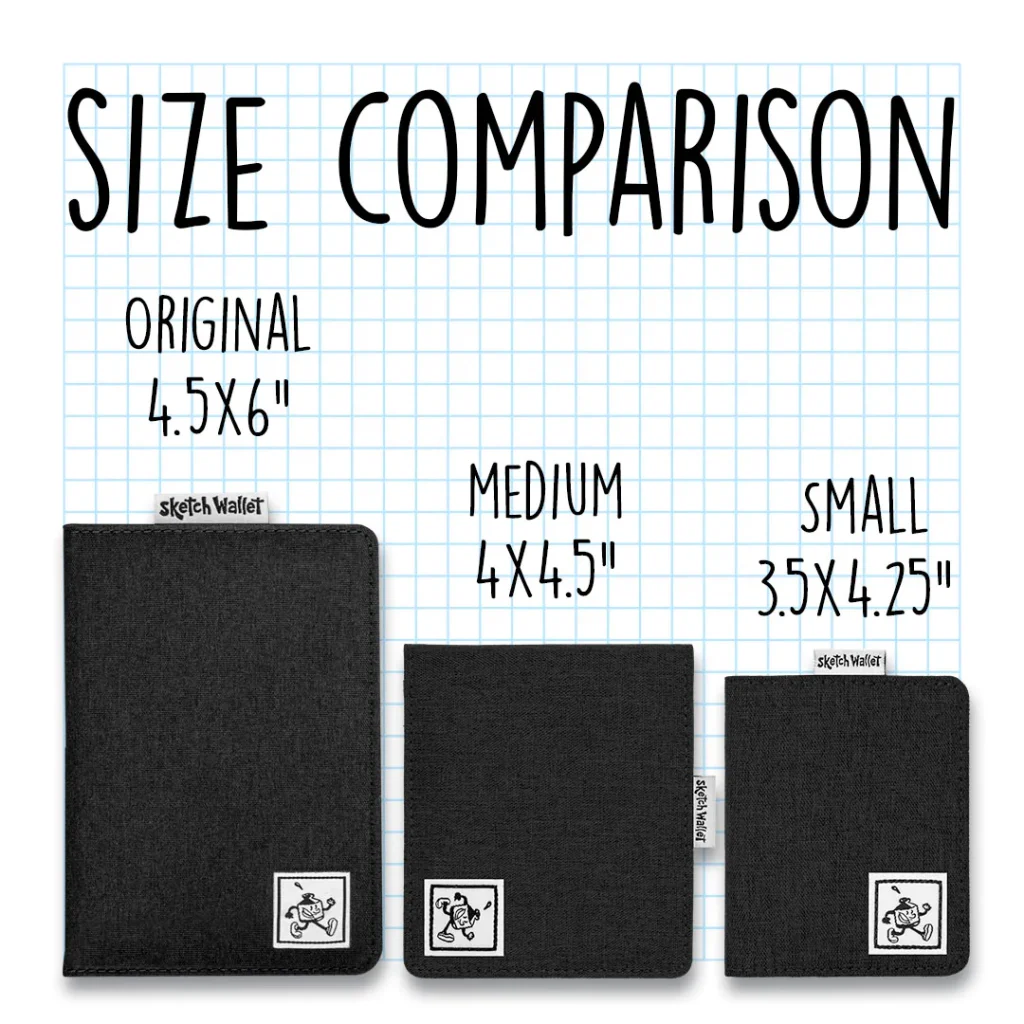 The Sketch Wallet comes presented in a foil embossed gift box featuring the brand's inkwell mascot, Inky. Opening the wallet reveals the sketchbook, an included short 2B drawing pencil and neat little page clip.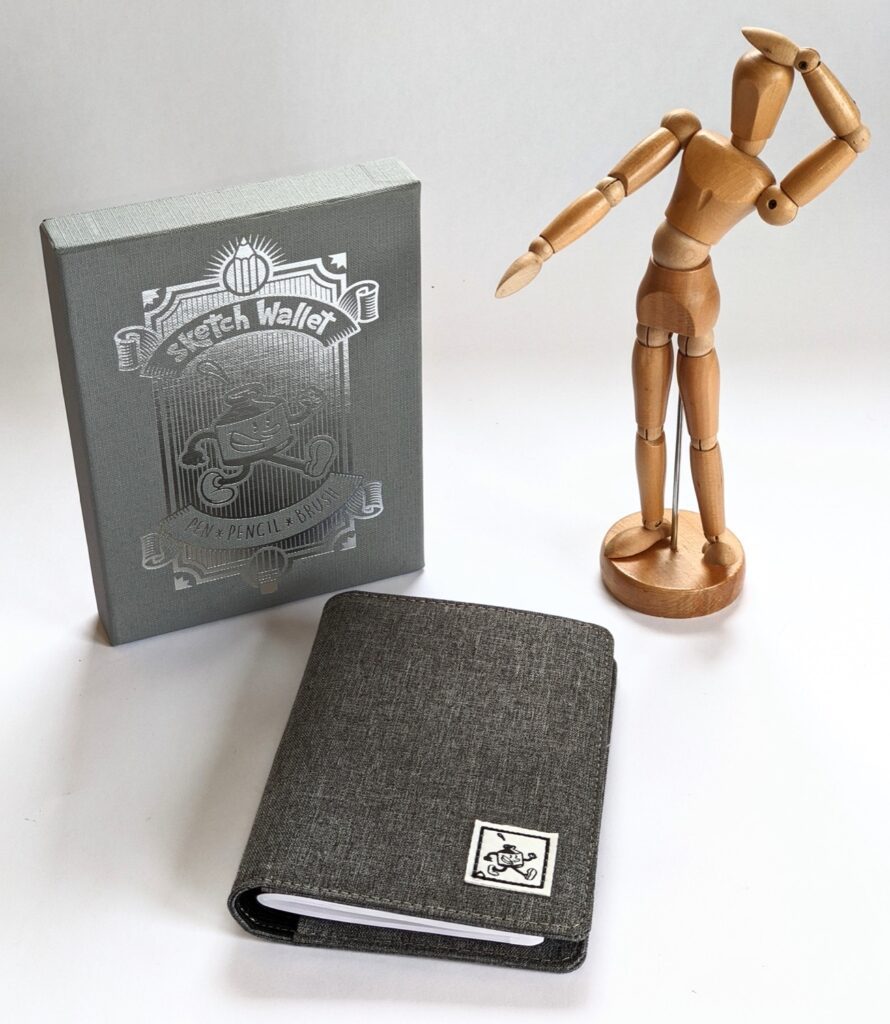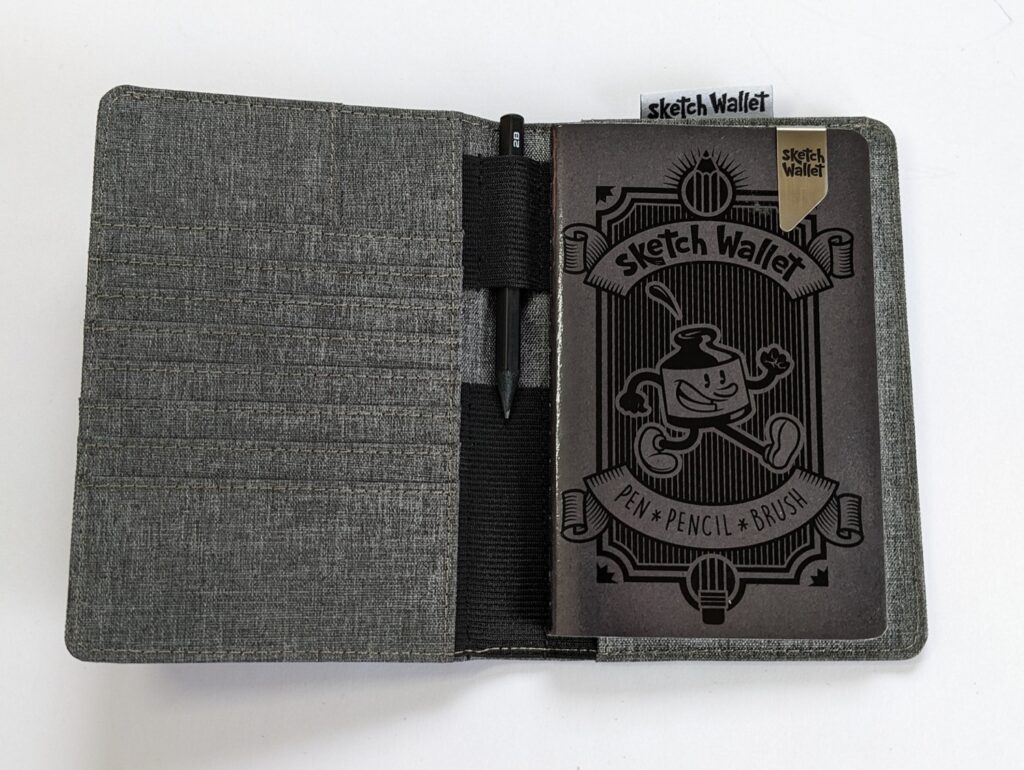 How much can it carry?
Short answer – a lot.
Any wallet with these dimensions should be able to hold quite a bit, but we were surprised by how little the "sketch" portion of the wallet diminishes its capacity.
Besides the 7 RFID-blocking card sleeves, there's also a full length cash pocket along the top, a second large pocket, a slot for the short pencil plus a full size pen/pencil holder.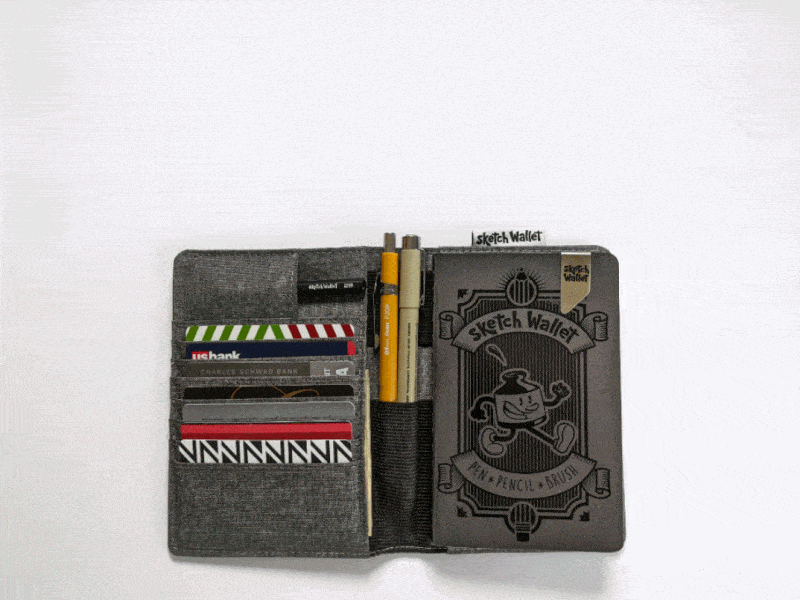 Does the Sketch Wallet work as a regular wallet?
At first glance we had our doubts…
Can a bundle this size even fit in a pocket, let alone be comfortable?
That was until we watched it slide easily into a pair of jeans. The back pocket AND the front pocket mind you.
The pliable canvas combined with the softcover sketchbook keeps the wallet soft enough to conform to a pocket's confines. Overall, the dimensions aren't that far off from the biggest iPhone Pro Max with a rugged case.
Drawing with the Sketch Wallet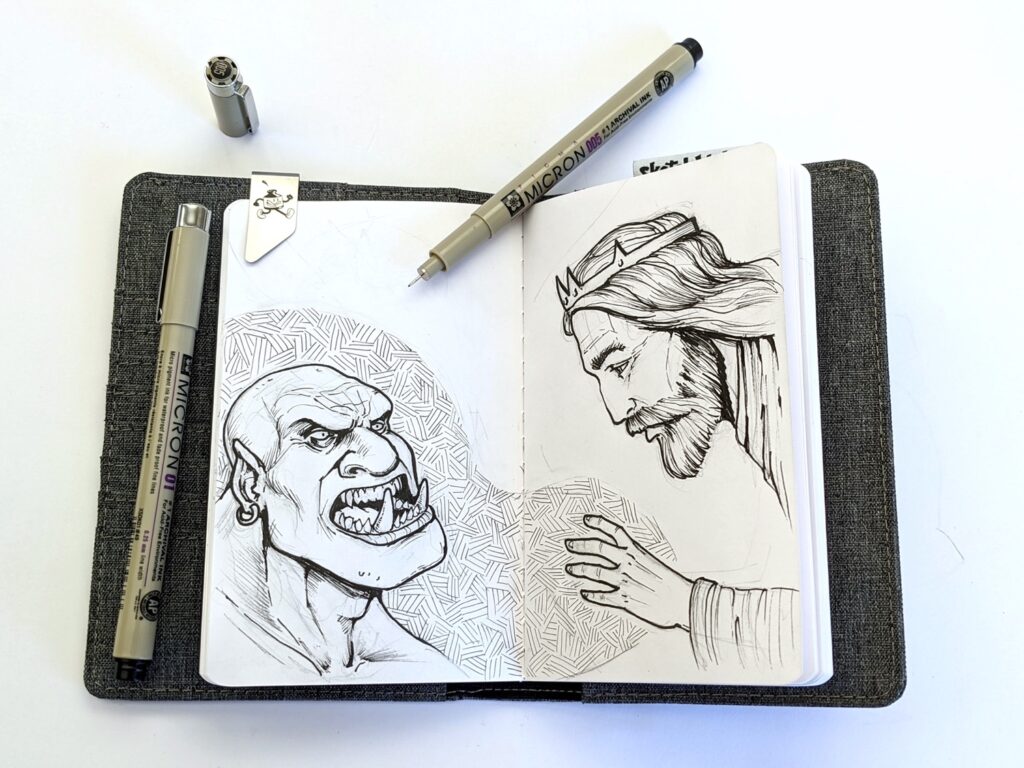 While there are other travel sketchbooks available around this size, the Sketch Wallet makes smaller drawings easier for several reasons.
The stitched seam of the sketchbook helps it lay flat – like a Moleskine.
The included metal clip also helps keep the page open, or work as a bookmark.
The material of the wallet itself gives you something to hold onto without crowding the paper.
Its included 2B pencil is great for quick doodles, but we appreciate the full size pen holder that runs the length of the wallet. The two elastic loops adapt to a wide variety of tools from brush pens and mechanical pencils to countless other options.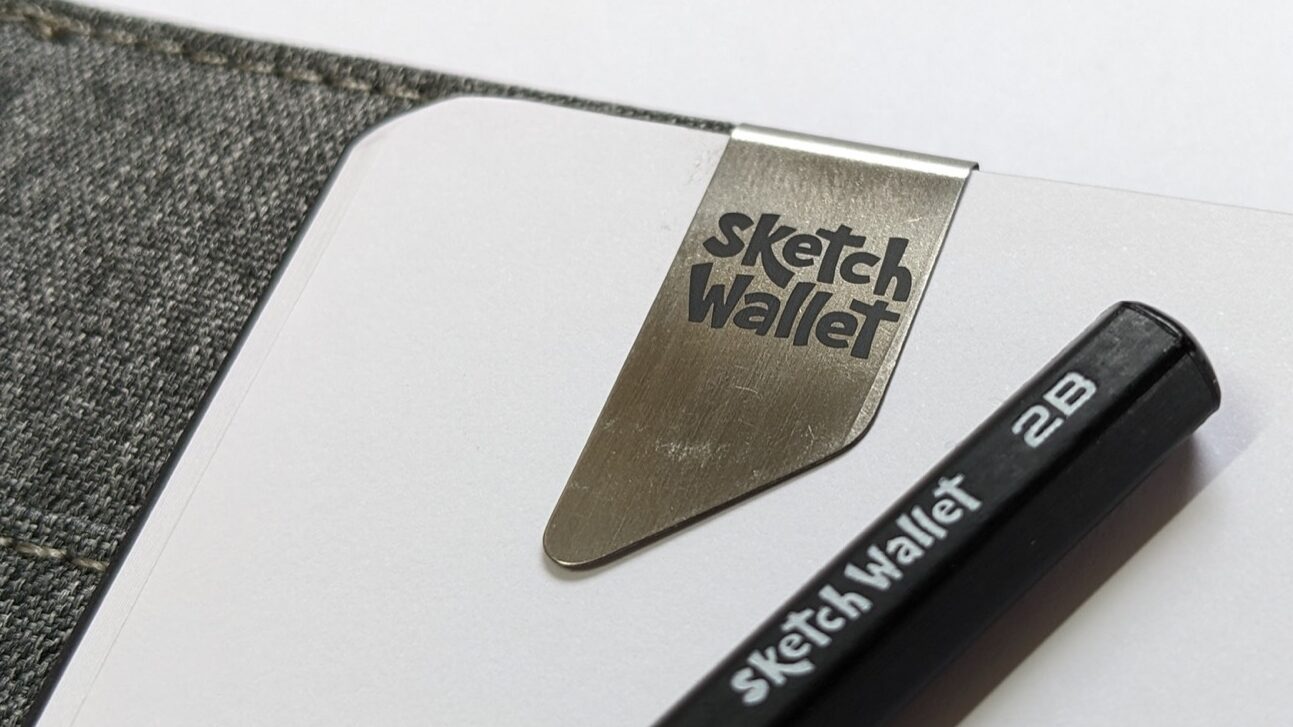 The paper of the sketchbook is bright white with a smooth texture. It responded well to mechanical pencils and ink with no bleedthrough. When the 30 sheets are full, Sketch Wallet offers replacements through their website.
Besides the original blank white, you can also choose lined, dotted or even toned paper refills.
---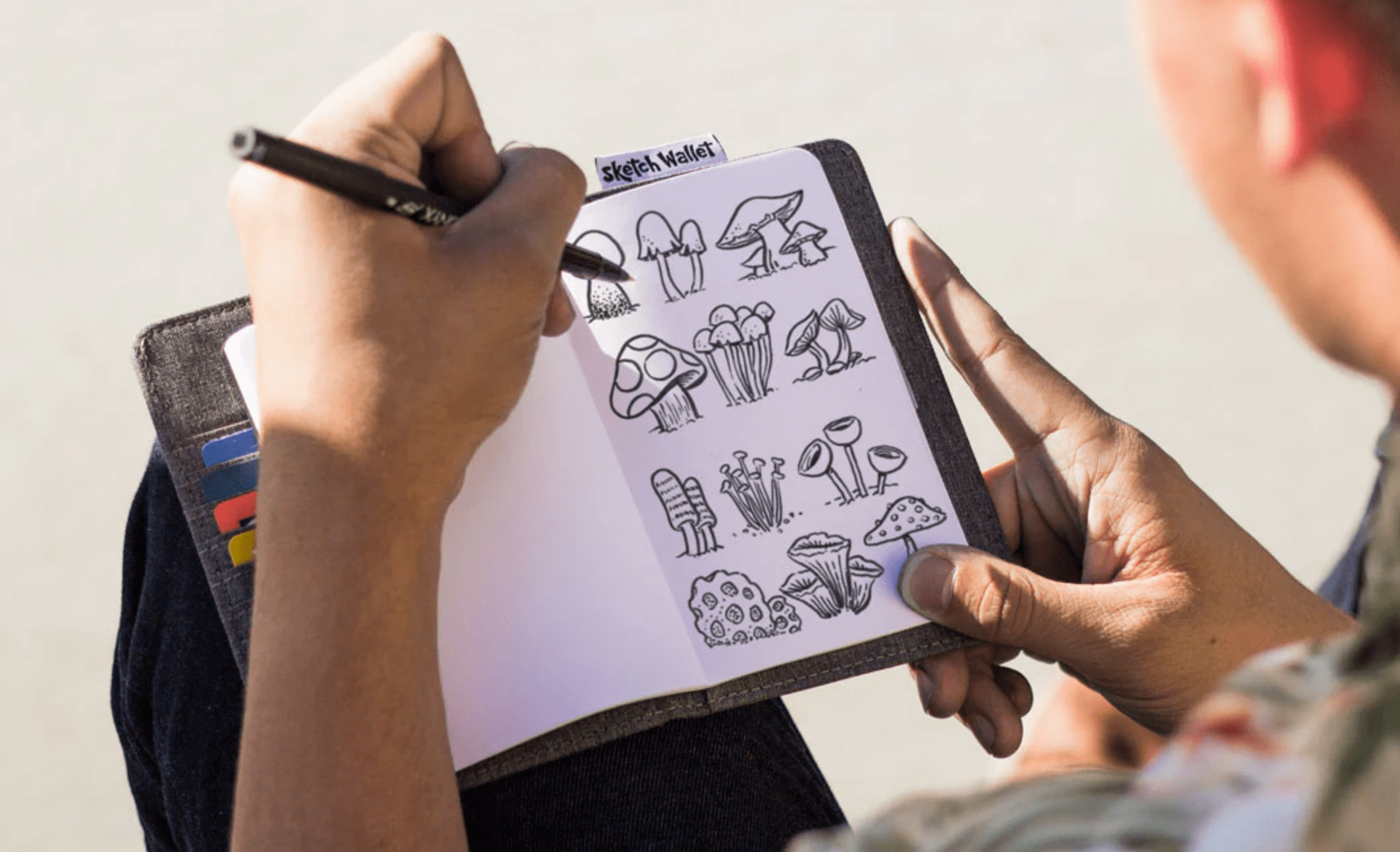 An Ideal Daily Drawing Companion
A pocket-size powerhouse that combines an artistic outlet with everyday convenience.